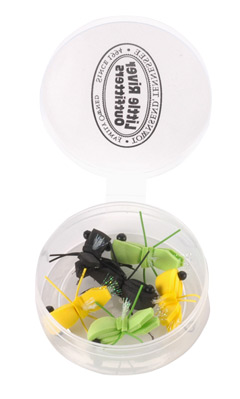 Back on the Market!
Byron's Knuckleheads



6-Pack For $19.95



Free Ground Shipping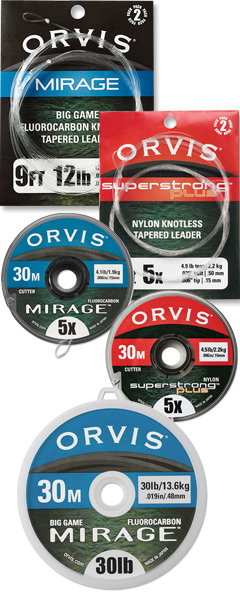 Orvis Leaders & Tippet
FREE GROUND SHIPPING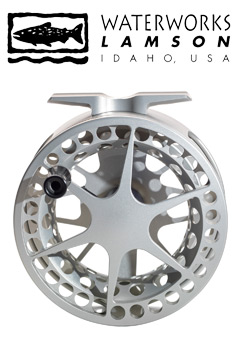 LiteSpeed Fly Reels
Starting at $339.95

FREE GROUND SHIPPING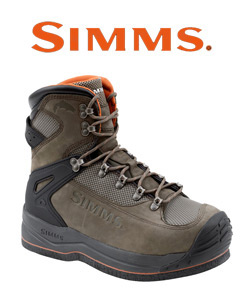 Wading Boots From
Chota, Simms & Korkers

FREE GROUND SHIPPING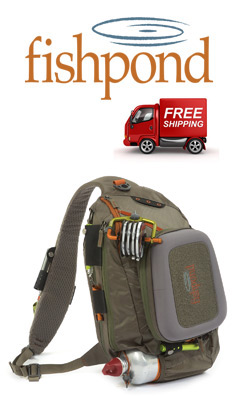 Fishpond
Sling Packs

Free Ground Shipping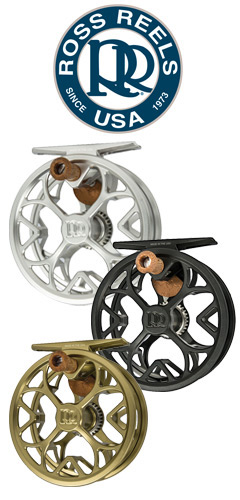 Ross Colorado LT
Trout Reels

Starting at $285

FREE GROUND SHIPPING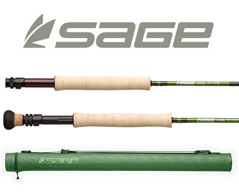 Sage Fly Rods
FREE GROUND SHIPPING





Copyright 2006-2016 Little River Outfitters, Inc.
Townsend, Tennessee - Fly Fishing in the Great Smoky Mountains, East Tennessee and Western North Carolina

If you don't see today's fishing report, please refresh your browser to empty your cache.
Welcome to the Fishing Report from Townsend, Tennessee in the Great Smoky Mountains. At 6:02 am, the temperature is 70.7 degrees. Today's high temperature will be in the mid-80's.
Expect the same through Thursday. Low temperatures will be in the low 60's through the period. Except for a slight chance for rain today, it will be dry this week, every day through Friday.
Yesterday's expected rain and thunderstorms missed Townsend. We got a little rain here last night. It did rain in the Little River watershed, somewhere in the Park. We didn't get much. The Knoxville Airport reported .23" of rain.
Little River is flowing at 124 cubic feet per second (cfs) or 1.73 feet on the flow gauge. Median flow for this date is 114 cfs. The water temperature is 71.8 degrees this morning.
The heat wave is over for now but the dry conditions are not. Middle and East Tennessee are considered to be either abnormally dry, or in a D1 moderate drought. Our county is in the abnormally dry category as of June 21st. Areas of other States in our region are experiencing the same conditions. You can view the U.S. Drought Monitor by CLICKING HERE. Then, click on Tennessee. Click on Tennessee again. You will view this state in more detail. The monitor will be updated Thursday. I don't know which way it will go.
The streams in the Park will be flowing low later this week. This morning, Little River is flowing above average. Average flow this time of year is low. The good news is, the water will be cooling as the week progresses.
If you plan to fish today in the Smoky Mountains, move up to the higher elevations where the water is cooler.
I would use dry flies and a dropper. I like any Yellow Sally Stonefly patterns for the dry this time of year. As a dropper, I would use a Green Weenie. Other fly patterns will work. These are just my preference and that opinion is shared by many anglers. I learned just about everything I know, about fly fishing, from someone else. That puts most of us "in the same boat".
Don't forget terrestrial fly patterns. Beetles and ants will certainly appeal to the trout right now. They may turn down a Yellow Sally, but gulp down a beetle. One strategy I have tried and found to work is trailing a small ant pattern behind the beetle. You may not be able to see the ant, but, if a trout rises behind your beetle, you may hook a trout that ate your ant.
To be successful at catching trout in the Smokies this week, your ability to be sneaky and stay hidden from the fish will be put to the test. When the water is low, these trout are spooky. They feel vulnerable to predators, including humans. You will find them hiding and concentrated in the choppy water, in riffles and runs.
Fishing will be best when the sun is off the water. Go early and late. Hike into the backcountry to fish the small shaded streams.
TVA will probably be generating at Norris Dam all day with 1 generator. It appears they will shut off the generators at Cherokee Dam late this morning until this afternoon. Generation should be light at Center Hill Dam. Check the TVA website to determine if their generation schedules will fit your style of fishing, where and when you plan to fish.
What we have in the Smoky Mountains right now are certainly not ideal fishing conditions. Some anglers just don't do well when the water is low. This is an opportunity, for you to learn new tactics and expand your skills. Some fishermen love low water. Others don't. The key to success is learning where to go and how to fly fish in these conditions. The reward is finding some of the most beautiful and secluded spots in the Smoky Mountains and elsewhere in the Southern Appalachians.
To some, catching the fish, the largest fish and the most fish, is the ultimate goal. I remember when that was mine. Don't get me wrong, I love to catch fish. And, like most of us, I hate to get skunked. That is something you may have to report to others.
On the other hand, as I have aged, my priorities have changed. To me, the best fishing day, is based on where I am and who I'm with. I'm quoting my friend, Jack. What really matters to me, is the place where I am, and the company I keep.
We all love creeks, rivers, lakes, ponds and the ocean. We love the mountains, the flat terrain, the hills and valleys and the wildlife that inhabit those places. We marvel at the trees and plants that grow there. I guess, as we get older, we gain admiration and a stronger relationship with earth.
And, having said that, we still love fooling fish.
Have a great day and thank you for being here with us.
Byron Begley
June 28, 2016
Respond to: byron@littleriveroutfitters.com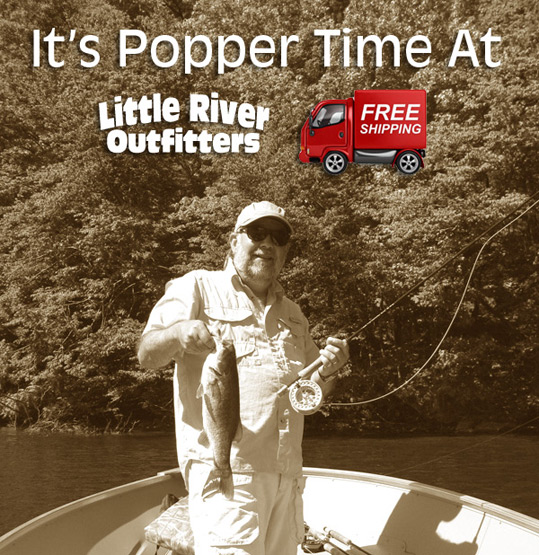 That's right! The bass, bluegill, and trout, are looking up. It is time to fly fish on your favorite lake, lowland river, pond or tailwater with poppers. We offer a large selection of poppers. And, we'll ship them to you without any charges for ground shipping or handling.
You can see our BoogleBug popper selection on the online store by CLICKING HERE. Or, pick out what you want and call us at 865-448-9459 to order. We'll pack them and mail them to you. We pay the ground shipping. Or, come by the shop and browse the complete selection of poppers and warmwater flies. We are open 7 days a week for your convenience.

Below is a small sampling of poppers we sell.
| | | |
| --- | --- | --- |
| | | BoogleBug BoogleBullet – This is one of the best looking sliders you have seen. Of course, you can't beat the quality, beauty and durability of BoogleBug poppers. We offer these in Solar Flare, Black Galaxy, Electric Damsel and Pearly White in sizes #6 and #8. |
| | | |
| --- | --- | --- |
| | | BoogleBug BooglePopper – This popper makes noise, pushes water and gets their attention. It is a killer bass popper. We offer these in the colors Yella Fella, Black Galaxy, Electric Damsel, Pearly White and Solar Flare. Sizes vary by color but they come in #4, #6 and #8. |
| | | |
| --- | --- | --- |
| | | BoogleBug Amnesia Bug – This popper is an excellent choice for panfish. The come in colors Black Galaxy, Electric Damsel, Pearly White, Solar Flare and Yella Fella in the size #10. |
| | | |
| --- | --- | --- |
| | | This is Byron's Knucklhead, our best selling warmwater fly. He came up with this pattern in 2011 and ties them for the shop. They are in a different category on our online store. You can see them by CLICKING HERE. They are available individually in Black, Yellow and Chartreuse, or you can buy a 6-Pack for $19.95. |
Lake Information and Tailwater Generation Schedules



Please enter your e-mail address in the box to the left to sign up for our e-newsletter. You will receive news about the shop, events, sale information, fishing info and more important information a fly angler would want to have.

You can opt out at any time. If you decide you don't want to receive our information just change your status or click at the bottom of an e-mail we send you in the "Remove" box.

We do not sell or give your e-mail address to anyone. And, we won't hound you to death with e-mails. You will receive no more than one per week unless unusual or critical fishing news might be of interest to you.