Townsend, Tennessee - Fly Fishing in the Great Smoky Mountains National Park, East Tennessee and Western North Carolina

Welcome to the Fishing Report. It is sunny and 76 degrees in Townsend this morning. It is going to be hot today and we might see some severe thunderstorms. There was quite a bit of activity on the streets this morning. Frank, one of our policemen and Glenn our City Maintenance Supervisor were accessing the grounds and debris left over from the fireworks display. Tourism seems to be alive and well today. The motel parking lots had plenty of cars in them and the restaurants seemed busy. Holidays are slow for us. Fishermen tend to stay away when the crowds are here. The police are busy when the crowds are here. Our small town has 4 police officers. On any given weekend, the visitors outnumber the locals many times over. The actual population in Townsend is around 244 people. That doesn't count those of us who live outside the city limits nearby. I believe there are about 2,000 of us in the valley.
This morning, Little River is flowing at 47 cubic feet per second (cfs). Median flow for this date is 124 cfs. The water temperature at 7:59 am was 73.5 degrees at the "Y".
I was off yesterday so I didn't talk to any fly fishermen. I'm assuming that fishing is fair in the Smokies. Due to this heat and low water, you would be better off hiking into he backcountry or driving to a higher elevation stream. I would choose the backcountry to get away from people. You will find cooler water higher up or on the shady creeks in the woods. Dry flies would be my choice. I would pick either a beetle or Yellow Sally Stonefly imitation of which there are many to choose from. A Green Weenie would also be a good choice. The trout will be in the riffles or where a riffle enters a pool. You might also find them under other cover such as overhanging trees or under rocks. They are trying to hide. They feel vulnerable in these low water conditions.
I have not checked the tailwater releases yet. A nice cold tailwater would be a good choice today if your favorite river has flow but not too much flow.
The lowland rivers are low and slow. I suspect your best bet would be to fish the deep pools with streamers. You might get some top water action early and late. The larger riffles may hold smallmouth bass too.
The lakes are packed with boats and people. There were a lot of awful accidents yesterday around the country on reservoirs and rivers. One young boy died and other is in critical condition due to an apparent electrocution. They were swimming on Cherokee Lake at a marina. A yacht capsized off Long Island in New York last night. 27 people were on board. Three of them drowned.
I figured out why a bear and her cub were trying to break into our house yesterday morning while I was there. After they left I walked downstairs to check out the damage. The glass window was not broken. I'm surprised. The little room that leads to a workshop and storage in our basement is kind of a wine cellar. I used to make wine. There is a tall window at almost ground level. I could see the paw prints on the glass. Then I found it. We have an artificial plant in a pot in the window sill. And, filling the pot are some small artificial apples. That bear was nosing around outside, looked in the window, saw the apples and wanted them. I am positive that is what happened. If you didn't read yesterday's Fishing Report, here is what I wrote just after finishing the report:
"Wow! I just heard a loud noise, something like a tree hitting the house. I walked out of the fishing room and looked down the stairs. Through a window I could see a bear and her cub. Evidently she was trying to get through the window and into the house. Dubbing, our cat was watching with particular interest. His tail was puffed up. I grabbed a point and shoot camera and walked out onto the front porch. The bear heard me come out the door. She and the cub ambled into the woods. I did get a picture of her. My cable to connect the camera to a computer is at the office.

If you want a little excitement in your life, try sitting at your computer writing a fishing report while two bears are trying to break into your home. I'm used to bears. I've got to admit though, right now I'm a little shaken. If these animals really wanted to get in here they could do it easily. This bear was not big by any means. But, I would not want her in here with me. I am going to place a few loaded firearms within easy reach while I relax on my day off. Have a great day! I'll try."
Here is the picture of the bear leaving the scene. The photo is blurry because I was shaking for some reason. The bear was about 25' away from me when I took this. I was on the second level porch of our house. The cub was in the woods and out of sight.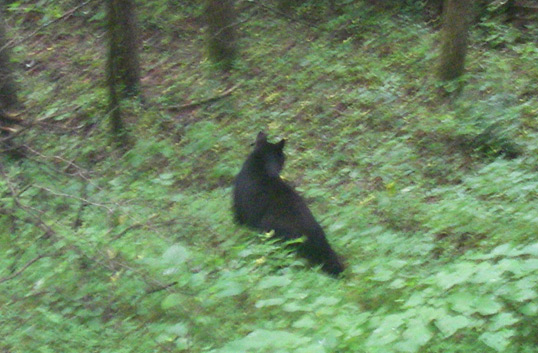 Have a great day and thank you for being here with us.
Byron Begley
July 5, 2012
Respond to: byron@littleriveroutfitters.com