Townsend, Tennessee - Fly Fishing in the Great Smoky Mountains National Park, East Tennessee and Western North Carolina

Welcome to the Fishing Report from the Great Smoky Mountains. At 6:28 am, the sky is clear and the temperature is 69 degrees in Townsend.
Temperatures will rise this week. Expect high temperatures at or near 90 degrees through Monday. We have a chance for afternoon thunderstorms throughout the week. All three weather websites I check predict rain from as low as 20% to a high of 60% through Friday. Of course, we don't know who to believe.
LITTLE RIVER CONDITIONS
Little River is flowing above normal at 144 cubic feet per second (cfs) or 1.66 feet on the flow gauge. Median flow for this date is 121 cfs. The water temperature is 68.2 degrees this morning.
Yesterday, the river temperature at the "Y" rose above 70 degrees. Expect that trend to continue. With that being said, you should fish in the higher elevations, where the water is cooler. Trout are stressed at higher temperatures. For their health, and your fishing enjoyment, head upstream a few miles.
FISHING IN THE SMOKY MOUNTAINS
Fishing has been good and that should continue. Trout are taking dry flies and nymphs. We recommend yellow dry flies, something that resembles a Yellow Sally Stonefly. A Yellow Neversink Caddis or Rob's Hellbender are good choices. A black foam beetle is another option. By all means, try a Green Weenie.
We will probably see sunshine often this week. You may be better off fishing small shaded streams. Fishing will be best just before dark.
You have to get a good drift. That is hard to do when you are learning to fly fish in these mountain streams. It was for me. Long casts usually don't work. There are too many conflicting currents, that will cause your fly to drag faster or slower than the current it is in. Trout are accustomed to seeing their food drift at the speed of the current. Anything different, looks odd and sets off a warning to them.
Wear muted clothing and stay low. Fish the faster, moving water, where there is chop to conceal you and provide cover for the trout. Their natural instinct is to hide from predators in broken water, especially when we have the low flows which are normal during the Summer.
LOWLAND RIVERS
These stream will be warmer, now that the heat has been turned up. Fishing may be slower than it was earlier this week. Water levels are dropping too. Go early or late.
SMALLMOUTH BASS NATIVE RANGE
I'm working on a website within a website devoted specifically to smallmouth bass. I started this project long ago. Now, I'm on it again.
When I began, I talked about the original range of the bass. One of our readers of this report offered to reproduce a map for me to use, and I will use it on this site. I thought I would give you a preview of the map he designed. The native range of the smallmouth bass is the shaded part of the map.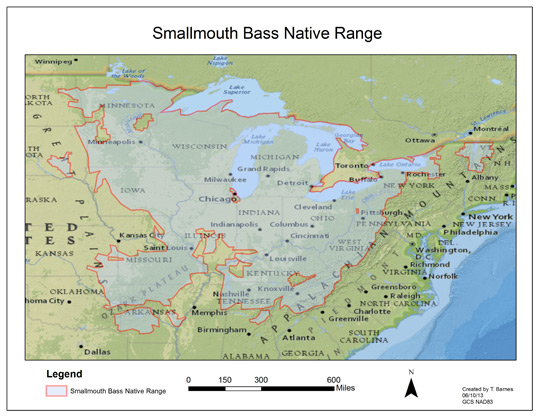 Smallmouth bass have been stocked in the East and West United States, outside this area depicted on the map. Man made canals also allowed the bass to migrate.
TOWNSEND AND PARK NEWS
There isn't much going on around here. This is the week after a holiday. There is less traffic and there are less people visiting the Park.
I did stop by City Hall yesterday, to look at the plans for the new City Hall. I read about the drawings in the Daily Times yesterday morning. The City Recorder didn't have them but said he would obtain a set and e-mail them to me or drop them by the shop.
He and I talked about the possibility of having a 24 hour ambulance service in Townsend. I think that is a great idea. It sounds like that will happen, maybe soon. A 24 hour service requires temporary living quarters for emergency personnel. Having an ambulance ready and close, will certainly save lives.
LAKE FISHING
According to "elkhaircaddis", one of our reliable contributors on the Message Board, the Hex Hatch or "Willow Flies" are active on the Tennessee River. When this happens, you can cast a huge mayfly near the bank and hold on. You never know what you will catch. Lake fly fishermen get really excited this time of year, when these mayflies show up in big numbers.
TAILWATERS
I assume they are fishing good, especially the Clinch River. That river has been red hot this year. The lower reaches of the tailwaters are fishing well for smallmouth bass.
Well, you have some choices this week. Paula and I will be floating a tailwater early next week, so we probably won't go to the lake this week. I plan to work on this website during the remainder of this week.
Have a great day and thank you for being here with us.
Byron Begley
July 8, 2015