Townsend, Tennessee - Fly Fishing in the Great Smoky Mountains National Park, East Tennessee and Western North Carolina

Welcome to the Fishing Report. It is partly cloudy and 71 degrees in Townsend this morning. This must be bird day. There were a lot of turkeys in our neighbor's garden earlier. The plants are so tall, all I could see were the wild turkey's heads. I drove by the Townsend Shopping Center. A flock of over 30 canada geese were walking around in the parking lot near the gas pumps. I drove by the swinging bridge, and there I saw yet another flock of geese, standing on the river bank. At the shop, a flock of crows flew from our parking lot when I pulled in.
Little River looked great but the flow is still very high. Currently the flow is 790 cubic feet per second (cfs) or 3.2 feet on the gauge. Median flow for this date is 131 cfs. The water temperature at 7:55 am is 61.4 degrees and the water is clear.
Look at the USGS graph below. It depicts the flow rates of Little River over the past 60 days. The measurements on the left are cubic feet per second. The pyramids along the bottom indicate median flow for each date. You can see that on June 1st the flow was below median. That has not happened often this year. After that date, flow has been higher than median and often substantially higher than median flow.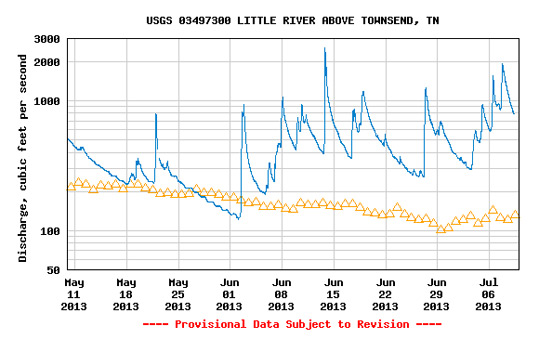 You might find some small streams that are fishable in the Smokies. Try Anthony Creek or Forge Creek. The West Prong of Little River might work. Wherever you go, be careful wading. I would use weighted nymphs. Try a Tellico, Prince, Green Weenie or Bead Head Pheasant Tail.
At the rate the streams are falling, fishing should be good by the weekend except for one small detail. We will probably get more rain. The chance for thunderstorms is 60% tomorrow and 70% on Thursday. We'll have to wait and see what happens. Wow, the low temperature Friday night is supposed to be 63 degrees. This is going to be a nice weekend. If we don't get the rain it could be an exceptional weekend in the Smokies.
An article on the KnoxNews website caught my eye this morning. The title reads: Weeks of rain lead TVA to release water at many dams". You can read the article by CLICKING HERE.
Our lakes are filling due to the rain. TVA would probably like to hold the water back for a while so as not to overburden the primary dams on the Tennessee River. The secondary impoundments are getting so high that water must be released and that is being done by opening flood gates at some dams. Douglas Dam is one. Fontana Dam is another. They are flushing huge amounts of water through Fort Loudoun, Watts Bar and Nickajack dams. Every dam I looked at this morning is at least generating all day today. Several are "Spilling", a term used by TVA to describe allowing water to bypass the turbines and drain a lake more quickly.
If you want to know if a particular dam is spilling, check the TVA Reservoir Information website by CLICKING HERE. Select a reservoir and click "View Info". Let's pick Douglas. See the bold black type above the generation schedule? It says, "Douglas will be spilling until further notice".
Now, move down the page in the center and click on the link entitled "See the operating Guide for this reservoir". The red line on the graph is the height of the water in elevation above sea level. The red type at the top right of the graph gives you that reading as of midnight. To the left of that is the elevation of the "To of Gates". You can see that Douglas is getting close to the top of the gates.
Read this page and you will learn a lot about how TVA manages the levels of lakes and why.
Tomorrow is my day off. Paula and I plan to fish on a lake or we did until now. I use the lake guide before going fishing. On this page I can tell what the water elevation is and what has been going on for the past 48 hours. After looking at these pages, we decide which lake to fish. They are flushing so much water through them, I'm not sure I want to fish any of them. I think we have about 8 impoundments close by. Additionally, there is a 70% chance for thunderstorms tomorrow, starting in the morning. I don't like the sound of that. Scattered afternoon thunderstorms are fine. We usually launch the boat at daybreak and fish until noon.
Right now, it is hard to find a place to fish around here. That is rare. We have hundreds of miles of freestone mountain streams nearby. Most of them are flowing high. We have some excellent smallmouth bass fishing in the lowland rivers close to us. They are flowing high and the water is muddy.
Tailwaters are everywhere. You can wade or float. They are stocked with trout. Fly fishermen can catch trophy trout all around us. And, in the lower sections, you can catch trophy smallmouth bass. I don't think I would attempt to fish any of them today.
Huge and small impoundments, several of them are within an hour or so drive from here. Maybe some of those would be an option. I bet a few of the reservoirs are muddy. If the water is high and receding, there may be lots of debris in the water. This is just not a good week to fish in our area.
I know some of you have a plan and hopefully a good one. I bet Jack does. He would know what to do. One day, when Little River was out of it's banks, Jack drove to Metcalf Bottoms and fished there. He caught trout in the water next to submerged picnic tables. Concrete picnic tables make an excellent current break. The trout were packed in together behind those tables.
Have a great day and I hope you come up with a plan. Be careful. Thank you for being here with us.
Byron Begley
July 9, 2013