Townsend, Tennessee - Fly Fishing in the Great Smoky Mountains National Park, East Tennessee and Western North Carolina

NOTE: The following roads are still closed in Great Smoky Mountains National Park: Little River Road between Metcalf Bottoms and the Townsend "Y", Upper Tremont Road above the Institute, Parsons Branch Road and Forge Creek Road.
Welcome to the Fishing Report. It is cloudy and 71 degrees in Townsend this morning. My view of the Great Smoky Mountains is beautiful right now. I am seeing scattered fog and the sun's futile attempt to cast light on the damp ground. I had to take a picture for you. Below is the view from my office.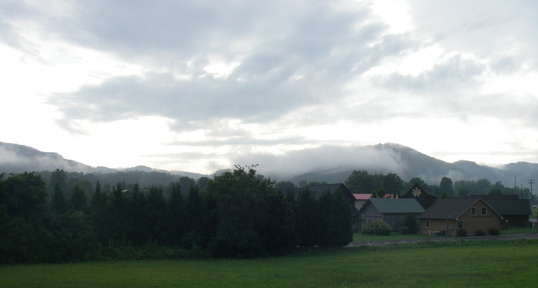 Traffic was light early. I would imagine lots of folks have cancelled their vacations here due to the Park roads being closed temporarily because of the storm we had last Thursday. We have been very slow at the shop. Many of the roads are open now. A couple of important roads to anglers are still closed.
It is very likely that we will be getting some much need rain through the weekend. The chances are high every day. According to the National Weather Service, the main threat today will be heavy rain and localized flooding. But they go on to say we could also see damaging winds. It is going to be much cooler than we are used to lately. Highs will be in the low 80's until Saturday.
Fishing is going to improve in the Smoky Mountains barring any flooding. You should be careful while fishing in the Park. As we were reminded of last week, falling trees are dangerous. Two people died in the Park on Thursday after being stuck by fallen trees. There were other injuries as well.
The higher and cooler water will be a blessing for anglers. We are all looking forward to this. Cloud cover will also be a benefit this week. Fishing is going to get really good. It hasn't been bad if you positioned yourself in a higher elevation stream where the water is cooler. Now we should see improvement in the lower elevations.
After the water clears in the lowland rivers, smallmouth bass fishing will get better. The water is clear now in Little River. I expect that to change over the next few days. A little more depth and flow will benefit all of us who like to fish for smallies in free flowing rivers. What a sport that is.
Smallmouth fishing in the tailwaters has improved. If you can tolerate the heat and sun, Summer is an excellent time to catch smallies in the tailwaters. I don't know why but that has been my experience. It is time.
I talked to Tom yesterday about the willow fly hatch. He fishes Fort Loudoun Lake a couple of times a week or more. He said the hatch this year was late and sporadic. He has encountered times and locations where he did not see the bugs at all. Then, he would find himself surrounded by a cloud of these large mayflies. If you are lucky enough to be at the right place and the right time you can catch anything that swims. You never know what you will catch. If you are a fly rodder and fish on the lakes, have some big mayfly imitations on board.
I guess I won't be on one of the lakes this week. My truck is still in the shop and I'm driving a brand new Nissan Titan rental. The body shop is finished restoring the exterior. Now the suspension experts are at work today. We keep finding new things to work on. But, after 11 years of leading a very tough life, that Suburban is due to be re-built. I plan on keeping it the rest of my life.
My lifestyle requires that I have a large truck I can beat the heck out of and not worry about it. Over the years I would frequently get a new scratch or dent. I can't dwell on things like that. If I had a new truck, it would stay parked all the time. I would continue to drive this one.
Today it is getting a new steering box. It will be comforting to know, that when I'm driving over the mountain pulling a boat, the steering won't go out. Now those kinds of things do worry me. At this point, I have spent an amount that has officially exceeded the value of the vehicle. I bought this truck new and I know what is right and what is wrong about it.
Yesterday I got a notice from Mercury Marine that the warranty on our outboard will expire next month. I bought the motor new and it came with a 3 year warranty. For about $500 I can extend the warranty by 4 years. I almost pulled the trigger until I read the fine print.
In the event of a claim, it is incumbent upon me to prove that the maintenance has been routinely kept up as outlined and required by my owners manual. I have done all of my own maintenance since day one. I change the oil, plugs, fuel filter and lower unit oil about twice as often as I'm supposed to. How do I prove that? I tossed the notice. Next time I'll save receipts for parts and lubricants and keep a log. I could even have a witness sign the log. Lesson learned. This has been a great motor. I've only had one problem and that was due to bad fuel.
Have a great day and thank you for being here with us.
Byron Begley
July 10, 2012
Respond to: byron@littleriveroutfitters.com