Townsend, Tennessee - Fly Fishing in the Great Smoky Mountains National Park, East Tennessee and Western North Carolina

Welcome to the Fishing Report from the Great Smoky Mountains. At 6:35 am, it is overcast and 70 degrees in Townsend.
Strong storms pounded our County, surrounding Counties and Great Smoky Mountains National Park yesterday. Trees were blown down, lightning strikes caused damage and heavy rain fell in two waves of storms. The Airport reported 1.55 inches of rain. Other areas in the County got more.
LITTLE RIVER CONDITONS
Little River is flowing at 1,450 cubic feet per second (cfs) or 3.84 feet on the gauge. Median flow for this date is 129 cfs. The water temperature is 65.7 degrees this morning. The river rose to approximately 4.3 feet late yesterday.
FISHING IN THE SMOKIES
You will likely encounter high water in most streams today but they are receding. There is no rain in the forecast until the weekend. It is going to be hot.
I could not find any closed roads in the Park this morning. Downed trees have most likely been removed from roads.
I would wait a while before going, today. Some streams may be fine right now. Little River is flowing fairly high. It's hard to say what the other stream conditions are because most do not have flow gauges. The water temperature is good. This seems like a nymphing day to me.
FLOATING THE FRENCH BROAD RIVER DURING THE STORMS
Frank and Steve (Mouse) came down from Kentucky Monday night and stayed at our house. Our plan was to float the French Broad River with Josh Pfeiffer. Two of us would be fishing from Josh's driftboat, and two would be in kayaks. We watched the weather forecast. It was about like the day before, and storms did not form and blow through that day. We pulled the trigger to go yesterday morning at 5:30 am.
We met Josh at 6:30 and were on the river at 7:30. We were committed to an 8-mile float. Paula and I started the day in Josh's boat, while Frank and Steve were drifting in their kayaks.
Paula and I landed a couple of smallies each early in the morning. Then, the first storm hit us. Lightning, strong wind and heavy rain caused us to retreat to shore. Frank and Steve were not visible downstream. We were soaked and shivering. Josh pumped out his driftboat. After the storm we continued to fish and caught up with Frank and Steve. They had caught a few smallmouth bass too.
After lunch, we continued down the river, this time, with Paula and I in the kayaks. Josh's boat was out of our sight when the second wave of storms arrived. Paula and I kept paddling downstream. Lightning struck all around us. It was raining like crazy.
We all got together with about 2 miles left in our float. Steve caught the smallie you see below. That was the largest fish of the day. It measured 18". What a beautiful fish. We arrived at the takeout at around 5 pm after 9 ½ hours of punishing storms and fishing as much as we could. It was a great day. I'm glad we decided to go.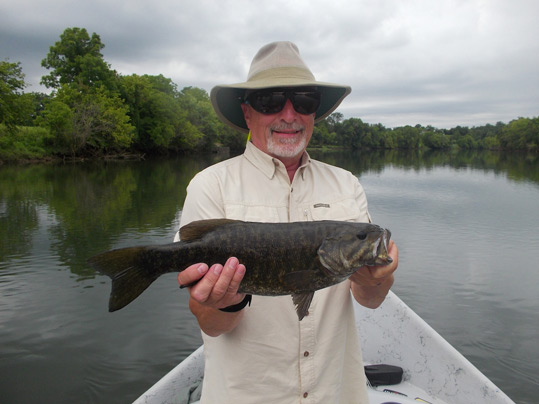 LIGHTNING STRIKES LRO
Daniel called Paula as we were pulling out of the river. Lightning either struck our store, or struck close. They could smell smoke in the shop, coming from the computer room. This is the first time Daniel and Dan found themselves in crisis mode, since they took over the shop. The burgler alarm was sounding. Some phone lines were not operating. The fire department had been called. We loaded the boats and drove to the shop, an hour's drive away.
Here is what could have happened. We could not process sales without computers. We could not make credit card transactions or process fishing licenses. Our phones may not be working. We may not have a security system. Maybe our accounting system was destroyed and data lost. It could have been a disaster.
Frank, Steve, Paula and I finally pulled into Townsend. As we drove to the shop, I expected to see Comcast crews restoring our internet and phones. Maybe our IT guy would be there. I thought the fire department would still be there. I expected the worst. That's why I'm not in charge anymore.
We got to the shop at 6:30. The store was closed and everyone's vehicles were gone. The lights were on in the store. So, we stopped at the grocery store, bought some hamburger to cook out and came home. I guess they got everything going and I worried about nothing.
What a day it was. It was a great day.
I hope you have a great day too. Thank you for being here with us.
Byron Begley
July 15, 2015