Townsend, Tennessee - Fly Fishing in the Great Smoky Mountains National Park, East Tennessee and Western North Carolina

Welcome to the Fishing Report. It is overcast and 74 degrees in Townsend this morning. It feels great outside. I think the humidity is lower than the weather websites are reporting. I saw a good-looking couple riding bicycles on my way to work. They were Shannon and Shannon Skidmore. They own River Rat Tubing and TC Environmental, a company that rents and maintains dumpsters and port-a-potties. Basically, they are in the business of "tubes, toilets and trash". Since they both have the same name, we all call him Mr. Shannon and her Mrs. Shannon. They are great folks. I really enjoy being around both of them. I've known Mr. Shannon since he was a teenager. He was our mayor at one time. Like any successful business owners in our town, they work very hard. You have to do that here.
Little River looked awesome this morning and the flow is great. Currently, the flow is 374 cubic feet per second (cfs) or 2.44 feet on the gauge. That level is on the slightly high side of good. That's better than low. The water temperature at 8:00 is 65.3 degrees.
Fishing in the Smokies is very good. Trout are taking a variety of flies. They are hungry. The warmer water has cranked up their metabolism. The aquatic insect activity has slowed a bit which it usually does in the Summer, compared to Spring. Your fly just needs to look like food and float with the current naturally. Most trout in the Smokies are wild. They were born here. Their parents and grand parents were born here. To survive and reproduce in this environment the trout come from wary ancestors.
For that reason, these trout are not easy to fool. So, a fly that is not drifting perfectly with the current is not going to be very productive unless you find a trout that has some kind of mental deficiency.
Check the TVA website and you may find some tailwater fishing opportunities. I'm looking at the Norris Dam page. They say the water is off right now and at 10:00 am they will turn on only one generator until they go full blast at 6:00 pm. Folks who know how to fish the Clinch River might be able to squeeze in some good fishing today. At Cherokee Dam, TVA says they are going to shut down the generators at 10:00 am. Things are looking better for the tailwater anglers, finally. Please check the TVA website before you go. Don't take my word for it. It is early in the morning and I am prone to mistakes. I don't want someone getting stranded or worse based on what I'm writing this morning or any time. Check it out for yourself, please.
I get a lot of free magazines including In Fisherman. Most of these magazines are geared to hardware anglers, not fly fishermen. Though I fly fish exclusively, I can find some great information in these magazines that I can use in our sport.
One article I read described some testing being done on bluegill. Scientists (or fish psychologists) are trying to determine if these fish have personalities, and how do those personalities equate to angling success. Some bluegill are risk takers. Others are timid. I'm going to read that article again to form a useable opinion on how that may improve my fly fishing for bluegill. What I think I read was, the timid fish are easier to catch. That doesn't make sense to me but I'm not a fish psychologist.
Someone on our message board saw a fly on this fishing report and asked what it is. You can see some of these flies below. I took the pictures yesterday.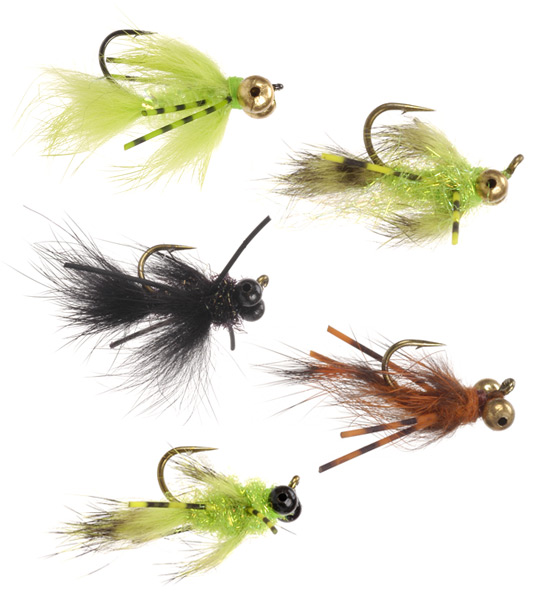 I have tied a couple of hundred of these in all different colors and combinations of color, weight and materials. Basically, I started with a Carter's Rubber Legged Dragon, which we sell in black and olive. Designed to catch bull bluegill at Calloway Gardens in Georgia, these flies are deadly on bluegill everywhere I've fished with them. And, they are also great smallmouth bass flies. Paula caught a 3 pound smallmouth bass on one about three weeks ago. Other customers are catching smallmouth bass on them.
The versions you see above are bushier and tied differently than the ones we sell. First, they are tied on a Tiemco 2457 #6 hook. We don't sell the 2457 in that size anymore because almost nobody bought them. I think I'll re-stock them in the future. I did notice this morning we had 2, 100 packs left.
The fur is rabbit. What I found is, it is easier to tie rabbit fur on a fly if it is still attached to the hide. So, I tie in the fur from a rabbit or bunny strip, then cut off the hide after the fur is tied in. The eyes are bead chain in various colors and sizes. I would like to find some copper bead chain but so far, no luck. The body is dubbed. I've used every kind of dubbing you can think of. Everything seems to work. The legs can be round rubber or silicone. The collar is rabbit fur, tied on while still attached to the strip. Of course, the tail is rabbit fur. You can color the fly with bars using a marking pen. If you want the flies to sink fast, use larger bead chain. The hook rides up like a Clouser. That comes in handy when you are scraping along the bottom. This fly is an excellent dropper when fishing with a popper or Knucklehead.
We found that chartreuse and crawfish orange are our most productive colors. Black works pretty well too. We have caught largemouth bass, smallmouth bass, shellcrackers, bluegill, redbreasts and channel catfish on these flies. All you do is cast them out, let them sink, then slowly retrieve them back to the boat. Hang on!
I call them Dragons. My favorite warmwater flies are: Poppers made with foam cylinders, Knuckleheads, Puglisi Threadfin Shad, Wooly Buggers and these Dragons. Basically, that's all I use in lakes.
Lately I have been tying Wooly Buggers on jig hooks and weighting the fly with 18 wraps of .020 lead free wire. I have noticed that the smallmouth bass are hooked in the upper lip so that means these buggers are riding "Hook Up" as intended. That's what I want. You don't get hung up on rocks or limbs as often.
Have a great day and thank you for being here with us.
Byron Begley
July 21, 2013