Townsend, Tennessee - Fly Fishing in the Great Smoky Mountains National Park, East Tennessee and Western North Carolina

Welcome to the Fishing Report from the Great Smoky Mountains. At 6:15 am, the temperature is 69.3 degrees. It is going to be hot today, near 90 degrees. We have a 50% chance for rain.
LITTLE RIVER
It rained somewhere in the Little River watershed last night, upstream from Townsend. The flow gauge is rising this morning. Currently, flow is 199 cubic feet per second (cfs) or 1.86 feet on the gauge. Median flow for this date is 123 cfs. The water temperature is 70 degrees this morning.
FLY FISHING IN THE SMOKY MOUNTAINS
The streams are warm in the lower elevations. Fish higher in the mountains where the water is colder. You may find some stained water this morning, somewhere in the Little River watershed, due to the rain that fell late last night and early this morning. That will likely be temporary unless we get more rain, and we may.
However, the water levels are good. Fishing should be fine today. We will see some sun. Find a shaded stream or fish early and late.
If the water you are fishing is discolored, use nymphs. If the water is clear, use dry flies or nymphs. The trout are used to seeing terrestrial insects on the water. I would use a black foam beetle. Another good choice for a dry fly is the Yellow Neversink Caddis. Green or Pink Weenies are recommended for sub-surface fishing. Choose other patterns and you will probably catch trout. These fish are hungry and looking for food.
The USGS Townsend Gauge is now indicating Little River's flow has peaked and is falling. So, we can assume the rain was minimal at this point.
TAILWATER TROUT FISHING
TVA has scheduled generation at Norris and Cherokee dams most of the day. Both impoundments are at full Summer pool.
FLY FISHING IN THE LAKES
Fishing is best early and late, which has been the case for a while, unless we have a cloudy day. Watch for early evening surface activity, as game fish are feeding on threadfin shad.
BOOGLEBUG POPPERS
We are beginning to stock BoogleBug poppers in the shop and I'm adding them to the online store in a new smallmouth bass category. We only received 6 different styles to begin with. Dan plans to order more. These are the most durable poppers I know of. The Birmingham based company has been selling these bugs for years and we used to stock them in the shop. Somehow they were dropped from inventory. Now, they are coming back. I got some free samples years ago, gave them a try, and loved the results and the durability BoogleBug is known for.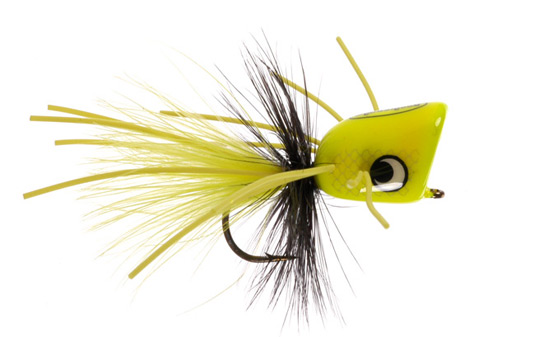 You can see from the photo above, these poppers are so shiny, they are difficult to photograph. No matter what I do, I get glare somewhere on the body. I made two trips from home to the studio at the shop, reshooting and trying to correct the problem.
You can look at the 6 models we stock now on the online store by CLICKING HERE. If you buy one, or more, remember, we don't charge for ground shipping.
This category, when finished, will sell only the tackle and flies that I use. This page will tie in to our Smallmouth Bass Fly Fishing page I wrote years ago, and is one of the most visited pages on our website. 90% of those who visit this page, have not visited before, this year. People find it doing internet searches. So, this online store smallmouth page, will be linked to that page, for obvious reasons.
LYNN CAMP PRONG
When the crowds dwindle, and it gets cooler, I'm planning a day, by myself on Lynn Camp Prong. You probably know, this stream was the subject of a brook trout restoration project, and was closed for 7 years.
I don't know how many times, I spent the day there, when rainbows were the only species I caught. Lynn Camp Prong always had a large population of rainbows. Now, the brook trout population has surpassed the numbers of the former rainbow community.
Lynn Camp Prong has always been my favorite trout stream in the Park, followed by Fish Camp Prong and Palmer Creek. It is beautiful up there. I can sit on the bank and watch the water flow by for hours. And, I could always catch plenty of trout.
Lynn Camp opened this year. Fishermen flocked to the stream. I kept hearing it was crowded. So, I didn't go. I'm waiting for the perfect day, which will be soon.
Have a great day and thank you for being here with us.
Byron Begley
July 27, 2015