Townsend, Tennessee - Fly Fishing in the Great Smoky Mountains National Park, East Tennessee and Western North Carolina

Welcome to the Fishing Report. It is sunny and 71 degrees this morning. We are going to see some lows at night dip into the high 60's again, thank goodness. The normal low for this time of year is 63 degrees. It is still going to be hot during the day and warm at night but things are looking better.
There was quite a bit of human activity earlier. People are out. After this weekend, kids go back to school. We see a drop in tourism at that time. In September we see an older crowd return as the weather cools. September is still a slow month for tourism here but the weather conditions can be really comfortable, especially early in the mornings and late in the day. I am looking forward to that.
We did not get that rain yesterday, dang it! Little River is losing it's volume very slowly. Flow is currently 70 cubic feet per second (cfs). Median flow for this date is 112 cfs. You can see from the USGS graph below, though the water is low, it is not like it was in late June and early July. During that time the flow dropped below 50 cfs. The chance for rain increases starting Tuesday. It is most likely going to be dry until then.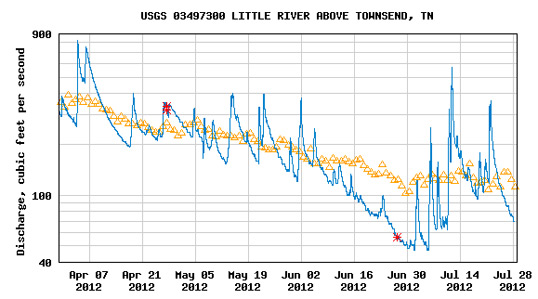 The water temperature is rising. That trend may peak today and begin it's decent. I hope so. Look at the water temperature graph dating back to July 22nd. The low and high daily temperatures are creeping up.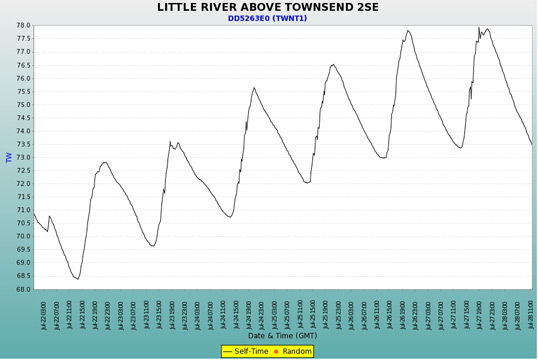 Trout fishing in the Smokies is fair. You can catch trout. And at the right place and time you could have a great fishing day. Fishing will be better early and late. The higher the elevation, the cooler the water. The backcountry offers shaded smaller streams. I would still hike a few miles above Elkmont if I were going fishing today. There you will find cooler water, solitude and more comfortable fishing conditions.
We are still recommending Yellow Sally stonefly patterns, beetles and Green Weenies. Other patterns will work fine. The trout are hungry. Warmer water turns up their metabolism a few notches and they require more food. Warmer water does not contain as much dissolved oxygen (DO). Trout don't like that. The fish will be in the riffles and close to faster water to provide cover and offer water that does offer them more DO.
I would not be on a lake this weekend. They will be packed with boaters.
Fishing for smallmouth bass on the tailwater is excellent. Glen and Michael fished with Josh this week. They landed 28. They lost a lot more than that. Josh said the hookup rate was awful.
Have a great day and thank you for being here with us.
Byron Begley
July 28, 2012
Respond to: byron@littleriveroutfitters.com