Townsend, Tennessee - Fly Fishing in the Great Smoky Mountains National Park, East Tennessee and Western North Carolina

Welcome to the Fishing Report from the Great Smoky Mountains. At 5:46 am, the temperature outside is 73 degrees. Yesterday's high was 92 degrees at the airport. It was cooler than that here at our house. It usually is.
We can expect hot days, at least until the weekend. We should see low temperatures in the mid-60's by the weekend. There is a fairly good chance for rain tomorrow.
LITTLE RIVER
Little River is flowing at 127 cubic feet per second (cfs) or 1.59 feet on the flow gauge. Median flow for this date is 136 cfs. The water temperature is 71.6 degrees this morning.
FLY FISHING FOR TROUT IN THE GREAT SMOKY MOUNTAINS
There is no doubt, you need to fish in the higher elevations where the water is colder. The streams are very warm in the low elevations.
Dry flies or nymphs will work. I would pick a terrestrial pattern, simply because that is what the trout are seeing more of on the water. However, most any reasonable pattern will work, as the fish are hungry and looking for food. A Yellow Neversink Caddis or a Black Foam Beetle is a good choice for the dry. Green or Pink Weenies work very well this time of year as a sub-surface pattern.
The streams are low right now, as they are typical of summer flows. Stealth is of the utmost importance when the water is low. Read yesterday's report by clicking the archive for that date below. There, you will find some other good hints, to help you catch more trout, in the Smokies.
TROUT TAILWATERS
You may have a window of opportunity for wade fishing on the Clinch or Holston this morning. Generators should be turned off for a few hours. Check the TVA website and see if these schedules work for you.
FLY FISHING THE LAKES
Most certainly, go early or late. Mid-day fishing is probably slow and it is hot as heck out there. Paula and I drove to Knoxville Monday evening for her birthday dinner. She was driving. We crossed Fort Loudoun Lake on the Pellessippi Parkway bridge on the way home. I looked down and saw schools of fish, chasing shad, on the smooth water below. I wanted to be down there.
FLY BOXES FOR BASS AND SALTWATER FLIES
I wrote a short article yesterday, for our online store, about my favorite fly box for larger flies. The box is a Dewitt 1046 with ripple foam. I've been using Dewitt fly boxes for many years, longer than our shop has been open. We've been open 20 years. I probably have between 15 to 20 of these fly boxes. Why? They are light, you can see the contents, they are indestructible and the hinges won't rust, even in saltwater. I use a waterproof Fishpond sling pack for a boat bag or for wade fishing. So, I don't have to worry about using waterproof boxes, which are very heavy. I usually have 8 of these boxes in my sling pack. They weigh almost nothing. You can see what I wrote and the boxes by CLICKING HERE. Below are a few of my boxes, I use every time I go fishing.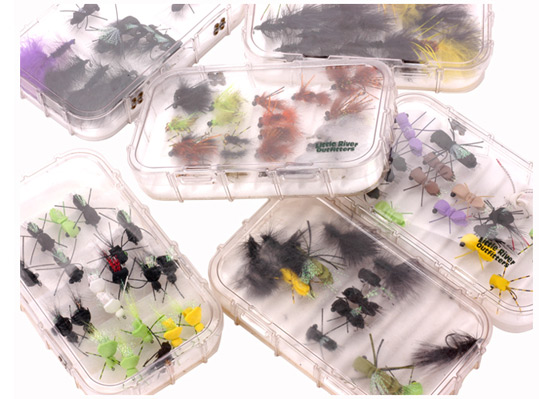 SEARCH AND RESCUE IN THE PARK
I read an interesting article on the WBIR website this morning. You can read it by CLICKING HERE. The article describes how the rescue team in the Park operates and the astounding number of search and rescue operations they are involved in. They average 100 search and rescues per year.
Newer technology is available to hikers in the form of Personal Locator Beacons. Using satellite technology, a lost or injured hiker can get help by simply pushing a button, if you have a clear sky and access to the satellites. Those items are described in the article.
Additionally, the Park Service uses GPS technology to log areas that have been searched when conducting a mission, making their efforts timely and efficient.
You will read, one of the most important safety items to take with you in the wilderness, is a trial map, which is offered free by the Park Service.
For years, we sold trail maps. We still do. But, back in the old days, we sold a ton of them. Map sales amounted to several thousand dollars per year at the shop.
Great Smoky Mountains National Park began printing full color trail maps to be given away free. We decided to take the free maps from the park, and give them away to our customers. We thought that was the right thing to do. Our map sales dropped by a huge amount. We did the right thing and continue to do so.
SNAKE BITES CAN COST YOU
Snake bites are expensive according to an article on the CNBC website. Read it by CLICKING HERE. A man was bitten by a rattlesnake, and got a bill from the hospital for $153,000. Sure, health insurance probably paid for most of it, or maybe we did?
SHOP TALK
I worked at home yesterday. I started early, worked 9 hours, and took at nap at 3 pm. I spent the day writing and doctoring photography for the online store. I try to work 50 hours per week, the same as the Daniel and Dan. I'm trying not to work more than 50 hours. That is hard for me to do. I usually work more. One reason is, I write this report every day, even on my day or days off. Believe it or not, this usually takes two hours. Much of that time is spent gathering data, looking for stories and writing the report. After the report is written, I still have to update 3 pages on the website.
WARMWATER FLY DEPARTMENT
We planned to have a new and unbelievable warmwater fly department in the shop this Spring. We didn't get to it. Though it is late in the year, we are working on it now, and making progress. For us, it is more than just ordering flies. We have to merchandise them, photograph them and put the flies on our website to sell. When the flies arrive, they have to be packaged to sell. Additionally, many of the flies have to be ordered months in advance. I'm hoping we will stay on top of this and have an excellent offering for you, in the future. We are making progress.
Have a great day and thank you for being here with us.
Byron Begley
July 29, 2015