Townsend, Tennessee - Fly Fishing in the Great Smoky Mountains National Park, East Tennessee and Western North Carolina

Welcome to the Fishing Report. It is sunny and 59 degrees. Wow! It feels like Fall again. I could get used to this. One weather website is predicting a low of 57 tonight and a high of 77 tomorrow. Others don't agree of course.
Little River is flowing at 258 cubic feet per second (cfs) or 2.15 feet on the flow gauge. Median flow for this date is 128 cfs. The water temperature at 8:00 am is 62.3 degrees.
Fly fishing conditions in the Great Smoky Mountains are perfect and fishing is very good. Some say the fishing is excellent. Trout are taking dry flies like Neversink Caddis, Stimulators, Parachute Adams and Light Cahill patterns. They are liking nymphs too. Try a Green Weenie, Bead Head Pheasant Tail or Tellico nymph. And, terrestrials are working too. A good combination is a foam beetle pattern with an ant as a dropper.
This is going to be a great day to fish in the Smokies.
Josh was in here yesterday. He said the smallmouth bass on the tailwaters are very active. His clients are enjoying excellent fishing. He always has a smile on his face but you could not wipe the smile he has now off with a brick. "Everybody happy".
All the guides are happy, happy, happy. Their business is good again. I talked to several guides yesterday. All smiles!
TVA is handing out some great news in the form of no or little generation at times. Look at the Clinch River schedule today. The schedule at Cherokee Dam today might work for you too. Douglas Dam will probably be cranking.
If you like fishing lowland rivers, today will be good for that. Water levels and temperature are perfect.
"Bad Weather Byron" is going fishing tomorrow with Paula. It's my day off. We'll be on one of the lakes, or I hope so. Depending on which weather website you believe, the chance for thunderstorms is between 60% and 80% tomorrow. My plan is to have the boat ready with tackle loaded at daybreak tomorrow morning. We'll check the radar of course. And, we'll stay close to the ramp. But we're going no matter what.
Our plain Jane boat looks great with the new seats installed. They match the boat colors perfectly. Phil would say our skiff is looking like a yuppie boat. Hey, I'm going for comfort, not looks.
I have samples of the new Chota camo waders and Hippies in my office. They are here for a photo shoot. They look awesome. Our studio is going to need some serious re-arranging to photograph something as tall as a wader.
Raz Reid, one of our sales reps was here last week. Among other companies, he represents Umpqua Feather Merchants. Umpqua is introducing Blane Chocklett's new "Game Changer" minnow pattern. This fly is the talk of the sport. It is going to be a game changer. I took a couple of the samples into our studio and photographed them. The pictures are below. These patterns are tied on Fish Scull Articulated Fish-Spines. I ordered some to sell in the shop yesterday. We will be selling the flies and tying materials when they are available.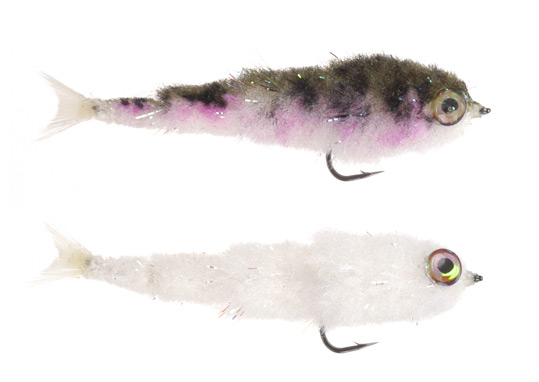 The samples I photographed are about 5" long. I believe this fly will prove to be awesome for large trout, bass, musky, walleye, stripers and many saltwater species. Look at the YouTube video below. You will understand what I'm saying.
Have a great day and thank you for being here with us.
Byron Begley
July 30, 2013