Townsend, Tennessee - Fly Fishing in the Great Smoky Mountains National Park, East Tennessee and Western North Carolina

Welcome to the Fishing Report. It is very foggy and 69 degrees in Townsend this morning. Traffic is light, visitors are sparse and it is quiet and peaceful in our town. Visitation in the Park is light too. This happens every year in August.
A large storm barely missed us yesterday evening. It found an easy path to our south and took it. Little River was flowing above normal yesterday due to the rain we did get Tuesday evening. Now the river is flowing at 72 cubic feet per second (cfs). Median flow for this date is 116 cfs. The water temperature was 71 degrees this morning at the swinging bridge. I still can't get that USGS web page that shows the river temperature to load. I tried it again this morning at home.
Fishing has been good in the Smokies, better than I expected. More anglers are traveling to the higher elevations where the water is cooler and they are doing well. Walker Camp Prong and it's tributaries are fishing well. Expect to catch rainbow and brook trout up there. The Elkmont Campground area of the East Prong of Little River is fishing well, especially further into the backcountry. It is hot and for the most part it has been sunny. You need to find shade and cool water during the day. Fishing will probably be best early and late. Trout are taking terrestrials, Yellow Sally imitations and other patterns too. More important that pattern is getting a good drift and not spooking the trout.
Trout fishing on the tailwaters has been very good. I talked to Kris Maurer yesterday and saw his post on our message board. He said he caught about 10 trout on a black Knucklehead. So, trout eat them too.
Fishing for smallmouth bass on the lower reaches of the tailwaters is really good too. Overall, fishing is good.
We will probably get some more rain this weekend. Chances are good for tomorrow night and especially Saturday and Sunday. High temperatures this weekend should be in the high 80's with lows in the low 70's.
Sometime yesterday or last night we had our millionth visitor to our website since January 1st. If that trend continues we should have about 1.7 million visitors this year. Visitation will pick up this Fall so there may actually be more. This Fishing Report has had 127,206 visitors this year so far. Your computer is only counted once during a 24 hour period. But, if you visited 365 days a year, you would be counted as 365 visits.
Mark Brown, the sales manager at Chota will be here shortly. We are going to film a video featuring one of their new products. The film will be shown at the Fly Fishing Retailer show later this month in Reno.
We should have the second batch of Brook Trout Restoration t-shirts in the shop and ready to sell on Saturday. I will pick them up tomorrow and go through the process of tagging and folding the shirts. This is the second printing of 144 shirts. The first batch went on sale in mid-June. The short sleeve shirts will be the larger sizes that we ran out of quickly from the first printing. The balance of the shirts will be exactly the same but will have long sleeves.
Yesterday I was in Maryville and decided to check on the progress at Greenbelt Lake. This $3 million project required temporarily re-routing two creeks around the lake. Silt in the lake was removed and dried in a designated area before being transported to the land fill. A weir dam is being constructed above the island. The dam will trap silt, making it easier to remove later as needed. The Bio-Engineering plan included a riprap revetment along the shore to hold back soil which will provide for a shallow wetland. Aquatic plants will help filter contaminates.
This lake is located in downtown Maryville/Alcoa. It is long and narrow. Greenbelt lake is going to be an excellent place to fly fish for bass and bluegill. It was good before. It will be better now. The project should be completed by October.
I took the pictures below from the bridge at the Blount County Library.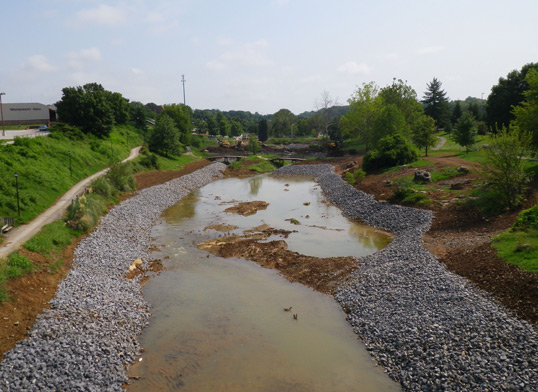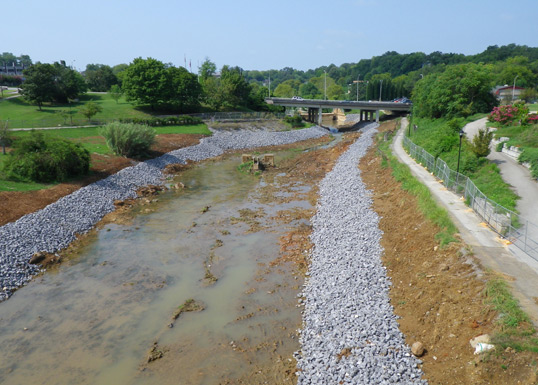 Have a great day and thank you for being here with us.
Byron Begley
August 2, 2012
Respond to: byron@littleriveroutfitters.com