Townsend, Tennessee - Fly Fishing in the Great Smoky Mountains National Park, East Tennessee and Western North Carolina

Welcome to the Fishing Report. It is partly cloudy and 67 degrees in Townsend this morning. This is going to be a nice weekend in the Great Smoky Mountains. It will be warm today, around 89 degrees in the valley. Temperatures will begin to drop tomorrow. The low is supposed to be 59 degrees. We are going to enjoy nice weather over the next few days.
Little River is flowing at 201 cubic feet per second (cfs) or 1.98 feet on the flow gauge. Median flow for this date is 116 cfs. The water temperature at 7:50 am is 65.5 degrees.
Fly fishing in the mountains is good. Trout are taking dry flies with vigor. Fishing will be best early and late. Though the water level in Little River is almost double the normal flow for this time of year, it is beginning to get low compared to what it has been over the past few months. So, stealth is very important right now. Trout will be easier to catch in the riffles and choppy water where a riffle enters a pool. Yellow Sally stonefly, Parachute Adams, Elk Hair Caddis and foam beetles will work as a dry fly. A Green Weenie or any small bead head nymph could be used as a dropper or fished with some weight to get them down deeper.
Generation schedules on the Holston River below Cherokee Dam look pretty good right now for wade fishing. The Clinch River below Norris Dam does not look so good right now for wading. Fishing from a boat might be great. Check the TVA website for generation schedules. See if one fits your kind of fishing on the tailwaters.
The lowland river levels are dropping. Wade fishing will be best early and late for smallmouth bass. You may catch fish during the day on shaded banks or in deep water.
From what I'm hearing, white bass are busting shad on the surface in the lakes. I saw that happen last week but didn't get to the school in time. We just got in some more Puglisi Threadfin Shad flies. I take them out of the package and do a little extra marking on them with a Sharpie and a Prismacolor Marker. Then they are re-packaged and sold to you. These patterns will be very beneficial to lake fishermen over the next few months.
The top fly pictured below is the Micro Shad and the bottom one is the Perfect. You can read more about these flies or order them online by clicking on these links: MICRO or PERFECT.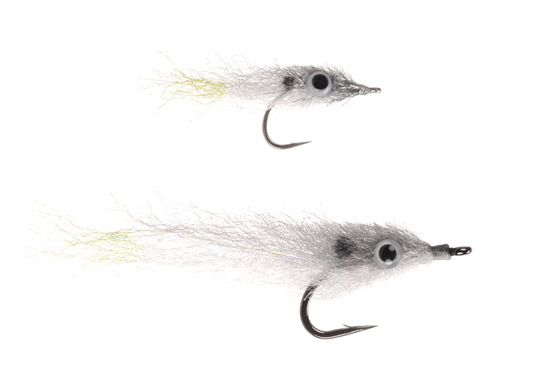 I slip a tungsten bead on the leader to give these flies some weight. I don't like to use split shot because it weakens the tippet when I clamp them on. I have lost several good smallmouth bass that broke me off right at the split shot connection point.
I talked to Ben Kurtz yesterday. He is one of the partners at Fishpond. He called me from the Outdoor Retailer show in Salt Lake. They have some great looking new gear that will be available this Fall. We have been a dealer since the company was founded in 2001. They have been great to work with and we sell a lot of Fishpond gear.
We are remodeling the shop gradually. New slatwall and fixtures to hold fly rods will be arriving next week. We'll install the slatwall and I'll give it two coats of paint in one day. I ordered 100 magnets to hold the description signs for each rod. For the first time in 9 ½ years, the fly rods will be on the lower level of the store. We will be testing some new lighting in the rod department. We have been gradually replacing older less efficient florescent fixtures with the newer units that conserve electricity. Over time, all of our lighting will be energy saving fixtures and bulbs.
I have purchased some track lighting that uses pure white florescent bulbs that look like flood lights. They put out a lot of white light without using nearly as much electricity. We have some of those bulbs in the shop now. I'm not ready to switch to LED lighting quite yet. The bulbs need to drop some in price. But, the fixtures we are buying can use the LED bulbs when we are willing to spend the cash.
Our longer term plan is to remodel the upstairs mezzanine and move the fly tying materials there. Two offices will be removed and turned into retail space.
The newly remodeled fly department is almost finished. All we need to do is stain and apply polyurethane to the wood. It is going to be awesome when it is finished.
So, we've got a lot going on. New 2014 gear will be arriving soon and the store will be transforming into something new. I'm excited about that.
Have a great day and thank you for being here with us.
Byron Begley
August 3, 2013