Townsend, Tennessee - Fly Fishing in the Great Smoky Mountains National Park, East Tennessee and Western North Carolina

Welcome to the Fishing Report. It is a beautiful morning in Townsend. The sun is shining and the temperature is 68 degrees. I am so thankful that I decided to move here 21 years ago. Or was it 22 years ago? I think I actually made the decision in 1988 when I bought the property. I was 36 years old.
Little River looked awesome this morning. We got some rain in the mountains yesterday and the water level shot up for a while. We only had 1/10th of an inch in our rain gauge this morning. The water level in Little River dropped back down. Currently, flow is 176 cubic feet per second (cfs) or 1.90 feet on the gauge. Median flow for this date is 124 cfs. The water temperature at 7:45 am is 68 degrees, just like the air. The water is clear.
The Little Pigeon flow gauge in Sevierville is higher than yesterday at 3.17 feet. I don't know if the water is clear in the LP.
Fishing in the Smokies is good. Water levels are nice and the water temperature is fine. Trout are taking dry flies with vigor and determination. The trout's metabolism is running in high gear. They are seeking food.
I would pick yellow dry flies or a black foam beetle. Off of that I would drop a Green Weenie.
Anglers are telling me some incredible stories about the fishing and it's hard to believe this is August. It looks like at this point, fishing is only going to get better. We do have a chance for rain every day and getting some more would be fine. It is going to be cooler too, much cooler. This week is going to feel something like Fall.
I am looking at the TVA website. The generation schedule for Norris Dam indicates the generators are off right now. At 10:00 am they will probably turn on 1 turbine until 2:00 pm, then open the flow full blast. Maybe you are there enjoying the low flow. Fishermen are telling me they are going to the Clinch early and doing very well catching rainbows, browns and brook trout.
Cherokee Dam appears to be off right now and the schedule for that dam says they will turn on one generator at 1:00 pm for an hour, then turn it off.
Check the TVA website yourself before going fishing. And, be thoughtful of the fact that TVA can start generating at any time.
Paula's food and cooking website, "The Saucy Southerner" is going viral. She adds new recipes almost every day with photographs of the finished meal. Then, we get to eat what she cooks and writes about. That's my favorite part. Click on the image below and check out her website. You will be impressed.





I spent most of the day yesterday photographing Chota's new camo waders and Hippies. These new waders are awesome. They are going to sell like crazy. In fact, we got an online order yesterday for some, one day after they were placed on our online store. The new photography is already loaded up on our site and I think Chota will put them on theirs tomorrow. I left everything in our photography studio set up for waders in case Chota wants something different.
Some of the images I took yesterday are below. You can click on each image and go to our online store to see more and read more. You can also order them online or call us to place an order. We are supposed to get them Thursday. We will ship them out as soon as they are here. Breathable camo waders are something I have always wanted to sell to anglers fishing in the Smoky Mountains. Due to the clear water and spooky wild trout we have here, I think these waders will be an advantage for us fishermen. They will be great for waterfowl hunting too.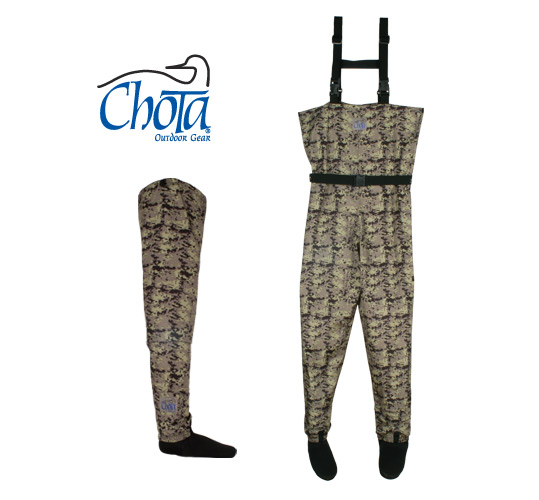 Have a great day and thank you for being here with us.
Byron Begley
August 11, 2013