Townsend, Tennessee - Fly Fishing in the Great Smoky Mountains National Park, East Tennessee and Western North Carolina

Welcome to the Fishing Report from the Great Smoky Mountains. At 5:12 am, the temperature is 70.5 degrees. Yesterday evening, at 5 pm, a severe thunderstorm blew through Townsend. It didn't last long, but 1.15" of rain fell in town. Today, we have a 30% chance for thunderstorms. It will be cooler through Friday with highs in the mid-80's and lows in the low 60's. We have only a slight chance for rain tomorrow through the weekend.
Little River is flowing at 107 cubic feet per second (cfs) or 1.51 feet on the flow gauge. Median flow for this date is 125 cfs. The river peaked last night at 1.64 feet. The water temperature is 71.2 degrees.
You will find slightly higher water in the Smokies today. Fishing will be better. Bruce came in the shop yesterday. He had been fishing on Walker Camp Prong, along Newfound Gap Road. He told me there were a lot of people up there on the river. Most were not fishing, just wading and sitting beside the stream with their feet in the water. He caught a few trout, but said he was hampered by the people. Evidently, there are still many people traveling and vacationing in Gatlinburg and Cherokee. Townsend was quiet yesterday.
The water is warm in the low elevations this morning. You should still fish the higher elevations where the water is cool. Maybe you should avoid the roadside streams along Highway 441, based on what Bruce told me. Slip into the backcountry to get away from people.
I would use dry flies or a dry and dropper rig. Terrestrials, including Green or Pink Weenies are what I would start with.
Whew, our internet connection stopped working temporarily. Now it's back.
It appears Norris and Cherokee Dams will be generating wide open all day today.
I think Thursday will be may day off this week. Paula and I plan to fish one of the lakes.
Big News in Townsend. Dancing Bear Lodge will open their new facility, which includes the Appalachian Bistro Restaurant, an indoor event center plus an outdoor event lawn, August 21st.
Mark and Sharon Oldham bought the remains of Dancing Bear Lodge in September. They also purchased Apple Valley Stores, adjacent to the lodge. They re-built this lodge quickly and it is beautiful. They have also built some new luxury cabins.
The original Dancing Bear Lodge was destroyed by fire in November 2013.
You can read more about this story on the Daily Times website by CLICKING HERE.
You may also visit the Dancing Bear Lodge website by CLICKING HERE. To get an idea about the food that will be served, visit the menu page from The Oldham's Terra Mae restaurant in Chattanooga. The same chefs, and management will be overseeing operations in Townsend. CLICK HERE for the menu page, then click on the Dinner Menu pdf.
At 6 am, it is raining. The weather radar indicates this won't last long. More small storms may develop today.
Today, I will be working on our Fishpond website and our Fishpond online store. A few of the 2016 Fishpond pieces will be arriving at our shop this week. I will feature all the new Fishpond merchandise in a separate category in our online store.
Dan added more new BoogleBug poppers to our collection. He will be adding more next week. We will be bringing in new designs and sizes pretty much on a weekly basis. These poppers are selling extremely well, so when he orders more to replenish, new items will be added. As they arrive, I have to photograph them for the website.
You would not believe how hard it is to photograph these shiny poppers. We have big strobes mounted on swinging arms and on rolling light stands. I have to take multiple photos of each popper, moving the lights around between each shot, hoping to get one that doesn't have glare in the wrong places, like on an eye. The strobes have huge soft boxes and baffles, but still, glare is a problem. Below is a photo I took Sunday. It took close an hour to shoot and re-touch this photo. I think I shot three different poppers and numerous other flies that day. Notice the scales are missing below the eye on the photo below. I had to erase glare in that spot, which eliminated the scales. I doubt if anyone will notice. This popper color is called Yella Fella.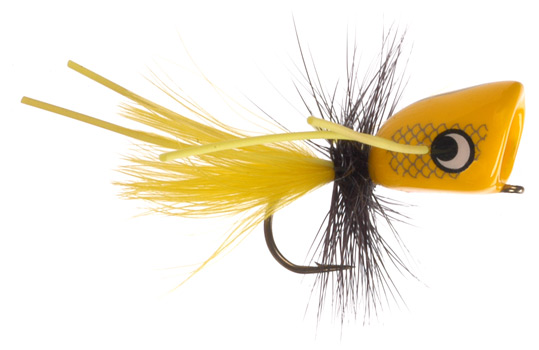 I don't know what Pierce puts on these poppers, but it looks like Flex Coat to me. Flex coat is a rod wrap finish, that most companies use on their fly rod wraps. It is flexible and chip resistant. It is time consuming and expensive to use. I know, because I use it too. The poppers I make, using this finish, have to be turned on a drying wheel for 30 minutes, then dried overnight.
Daybreak has arrived. I walked outside wandered around. It's nice to see the wet forest. It smells good too.
Have a great day and thank you for being here with us.
Byron Begley
August 11, 2015