Townsend, Tennessee - Fly Fishing in the Great Smoky Mountains, East Tennessee and Western North Carolina

If you don't see today's Fishing Report, refresh your browser to empty your cache.

Welcome to the Fishing Report from Townsend, Tennessee in the Great Smoky Mountains. At 5:38 am, the temperature is 71.4 degrees.
The weather forecast from the National Weather Service, through the weekend, calls for identical conditions every day. They say it will be 89 to 90 degrees, partly cloudy or partly sunny, and a 30% chance for rain. There is a Hazardous Weather Outlook statement for today. Some afternoon thunderstorms may contain heavy rain with localized flooding possible. Weather.com thinks it will be a degree or two warmer.
What I am liking is next week's forecast. Starting Wednesday, it will be considerably cooler. By the weekend, we may see highs in the low 80's. Lows may dip to the mid 60's. Rain chances are higher.
The USGS Townsend Gauge is reporting data again. It was down early yesterday. Little River is flowing at 96 cubic feet per second (cfs) or 1.61 feet on the flow gauge. Median flow for this date is 127 cfs. The water temperature is 72.5 degrees in the low elevation of Little River.
So, the streams are warm and low right now. Fishing conditions are far from ideal. And, they are subject to change due to if and where a thunderstorm unloads its bounty of heavy rainfall.
What you need to do today, and probably through the weekend, is seek higher ground and cooler water. Use yellow dry flies, something that looks like a Yellow Sally Stonefly. Use black foam beetles. Try Green or Pink Weenies. Fish the choppy water. Look for shaded streams. Try to find 65 degree water. All of the above should work for you.
Water temperatures vary all day and they vary from stream to stream. You will find cooler water lower early. Later in the day, you may need to drive or hike higher.
If I were planning a trip to the Smokies, and had some flexibility, I would gamble on next week. It will be cooler. The water will be cooler. We will probably have more water. The gamble is, we may have too much water. You just never know.
I would jump all over an opportunity to float a tailwater for smallmouth bass right now. This is prime time for that.
I would cruise the lakes, early and late and look for smallies, stripers or white bass feeding on threadfin shad. Pick a cloudy day. You will be more comfortable and the shad will be closer to the surface.
I would like to be launching my boat right now, and planning to cast poppers to the shore on the lakes, in a cove. It is just now daybreak, my favorite time of the day. My problem is, I write this report. I've got an hour of work to do before finishing. Being on the lake at daybreak is just something I can't do this year. I'm working every day so I can be off several weeks, to go on fishing trips. When it cools off some, I'll get Daniel to write this and I'll go then.
See the photo below. That's me. I designed today's e-mail yesterday, and this photo is the header. If that is a fly rod I'm holding, it is the year 1962. That is the year I got my first fly rod, and it was white. If it is a spin cast rod, the year is probably 1959 to 1961. My father probably took the photo. He was the camera guy in our family. He used either a flash bulb or flash cube. Many of you probably don't know what I'm talking about. The film was 127, I think.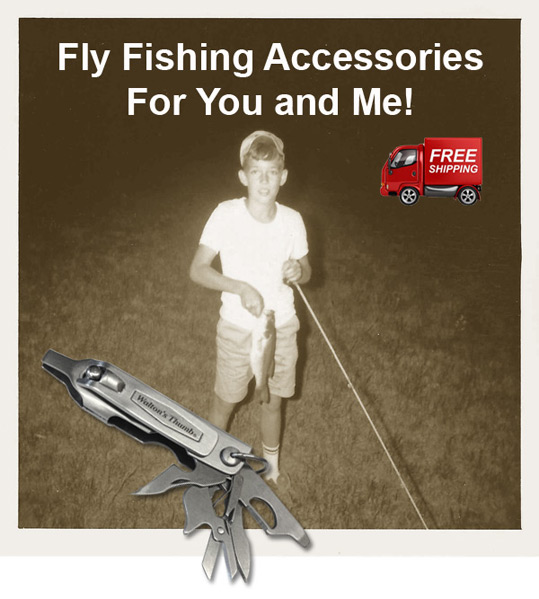 Things have changed. I had never seen a computer. A cell phone would have been a land line used to make your only call from jail. We did have a color televison, but it only received three channels, maybe four. We had ice trays, not ice makers.
Some boys played sports, football, basketball and baseball. I don't remember the word soccer ever being used. The other boys like me, went hunting, fishing, camping, boating and trapping. Some did it all.
John F Kennedy was President. Or maybe it was Dwight Eisenhower. That depends on what fishing rod I'm holding. Everybody liked Ike. Everyone loved JFK. Both were honorable men. We all cherished their leadership and looked up to them as role models. After all they were our Presidents, men we all trusted and admired.
John F. Kennedy would be assassinated in Dallas, Texas in a year or two or three. That was the day everyone in America cried. Schools across the country closed. We were all glued to the TV's, watching the funeral, the one we never got over.
We were all afraid we would be attacked by Russia, with nuclear weapons. We practiced hiding under our desks at school, if it happened. It didn't. We had a bomb shelter at our house, with a stockpile of food and water. I had never heard of Viet Nam.
Depending on the year and that fishing rod, we probably had not heard of the Beatles but they were playing in clubs and getting ready to take on the world. We remembered Buddy Holley and the day the music died.
Things sure have changed.

Have a great day and thank you for being here with us.
Byron Begley
August 11, 2016
Respond to: byron@littleriveroutfitters.com
Lake Information and Tailwater Generation Schedules



Please enter your e-mail address in the box to the left to sign up for our e-newsletter. You will receive news about the shop, events, sale information, fishing info and more important information a fly angler would want to have.

You can opt out at any time. If you decide you don't want to receive our information just change your status or click at the bottom of an e-mail we send you in the "Remove" box.

We do not sell or give your e-mail address to anyone. And, we won't hound you to death with e-mails. You will receive no more than one per week unless unusual or critical fishing news might be of interest to you.