Townsend, Tennessee - Fly Fishing in the Great Smoky Mountains National Park, East Tennessee and Western North Carolina

IWelcome to the Fishing Report. It is overcast and 72 degrees in Townsend this morning. Weather.com is saying the high temperatures will be in the 70's starting tomorrow with lows in the 50's for two days. By the weekend, lows will be 61 to 62 degrees according to them. The National Weather Service has a slightly different view. They say it is going to be a little warmer.
We got some rain last night and Little River's level jumped about 7" to 2.5 feet on the gauge. Right now, flow is 230 cubic feet per second (cfs) or 2.07 feet on the gauge. Median flow for this date is 117 cfs. The water is a little off color in town (good day to catch a big brown trout). The water temperature at 7:50 am is 67.3 degrees.
We may get some heavy rain today. Or, we may not. Then again we may. That's the way it has been. After today, fishing conditions are going to be excellent, unless we do get the heavy rain which could or could not happen. Obviously, I don't know. We should see plenty of cloud cover this week and the water will be cooler. Excellent!
If you encounter turbid water in the Smokies try a dark nymph, maybe a Prince or Bead Head Pheasant Tail. Maybe you should try a Girdle Bug. If the water where you intend to fish is clear, go with a dry fly and a Green Weenie dropper. The dry fly could be a Yellow Stimulator, Neversink Caddis or black foam beetle of some sort. Fishing should continue to be good today like it has been unless your favorite stream gets blown out by heavy rain.
Tomorrow looks awesome. The high temperature is supposed to be 79 degrees. The low should be in the high 50's. It will be partly cloudy with wind from the NNE at 5 mph. Paula and I will be on a lake. I'm hoping the wind will be out of the north and keep that east away from us. An east wind means bad fishing and I don't know why.
I don't think today will be good for wading on the Clinch or Holston. TVA has plans that do not bode well for wading unless you were there at daybreak and are there now.
If you are fly fishing on the lakes I think your best bet is to start fishing below the surface first thing. We are not getting hardly any surface action from smallmouth bass lately, even at first light. Maybe it's me.
Dragons are working for smallmouth bass and bluegill. I like chartreuse or crawfish orange. Frank found the same thing fishing a big pond in Virginia lately. He did well with black dragons. I am placing a picture of these flies that I tie on here again. We sell something similar. They are called Rubber Legged Dragons. You can see them by CLICKING HERE.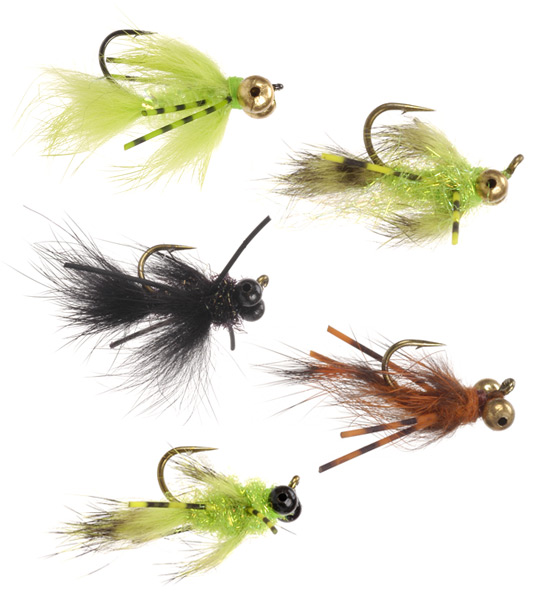 These flies were invented to catch big bull bluegill. We have proven over and over that they catch bass too. Tomorrow, we'll have Dragons tied on two rods and Puglisi Threadfin Shad tied on two more.
We got a couple of orders for the new Chota Camo Hippies and Chota Rocky Creek Camo Waders online already. Actually I think the orders were both for Hippies. They are supposed to be here today so we'll start shipping them out. I've got samples set up in our photography studio. I've been taking pictures and sending them to Chota. I'm waiting to hear back from them to see if I need to make changes. I've been doing their photography for a few years.
Waders are not easy to photograph without a person in them. It requires lots of little clips and 20 pound tippet material to secure and position everything just right. That's why they are still setup. It takes a long time to suspend waders in mid air. It is a frustrating experience.
My cameras are also having a hard time understanding the color of camo. I push the button and they say "What?" Color correcting on my Mac is not easy either. This computer has a "dead on color" monitor. Camo is designed to confuse the eyes of the fish, deer, duck, hogs or turkey. My eyes are confused by camo too. I guess that's why it works so well. Confusion leads to mistakes. Mistakes lead to caught fish. Caught fish leads to happy anglers.
Have a great day and thank you for being here with us.
Byron Begley
August 13, 2013