Townsend, Tennessee - Fly Fishing in the Great Smoky Mountains National Park, East Tennessee and Western North Carolina

Welcome to the Fishing Report from the Great Smoky Mountains. It is 6:17 am, dark outside and 58 degrees in Townsend this morning.
Little River is flowing at 192 cubic feet per second (cfs) or 1.88 feet on the flow gauge. Median flow for this date is 115 cfs. The water temperature is a very cool 65 degrees.
Fishing conditions this good are very rare in August. The streams have plenty of flow and the water is cool. These cool nights are awesome.
I would try to go fishing today or the next couple of days. I know most people can't do that but if you can, go. This weekend is going to be nice too. But, it is going to be warmer. The forecast for next week calls for more rain, every day until next weekend.
The conditions in the Smokies are perfect for dry fly fishing. So, that's what I would do. If you prefer nymphing, that will work for you too.
I drove to the shop yesterday to make a bank deposit. It was a little after 9 am. The lack of traffic reminded me again, August is a very slow time in our town and the Smoky Mountains. School is starting back and that must affect more people than I realize. People just don't do much in August. We are slow at the shop but we're still doing more business than we did last year. The parking lots in the motels were absent of cars and trucks.
I know, August is usually hot. This one is different. Opportunities abound, but there are not many people taking advantage of them.
Tradd Little did. Rusty, his dad sent me some pictures yesterday of some fish Tradd caught last week. He was fishing a tributary of the Norfolk in Arkansas. Look at these pictures.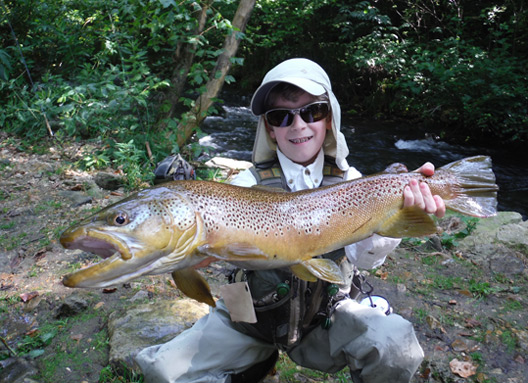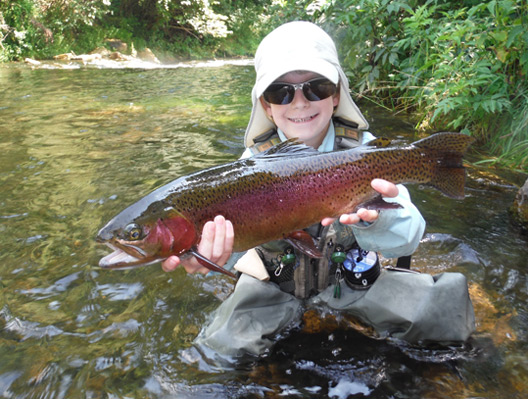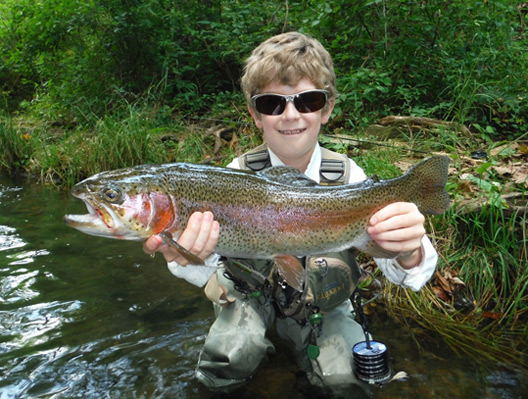 The brown trout is 27 inches long. This young man has become an overnight phenomenon in the fly fishing world. He is 11 years old. He has been fly fishing and fly tying less than a year. Tradd has performed his fly tying skills at several fly fishing shows, this year. We know Tradd and his parents well.
Check out his website by CLICKING HERE. Tradd will be tying in Townsend at Fly Tyers Weekend in November. You can see the website I'm working on for that event by CLICKING HERE.
I know, I talk about Tradd, his parents and Fly Tyers Weekend often on this report and I hate to over do this, but I can't help it.
Our sport needs participation from young people and that's what we are seeing right here.
I was out walking in the woods around our home last night. The forest is showing signs that Fall is coming.
Every woodsman I talk to says the same thing. The mast crop is huge this year. The critters have plenty of food. The bears will have a feast if the acorns are this plentiful in the mountains, like they are here. If that is the case all over the Smokies, we probably won't see many bears in the lower elevations this Fall.
That may make the job easier for the Appalachian Bear Rescue (ABR) next year. Maybe they won't have to handle so many orphaned cubs.
ABR is located in a remote place, unknown to most but only a few hundred yards from our house. There, they raise young orphaned bears without human contact. Zip lines deliver food to the young bears. The bears are closely watched by video cameras. The public is not welcome. These volunteers do everything possible to keep people away from the animals, for the animal's own good. Once released back into the wild, the young bears will not be "humanized".
A friend of mine, Tom Faulkner is a full time volunteer. He probably works more than I do and does not get paid. He has a passion for ABR and the work going on there.
At the upcoming County Commission Meeting, ABR will be asking to lease another 20 some odd acres to expand the mission and have more buffering, to keep humans away from the animals. I hope that request will be approved. You can visit their website and make donations by CLICKING HERE. They need money and especially food. Tom and many other volunteerrs spend a lot of time gathering food for the bears. Right now, apples are the primary target.
There is so much good work going on at ABR, so close to us, and we don't see our neighbors on the job. Everyone around here stays away and leaves them alone. That's the way it should be.
This is a good example of something big that is going on here, and most people don't know.
Have a great day and thank you for being here with us.
Byron Begley
August 14, 2014