Townsend, Tennessee - Fly Fishing in the Great Smoky Mountains, East Tennessee and Western North Carolina

If you don't see today's Fishing Report, refresh your browser to empty your cache.

Welcome to the Fishing Report from Townsend, Tennessee in the Great Smoky Mountains. At 5:58 am, the temperature is 69.1 degrees. It is going to be hot, in the high 80's again today. It will be cooling off beginning tomorrow. Expect high temperatures in the mid 80's through the weekend. Lows will be in the mid to high 60's.
We have a good chance for rain every day through the weekend. Rain chances vary between 50% and 90% each day. This is what we have been waiting for.
The streams are flowing low for now. Little River is flowing at 69 cubic feet per second (cfs) or 1.47 feet on the flow gauge. Median flow for this date is 139 cfs. The water temperature is 73.4 degrees.
Until this water temperature drops, you should fish the higher elevations where the water is cooler. You will find low stream flows just about everywhere you go today. That is probably going to change soon, when this rain moves in.
Dry flies are working. Stay hidden from the trout. Fish the choppy water.
From this afternoon, through the weekend and beyond, watch for rising water. Rain falling in the watershed you are fishing can cause these streams to rise quickly. You could get stuck on the wrong side of the stream, away from your truck. If the water becomes stained, all of a sudden, get out.
White bass and stripers are actively chasing and clobbering shad on the lakes. Smallmouth bass and other species are mixed in. I've always called this, fishing the "jumps", a term I learned in my early teens, when fishing from my boat on lakes.
Most of our local customers know Dan Munger. Dan worked in the shop for over a year. He wrote an article that just came out in Southern Kayak Fishing called "East Tennessee Stripers by the Season". I read it yesterday. He explains the shad schools and jump fishing, using fly tackle, better than anything I have read. You can read his article by CLICKING HERE. Click on the magazine cover to begin reading. Turn the page to 14 using the arrows on the right of the page. He did a great job writing this. He is an excellent writer. He knows the subject well.
Dan's focus is on stripers. White bass are doing the same thing right now. You have to get out there in your boat and look for them. I prefer cloudy days or fishing early and late when the sun is off the water. I'm ready to go but my truck is going to the body shop tomorrow for its 15-year makeover. I won't get it back for at least 2 weeks.
We live on a gravel private road we share with two neighbors. We all own at least 10 acres for a total of 60 acres. We can't see each other's homes. It is secluded and wooded in here. There is no traffic other than those of us who live here. We have a sign at the entrance, encouraging others to "Keep Out". It is quiet and peaceful. So far, we have not encountered people walking around with cell phones looking for Pokey Man.
Our house is a little over ¼ of a mile from Old Cades Cove Road. From here, the road goes back to what we call the Creek Lot, another secluded tract of land I bought in the 80's. Except for where one neighbor has an orchard and garden, the road is shaded by trees on both sides. The extension, going to the Creek lot is totally shaded. It's like a tunnel going back there.
This is where Paula and I walk every morning after I finish this report. We make the round 2 times and the total distance is 1.5 miles. I know the distances because I carry a GPS with me when I walk. It's a great place to walk because most of it is shaded and cool. It is always a few degrees cooler here, than it is in Townsend. Trees overhang the house, the carport and the boat house. That is a problem right now because of the hickory nuts. The nuts are dropping. Squirrels are eating the nuts in the trees, dropping the husks. All the roofs are metal. It gets kind of noisy at times.
A large black bear is hanging around. We have seen him several times. Our neighbors say they see him often. I saw him in our neighbor's orchard two weeks ago, eating apples. The apple trees are full of fruit right now. We watched him laying in the woods one evening for at least 30 minutes, scratching, licking his paws and waiting, to wander over to the apple trees. He was only 50 feet from our front porch where we were sitting. Our porch is 15 feet off the ground, so we were not worried about being so close.
This bear, probably a male, is large. He is also afraid of people. That is a good thing.
Paula and I were walking yesterday morning. She walks faster than I do. We were finishing up. I was headed down to the Creek Lot. She was coming back from there. She stopped and told me the bear stepped out of the woods right in front of her. She said he was 40 feet away. The bear didn't see her at first. He turned toward her, and there they were, staring each other down. Paula kicked gravel with her foot. The bear took off.
I kept walking to the Creek Lot, down the tree covered road that is like a tunnel. I started getting this creepy feeling. I knew the bear was probably there, in the woods. I know he does not pose a threat, we've been near him and he has not exhibited any aggressive behavior, in fact, just the opposite. My better judgment prevailed so I turned around and walked back to the house. I don't usually go looking for trouble.
We'll be walking there again in a little while. He is probably long gone, for now.
We have a female and a cub around here too. I shot the photo below of them this Spring. I had just spread 6 bales of straw in the woods in the back of our house. I fed birds there all Winter. The turkeys scratched the soil every day, and the straw is there to help stop erosion. I was working in my home office, turned around, and there they were, 25 feet from my office window. I went outside, yelled that them, and they walked off. I haven't seen them lately, but our neighbors have.
Have a great day and thank you for being here with us.
Byron Begley
August 16, 2016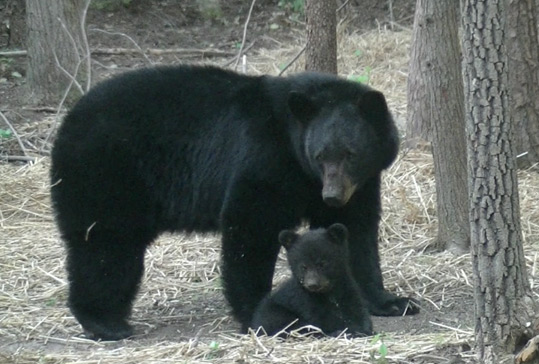 Respond to: byron@littleriveroutfitters.com
Lake Information and Tailwater Generation Schedules



Please enter your e-mail address in the box to the left to sign up for our e-newsletter. You will receive news about the shop, events, sale information, fishing info and more important information a fly angler would want to have.

You can opt out at any time. If you decide you don't want to receive our information just change your status or click at the bottom of an e-mail we send you in the "Remove" box.

We do not sell or give your e-mail address to anyone. And, we won't hound you to death with e-mails. You will receive no more than one per week unless unusual or critical fishing news might be of interest to you.