Townsend, Tennessee - Fly Fishing in the Great Smoky Mountains, East Tennessee and Western North Carolina

If you don't see today's Fishing Report, refresh your browser to empty your cache.

Welcome to the Fishing Report from Townsend, Tennessee in the Great Smoky Mountains. At 6:45 am, the temperature is 71.2 degrees.
The weather websites agree, it will be hot today, right around 90 degrees. High temperatures tomorrow and through the weekend will be in the mid-80's. Lows at night will be in the mid to upper 60's. The chance for rain will be between 40% and 80% today and through Sunday.
Little River is flowing at 59 cubic feet per second (cfs) or 1.41 feet on the flow gauge. Median flow for this date is 117 cfs. The water temperature is a very warm 74.5 degrees, near Townsend.
As usual, fish the higher elevations where the water is cooler. It did not rain much if any in the Little River watershed yesterday, so there you will find low water. They say thunderstorms are likely today after 2 pm.
Daniel told me yesterday, there are not many anglers fishing in the Park right now. But, he said those who do, are doing fairly well. They know how to fish low water and where to go.
Dry flies are working. Dropping a nymph off the dry is a good idea. Some fishermen are using nymphs exclusively.
Surely, with the rain projected in the forecasts, these conditions will improve this week.
You might try a trout tailwater. Check the TVA website before you go.
Smallmouth fishing on the tailwaters is good. Floating in a boat, canoe or kayak is a good idea.
We should have plenty of cloud cover this week. That is good for fly fishermen who enjoy lake fishing. Schools of threadfin shad are thick this year, at least in some lakes. White bass and stripers are attacking these schools on the surface at times. The best fishing will be early and late, when the sun is off the water, or on cloudy days.
Daniel and Dave saw the new Orvis fly fishing gear for 2017, Monday. I went to the shop yesterday and looked at the materials and photos in the new dealer catalog. I was really impressed with what I saw. Orvis has re-designed their Safe Passage luggage and pack line and it looks great. They are offering more waterproof pieces. The colors are sharp looking.
I'm working on our Fishpond website and the Fishpond section of our online store. Fishpond has re-designed much of their luggage for the 2017 selling season, which begins in November of this year. It looks great too.
I don't remember last year, but this year, luggage sales are unbelievable. Luggage sales are way up from last year. That tells me, more fishermen are traveling. Obviously, Orvis and Fishpond saw the same thing. I think we will see more space in our store devoted to luggage and travel for fly fishermen, beginning this Fall.
One of our hottest selling Fishpond items is the Westwater Pouch, shown below. It sells for $29.95. It is small and holds items like cell phones and other things you don't want to get wet. The pouch was featured in yesterday's e-mail. I didn't realize it, when I designed the mailer Saturday, that the Westwater Pouch is not going to be in the Fishpond line this Fall. Once I figured it out, I made a notation about that in the mailer. We had a few in inventory at the shop.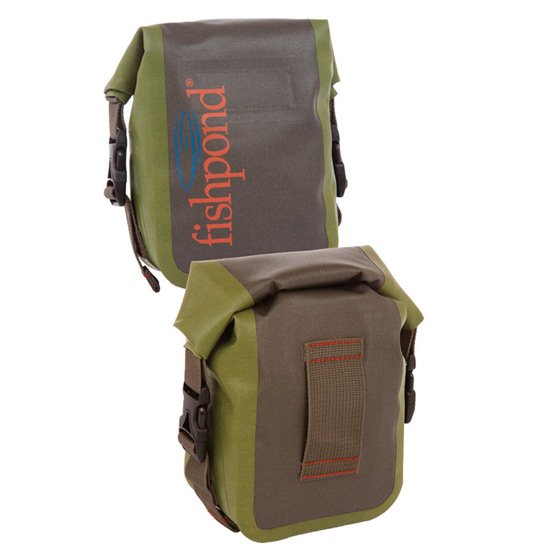 Well, the mailer went out to several thousand anglers. Customers ordered them. We ran out. Daniel called Fishpond and ordered more. They will be here quickly so we can fill the orders. But, Fishpond only has 40 left. If you want one, order it online or call the shop. We will fill those orders until Fishpond is out of them. If they are gone, your order will not be processed, if we can't fill it. You can read more about the Westwater Pouch by CLICKING HERE, and order online from there. Or, call us to order.
The e-mail also featured the Chota Hippie. Chota Hippies are our best selling wader. The original version sells for $129.95. There is also a camo version that sells for a little more. Chota has plenty of these and so do we. You can read more about them by CLICKING HERE. These can be purchased online or by calling the shop at 865-448-9459.
Frank Bryant, the founder of Chota called me yesterday after seeing the e-mail. He loved the photo. I love it too. It is below. Frank, Pat, Mark and Rick, at Chota, are all good friends of ours. I have helped them on many photo shoots. The photo you see below was taken on the Tremont Road, which follows the course of the Middle Prong of Little River. We got there early that morning, just after daybreak. We like to shoot on cloudy days or early, when there is less glare on the water. We took plenty of photos on the water, just upstream from the bridge at the Glory Hole, where the largest brown trout I've seen in the Park was caught years ago. I think that fish was 31" to 32" long.
Mary K Jenkins and I were wearing Chota waders. We walked from the stream to the road and saw the sun burning off the fog and shining through the trees. It was a beautiful sight. We quickly set up a camera. Mary K and I walked toward the Institute. Mark was firing the camera quickly as we walked back toward him. We did that several times. The photo you see below is one of them.
I removed most of the color in the photo and added some yellow, so the Hippie would be the focal point and show up well. I darkened the border, to make the photo look older. I flipped the photo horizontally. In the original, she and I were on the left side.

It was one of those magical moments you see in the Smoky Mountains if you are lucky.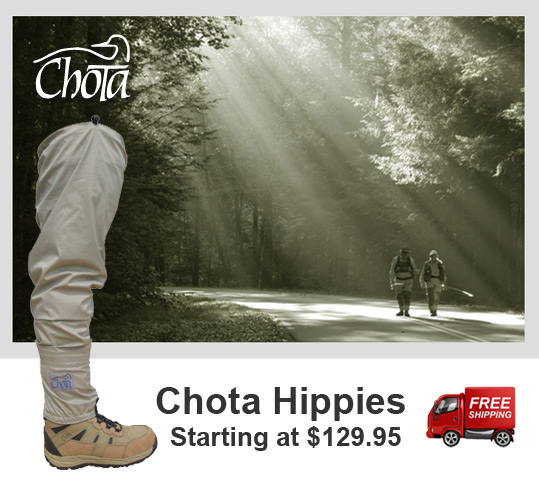 This is a beautiful place, even on the roads.
Have a great day and thank you for being here with us.
Byron Begley
August 17, 2016
Respond to: byron@littleriveroutfitters.com
Lake Information and Tailwater Generation Schedules



Please enter your e-mail address in the box to the left to sign up for our e-newsletter. You will receive news about the shop, events, sale information, fishing info and more important information a fly angler would want to have.

You can opt out at any time. If you decide you don't want to receive our information just change your status or click at the bottom of an e-mail we send you in the "Remove" box.

We do not sell or give your e-mail address to anyone. And, we won't hound you to death with e-mails. You will receive no more than one per week unless unusual or critical fishing news might be of interest to you.