Townsend, Tennessee - Fly Fishing in the Great Smoky Mountains National Park, East Tennessee and Western North Carolina

Welcome to the Fishing Report. It is overcast and 64 degrees in Townsend this morning. We have had some light rain. There was only .10" in our gauge. The Great Smoky Mountains look beautiful. Like many mornings, fog is following the path of Little River from the Park and through our town.
I am thinking about how lucky I am or more specifically, how the results of my life plan included moving to Townsend when I was 41 years old. The plan actually began when I was younger. I started looking for property here in 1984 when I was 33 years old and I purchased 10 acres in 1989. That was a good move. Good planning pays off.
Little River is flowing fairly low right now. Flow is 65 cubic feet per second (cfs). Median flow is 108 cfs for this date. The water temperature was 69 degrees at 7:40 am this morning.
Anglers are telling us, fishing is getting tougher in the Park. Low flow can cause that. But, they are catching some trout, just not as many as they would if the water were higher. You may find other streams in the Park flowing relatively closer to median flow. Cataloochee is a good example. Oconaluftee is flowing a little above normal at Birdtown below Cherokee. You may find streams that feed the West Prong of the Little Pigeon and that river will have more flow. I don't know for sure. There is not a gauge reporting the activity.
We may get more rain today and possibly some thunderstorms so this whole scenario could change.
I would use dry flies and hit the pockets in the riffles. I would fish the areas where a riffle enters a pool. The water is choppy and faster there. Trout try to hide from predators. When the water is low they are especially wary and seek cover. If they see you they probably can't be caught. These are wild trout. They don't associate humans with food. They associate humans with death.
It should be overcast all day. That will be beneficial to the angler.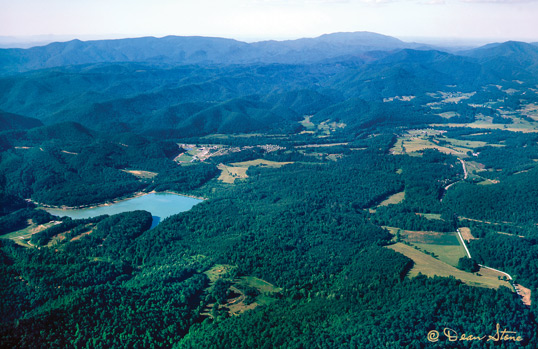 See this lake? That's what we are trying to re-build. It was drained in the early 90's. The State of Tennessee was worried about a breach. There was no money available to check out the State's claim. One earth-moving machine removed this beautiful place and I bet it only too a few hours. Laurel Lake is gone for the time being. The land is currently owned by our County. The lake was almost 50 acres in size. The property is close to 150 acres.
A group of citizens and government officials asked me to lead the effort to re-build Laurel Lake. That was a little over a year ago. Now, I am preparing for public meetings. Yesterday I spent hours working on a digital presentation. We have a brand new concept plan prepared by a large engineering firm called Barge, Waggoner, Sumner, and Cannon. The architect who put the plan together is Steve Fritts. He didn't charge us anything. He is a big fan and supporter of Tuckaleechee Cove, which is the name given to Townsend, Walland, Dry Valley, Laurel Valley, everything in between and to the ridgetops.
Yesterday I met with a lady who is the President of the Laurel Valley Homeowners Association. I liked her a lot. I am meeting with her board week after next. Laurel Lake is located next to the Laurel Valley community. This Lake and County Park will affect the lives of people who live in Laurel Valley. This Park can be a benefit or have an adverse effect on their lives and property values depending on how this is done. So, it is incumbent upon me to have these folks involved in the planning process. They are stakeholders, major stakeholders.
I am doing some research on how parks affect property values. The earliest research I can find was done in New York. That is probably the most compelling case that property located next to a Park will escalate in value. I have heard it said, "The most expensive dirt in the United States is located next to Central Park in New York City."
On the other hand, a Park that causes frequent problems for landowners nearby can hurt the values of their homes and make life miserable for them.
So, this project has to be planned right and managed well in the future.
People like to live near beautiful parks and golf courses. I read that 80% of the people who live on a golf course don't play golf. They live there to enjoy the views of open space, ponds, creeks and manicured grass. And, their home is probably more valuable than the other homes that are not located on the golf course.
Napoleon Hill wrote, "For every adversity there is an equal or greater benefit".
What we will do is sort out all the possible benefits and adversities associated with this Park and plan accordingly. We don't want this to be a negative experience for the landowners nearby. We want it to be a positive experience and improve the value of our properties.
Personally, I don't have a preference about the amenities that would be built and used by people in this park except for one thing, the lake. That lake would be 2,300 feet from my house. All I need is the lake and a place to launch a rowboat so I can fly fish easily in my golden years.
I would also like to see a place where children and handicapped people can fish. You can't use bait in the Park. Fishing regulations prohibit that. It is hard to fish in the Little River through town during the Summer. Most of the land is private and there are a lot of tubers floating down the river when young families are here on vacation.
You would be surprised at how many tourists come in here and ask "Where can I take my kid to catch a fish." That's a tough one. We send them to one of the launch ramps on the Little Tennessee River, which is a 35 minute drive from here. We need a better place for that activity. We need a place where kids can catch a bluegill on a worm. We don't have that.
Other people have different opinions about the additional amenities. It's my job to be neutral, listen and build a consensus based on other people's opinions. All I want is what the people say they want and I don't want anyone to be harmed by this.
Have a great day and thank you for being here with us.
Byron Begley
August 19, 2012
Respond to: byron@littleriveroutfitters.com