Townsend, Tennessee - Fly Fishing in the Great Smoky Mountains, East Tennessee and Western North Carolina

If you don't see today's Fishing Report, refresh your browser to empty your cache.

Welcome to the Fishing Report from Townsend, Tennessee in the Great Smoky Mountains. At 5:12 am, the temperature is 70.7 degrees.
It will be much cooler this weekend. Highs will be in the low 80's with a low tonight around 70 degrees and a low tomorrow night in the high 50's to 60 degrees. The chance for rain is 50% to 80% today and 60% to 90% tomorrow. The broad range is a disagreement between weather websites. I wonder if they text each other and place friendly bets?
Little River is flowing at 76 cubic feet per second (cfs) or 1.51 feet on the flow gauge. Median flow for this date is 112 cfs. The water temperature is 72 degrees.
You may find low water in some streams this weekend, and higher water in others, depending on where the rain falls. Wherever you go, be on the lookout for rising water.
I would plan on fishing the higher elevations today, where the water is cooler. Use dry flies or nymphs or both. It will likely be cloudy both days, which is beneficial to the angler.
You may try a tailwater this weekend. Fly fishing for trout has been good in some. Smallmouth bass fishing has been good too, in the lower reaches. Check the TVA website to view the generation schedules.
This may be a good lake fishing weekend. It will be cloudy. Watch for fish eating shad on the surface. If you find them, cast white and chartreuse Clousers or Puglisi Threadfin Shad into the jumps. Or, cast poppers and Dragons to the banks for bass and bluegill. Fallen trees make good targets right now. Steep drop-offs are good places to fish for large bluegill, below the surface, down deep.
Another cougar was photographed on a trail camera located near a deer feeder in Humphreys County. You can see the photo and read the story on the WBIR website by CLICKING HERE. This could be the same cat that has been seen and photographed before.
According to TWRA, there have been no documented sightings in East Tennessee, though most of us know they are here. One was spotted and reported by a reliable source, a couple of years ago. That cat was less than a mile down the road from our house. One of my best friends saw two on Chilhowee Mountain a few years ago. Another was seen around Wears Valley Road, recently. I know of another that was spotted in Cades Cove by another reliable source, someone I know. Another friend of mine saw one at Newfound Gap.
I have not seen one in the wild and to be honest, I hope I don't.
I don't mind black bears. Maybe I'm used to them. We saw one two weeks ago in front of our house. We watched it laying on the ground, in the woods for about 30 minutes. Paula had one step out in our road in front of her while we were walking last week. She was 40 feet from the bear. The bear turned toward her, then took off.
But, if she and I were sitting on the front porch, and a mountain lion walked by on the lower driveway, that would change our lives. Maybe we are walking by them and we don't know it. Maybe they are hiding in the dense forest watching us. I would rather not know.
I think that is unlikely. There may be one or two, covering a range of hundreds of square miles. That sounds possible to me. Our neighbors have trail cameras. Below is a photo taken on our next door neighbor's camera last September. By next door, I mean maybe 200 yards away, in the woods. That bear was walking down their driveway toward our house. I think that is the same male we've been watching for months. That is probably the same bear we have seen recently. It is a very large bear.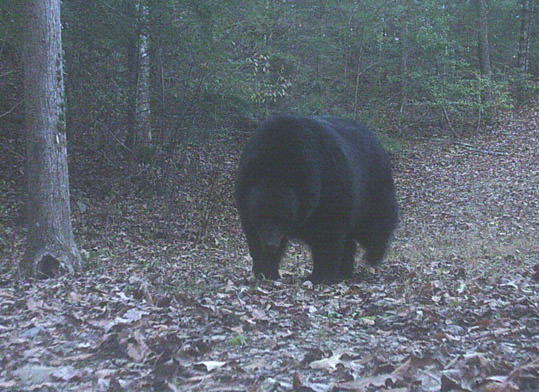 Another neighbor checks his trail cameras often. He told me all he sees are bobcats, coyotes, bear, deer, raccoons and other wildlife we all see. He has never photographed a cougar. If we had a mountain lion wandering through our neighborhood, I think we would know. So, I'm not going to carry a gun around with me.
None of us have seen one, photographed one or seen signs of wild boar. They are all around us. For some reason they don't like it here where we live. We are all happy about that. Those animals are destructive.
I hope to start seeing elk at our home. They live not far away in terms of miles. I heard one was spotted recently in Cades Cove. That is just over the mountains that we can see from our house. Some day, they will probably be here. I hope so.
The down side of that would be, more traffic in Cades Cove. If a herd of elk, established Cades Cove as their home, think about how many more people would visit that beautiful place. What if elk walked around Townsend, like they do in Mammoth, in Yellowstone?
There, elk lay around on the grass next to buildings and streets. They act like huge pets. Can you imagine what it would be like? I suppose that would be good for tourism, bad for cleanup crews and cause all kinds of problems for our police officers.
It may take years or it could happen tomorrow. When it does I won't be surprised.
Have a great day and thank you for being here with us.
Byron Begley
August 20, 2016
Respond to: byron@littleriveroutfitters.com
Lake Information and Tailwater Generation Schedules



Please enter your e-mail address in the box to the left to sign up for our e-newsletter. You will receive news about the shop, events, sale information, fishing info and more important information a fly angler would want to have.

You can opt out at any time. If you decide you don't want to receive our information just change your status or click at the bottom of an e-mail we send you in the "Remove" box.

We do not sell or give your e-mail address to anyone. And, we won't hound you to death with e-mails. You will receive no more than one per week unless unusual or critical fishing news might be of interest to you.