Townsend, Tennessee - Fly Fishing in the Great Smoky Mountains National Park, East Tennessee and Western North Carolina

Welcome to the Fishing Report from the Great Smoky Mountains. It is foggy and 70 degrees in Townsend this morning. The forest is just now getting some light. It is so peaceful outside. At daybreak, a squirrel is always sitting outside our front door, peering in. He is almost always there. That animal is not afraid of people. I think he was someone's pet at one time.
We do not feed birds or squirrels. If we put up a bird feeder at our house, it would only last a few days. A bear would tear it down. None of us who live around here have them. Bird feeders cause problems.
Little River is flowing at 131 cubic feet per second (cfs) or 1.64 feet on the flow gauge. Median flow for this date is 115 cfs. The water temperature at 6:45 am is 68.5 degrees.
It is going to be hot during the day and warm at night through the weekend. Highs will be in the high 80's and maybe low 90's. At night, lows will be in the low 70's or high 60's through that period.
Yesterday was hot in the afternoon. The water temperature in Little River just inside the National Park peaked at 70 degrees.
With this forecast continuing, I would fish in the higher elevations where the water is cooler. You will be more comfortable too. Heat indexes will be high this week. Drink plenty of water.
Flows are good for this time of year. We have a chance for rain every afternoon for several days. Fishing will be good high up in the mountains. Dry flies would be my choice.
You won't see many fishermen. Tourism is low right now. August is transition time, from young families in the Summer with kids going back to school, to an older crowd in the Fall, enjoying the mountain views. Fishermen will be back soon.
I drove to Tremont Lodge yesterday to look at the remodeling progress. We are holding Fly Tyers Weekend there in November. Of particular interest to me is the meeting facility. Remodeling there is almost finished. It will be ready for our event. The building has two floors with 2,000 square feet of meeting space on each floor. I was checking for wheelchair access to both floors. There is not an elevator. There are ramps to each floor. We will have disabled veterans attending. I wanted to make sure anyone in a wheel chair could get to both floors. They can. That was a relief.
The lodge is also installing the highest speed internet wi-fi available in our area. We have the same service at our store and it is extremely fast. But due to credit card processing, it is not available to the public. All of our computers have software to protect us and you from malware and viruses. We do not store credit card information on any of our computers or server. When you buy online, your credit card information is never on our remote server. But, we do access a payment gateway online called Authorize.net. We have all the latest software and we are PCI compliant. If we were to be hacked, there is nothing to get. Things have changed in business as you know.
David Knapp is working at the store again, part time. He is also a professional guide. It is great having David back. Yesterday he worked with Bill Bolinger. When those guys are helping you, count on getting information based on some unbelievable fly fishing experience. Bill has fly fished in more place than just about anyone I know. David's been around too. They both fish in Tennessee at least once a week. David has spent a lot of time in Colorado. Bill likes Montana and Wyoming.
I'm going to feature people on this page who will be tying at Fly Tyers Weekend. I'm starting at the top, alphabetically. So, today's featured tyer is Mike Adams. I hope you enjoy learning about these talented people. Mike's photo and bio are below.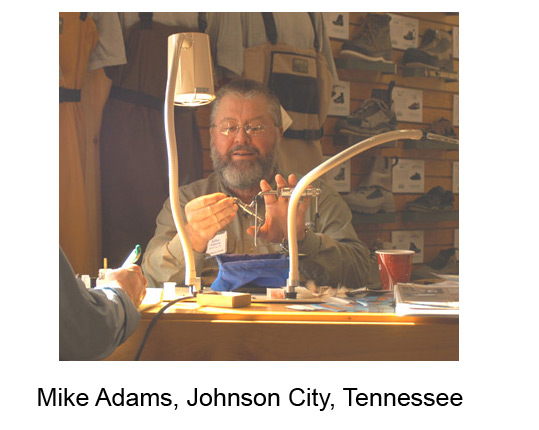 Mike Adams writes on his website, "From the age of 12, I knew the thing I wanted to do the most was to get people in the great outdoor. The best way I could think to do it was to help them learn to catch fish."
In 1997, Mike and his wife Vicki moved from Phoenix, AZ to the Johnson City Area to start a guide service. Mike has been guiding clients on the South Holston River and Caney Fork River in Middle Tennessee ever since.
He has developed some great fly patterns too. They are tied by Holly Flies in Pennsylvania and sold to fly shops in the Southeast. One pattern, Mike's Magic Beetle is one of Little River Outfitter's top selling Summer flies. There are many more.
You will enjoy Mike and learn from him at Fly Tyers Weekend. Mike always draws a big crowd to our shop in February, when he demonstrates his skills to our customers. Mike also helps Mahoney's Fly Shop in Johnson City when needed. He's an expert, any fly shop owner would want to have talking and assisting their customers. Mike is the real deal.
Have a great day and thank you for being here with us.
Byron Begley
August 22, 2014