Townsend, Tennessee - Fly Fishing in the Great Smoky Mountains, East Tennessee and Western North Carolina

If you don't see today's Fishing Report, refresh your browser to empty your cache.

Welcome to the Fishing Report from Townsend, Tennessee in the Great Smoky Mountains. At 5:06 am, the temperature is 68.0 degrees.
It will be cool today and tonight. The high temperature today should be in the low 80's. The low tonight is expected to be about 60 degrees. It looks like the rain is over for a while. It will be warmer later this week and hot next weekend.
We got quite a bit of rain yesterday and last night. As a result, Little River is flowing at 212 cubic feet per second (cfs) or 2.05 feet on the flow gauge. Median flow for this date is 115 cfs. The water temperature is 70.9 degrees.
Fishing should be much improved in the Little River watershed, as well as Davidson River and Tellico River. Davidson River has been flowing above normal for a few days.
The water is still somewhat warm in the low elevations. I would go at least to the mid-elevation streams to fish today. Water temperatures will likely be cooler tomorrow. Then, they will begin to warm further by the weekend. Since rain is not predicted, or not much, the stream levels will fall this week.
Dry flies and nymphs will work. Fishermen, who are going, are doing well.
Fishing has been pretty good on the tailwaters for both trout and smallmouth bass.
Fishing on the lakes has been fair to excellent. The excellent fishing occurs if you find game fish feeding on shad, at the surface. That usually occurs early, late and on cloudy days. The threadfin shad that were born this Spring have grown, and they are actively feeding on plankton, which rises to the surface when the sun is off the water.
Montana Fish, Wildlife and Parks closed 183 miles of the Yellowstone River Friday to all water recreation activity. A parasite, that attacks the kidneys of fish, resulting in mortality, is causing fish kills. The Yellowstone River, from Gardner, at the entrance to Yellowstone National Park, and extending downstream to Laurel, Montana, will be closed indefinitely. This precaution is intended to prevent the spread of the parasite. Right now, the Yellowstone River is open to fishing inside the National Park.
If you fish in that area, or any area for that matter, disinfecting your equipment and boats is a good idea before moving and fishing in another watershed. This is prime fishing time in the Western Rockies. It will certainly affect fishermen's travel plans and those making a living in the fly fishing and outdoor recreation business.
I can't imagine what that would be like. It could happen anywhere.
You can read a good article on the subject on the Billings Gazette website by CLICKING HERE.
I am adding a guide to our "Choosing A Guide" page on our website, something I have not done in a long time. His name is Hagan Wonn. He guides on the Cumberland River, below Wolf Creek Dam in my original home State of Kentucky. I have spent several days in Hagan's boat.
On one of those days, I hooked the largest brown trout of my life. We saw the fish clearly, near the boat. There was no way I could land that fish, using 6X tippet. I have always said that brown was as long as my leg. Hagan says it was smaller, probably an 8-pound fish. He would know better than I would. He has seen a lot more large trout than I have and actually landed them.
Hagan is a great guy to fish with and we became friends over the years. He knows that river well. He is a forester by education and trade, but he guides part time when he is off. Hagan lives in Somerset, Kentucky. He can be reached by calling 606-219-0459 or e-mailed at Hagan.wonn@gmail.com. Hagan does not have a website. He doesn't need one. People who know how to reach him, do so.
The Cumberland River is a beautiful river to fish and the trout fishing is excellent. It contains healthy populations brook, brown and rainbow trout. There are other very good and competent guides on the Cumberland. Rocky Cox is another, who is also featured and recommended on our website. Rocky and Hagan team up when they have a larger group. Hagan and Rob Fightmaster, who is also one of our recommended guides and a fly fishing instructor are good friends.
When I fish with Hagan, I always stay at Lake Cumberland State Park. They have some very nice cabins and a lodge there, at a reasonable price. The restaurant is open year-round. The Park is located near where you will be fishing. Fishing has been very good on the Cumberland and it is right now. I know. I hear from these guys often.
The Park is also located near Hatchery Creek, the new man-made trout stream. Another friend of mine, Brad Redmon, guides on that creek part-time. You can visit Brad's Facebook Page by CLICKING HERE.
I have found it takes me about 3.5 hours to drive there from Townsend. It is closer for those living in Louisville, Lexington or other towns in Kentucky. It is also a shorter and nice drive there from the Cumberland Plateau in Tennessee.
Hagan's photo is below. Give him a call or shoot him an e-mail.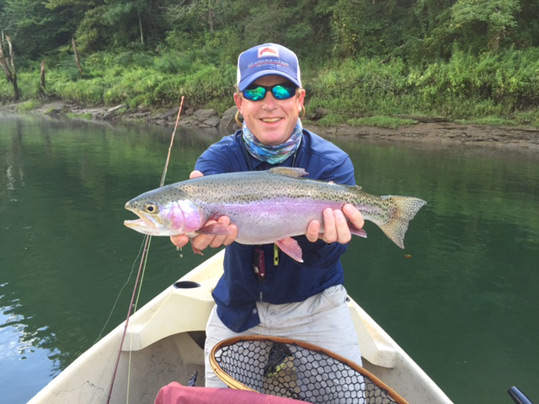 Enjoy this beautiful day in the Great Smoky Mountains.
Have a great day and thank you for being here with us.
Byron Begley
August 22, 2016
Respond to: byron@littleriveroutfitters.com
Lake Information and Tailwater Generation Schedules



Please enter your e-mail address in the box to the left to sign up for our e-newsletter. You will receive news about the shop, events, sale information, fishing info and more important information a fly angler would want to have.

You can opt out at any time. If you decide you don't want to receive our information just change your status or click at the bottom of an e-mail we send you in the "Remove" box.

We do not sell or give your e-mail address to anyone. And, we won't hound you to death with e-mails. You will receive no more than one per week unless unusual or critical fishing news might be of interest to you.