Townsend, Tennessee - Fly Fishing in the Great Smoky Mountains National Park, East Tennessee and Western North Carolina

Welcome to the Fishing Report from the Great Smoky Mountains. It is very foggy and 71 degrees in Townsend this morning. Traffic was light at 7:15 when I drove to work. I probably saw 8 cars and one bicycle. Next weekend will be different, a holiday weekend.
Little River is flowing at normal, 112 cubic feet per second (cfs) or 1.57 feet on the flow gauge. Median flow for this date is 111 cfs. The water temperature is 70 degrees this morning.
This heat wave will continue through Sunday night. Then, it will cool some. We'll see lows in the mid 60's by Monday night. There is a chance for rain every day through Monday. Today, the rain may be heavy at times, though scattered. If you go fishing, watch for rising water whether it is raining where you are or not. A shot of rain could be beneficial to fishermen.
There is no doubt, you should be fishing higher in the mountains. Elkmont is fishing very well. Above Elkmont, even several miles upstream might be better. The water will be cooler. The trout will be active. The water will be even cooler higher than that. Drive toward Newfound Gap. Fish Walker Camp Prong or the other tributaries up there. Fishing will be very good in the high elevations.
Dries or nymphs will work. I would probably use a dry fly.
Jack was at our house last night. He and I walked down to the barn to start the boat engine. I'm trying to do that often, though we have not used the boat since April. That's what remodeling a house will do for you.
That project should be done in a month. Then, fishing will move to the top of my priority list.
He and I talked about kayaks and fishing in Florida. We've done that a few days together and really like it. Some of my other friends are getting interested in kayak fishing too.
My best advice, if you are planning to buy a fishing kayak, is to also purchase a kayak trailer. These boats are heavy. Paula and I have Wilderness Systems Ride 135 boats. They are awesome. They weigh about 85 pounds each. The new models are even better with excellent seating that can be raised for comfort and easier casting. Our boats are 32 inches wide and almost impossible to flip over in the water. We sometimes fish a half mile to a mile from shore. A stable boat is essential to us.
Below is a picture of our kayaks and trailer taken in Florida 4 months ago.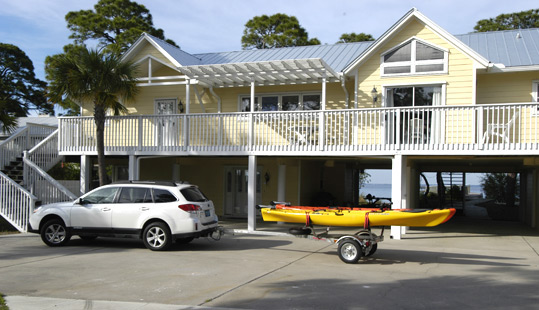 Jackson makes some great fishing kayaks too, the Cuda and Coosa. There are many others.
Dragging a full size boat to Florida is a hassle. We thought about taking ours but decided the smaller boats made more sense. We were right. One big issue is the truck needed to pull a boat. We pulled the small boats behind her Subaru and you could not tell they were back there. We got 28.8 miles per gallon on the way down and actually drove through some towns. It was not all highway miles.
We are planning to use them more here. I've been wanting to fish lower Citico Creek. Driving back in there from the lake in our boat is spooky to me due to the trees, logs and stumps. These kayaks only draft 3 inches. There is no prop to bend or motor damage to do. The kayaks make more sense.
You can travel a mile or so very quickly with little effort if you do it right. Instead of digging your paddle deep into the water, you can make better time with more easy strokes with the paddles not submerged as much. Once you get into a rhythm, you can cover a lot of water quickly.
You won't believe how close you can get to a gamefish in a kayak. You can be right on them and not spook the fish. In Florida this spring, I was hooking speckled trout 15 feet from the boat. I saw fish swimming under the kayak. One was a big shark.
Jack and I got caught in some rough water in Cedar Key in these kayaks. The wind was blowing strong at our back. We were about ¾ of a mile from shore. As we got closer to the mainland, waves were coming out of the bay and the tide as going out. Before we knew it, we were in three foot swells. Water poured into our boats then ran out. These kayaks are self bailing. They have scupper holes.
I never once felt on edge due to this. I didn't fell it was possible to turn over. We were wearing life jackets of course.
Once, a Florida Fish and Game officer pulled up to my kayak. Jack and I were way off shore at Crystal River. The officer pulled his large center console boat up to my kayak. He checked my license. We were in deep water. He wanted me to open my hatches to see the contents but I didn't like the idea of trying to move around out there to open them. I suggested he open the hatches. He decided not to.
One nice thing about being a senior citizen is, you can tell a young wildlife officer to do it himself and get away with it.
Kayak fishing is growing. It's a lot of fun. You can cruise rivers, lakes and the ocean in one and enjoy your day with everything you need. We have Fishpond coolers, an extra paddle, fishing gear, food, first aid kits, strobe lighting and even hand held marine radios.
I'm glad my close friends are getting more interested. You should too.
Have a great day and thank you for being here with us.
Byron Begley
August 23, 2014