Townsend, Tennessee - Fly Fishing in the Great Smoky Mountains National Park, East Tennessee and Western North Carolina

Welcome to the Fishing Report from the Great Smoky Mountains. It is 7:35 am, foggy and 70 degrees in Townsend this morning. The high temperature today is supposed to be 90 degrees. The heat wave ends today, sort of. It is going to be cooler starting tomorrow.
I drove around town yesterday to look at the motel parking lots. It is still slow in town. We'll begin the upward trend starting this coming weekend, Memorial Day weekend. Then, we'll slide into Fall, a busy time. October is crazy. November is slower until Christmas and New Year. Then, tourism is all but gone through January and February.
Little River is flowing at 115 cubic feet per second (cfs) or 1.58 feet on the flow gauge. Median flow for this date is 114 cfs. The water temperature is 70 degrees.
If you go fishing today, go high where the water is cool. There are many streams in Great Smoky Mountains that are cool right now. Fishing is good. Trout are taking dry flies or nymphs. I would use any yellow stonefly imitation, a foam beetle, ant or Green Weenie. You will probably do well on most dry flies that are reasonable during the Summer. The fish are not particular. They want a good drift.
It rained in some areas of the Park yesterday. Some said it poured. We didn't get a drop here.
I'm taking a few days off and going fishing. Yesterday, I ran payroll and paid bills which I usually do on Sunday. Then I started the big task of re-photographing all of our flies to be placed on the new online store. The new e-commerce software needs images that are larger than what we used to use.
Since we now have a photography studio, with big remote flash units, our fly photography has improved over the years. I'll have to shoot several hundred fly patterns. We have a huge selection. You can buy them online from our present online store. People do almost daily. But these new photos are going to be something like you have probably never seen before. The problems is, we will upload a 1280 x 1280 pixel image. That shows up as the enlarged image. That is big. Then it automatically shrinks it down to a thumbnail image, the one you see in the categories. If you don't have a large image to load, the thumbnail looks tiny.
Between now and November, we will be featuring fly tyers on this page who will demonstrate at Fly Tyers Weekend. Today, that person is Walter Babb.
Walter is one of my best friends. We have been friends for almost 20 years. He is one of the smartest and funniest people I know. We have taught classes together, written fly tying workbooks together and traveled together on long distance fishing trips. Walter can remember anything about any fly, who came up with the pattern and when. It's the same with bamboo rods. He knows the makers, the tapers and which maker came up with the taper. Personally, I think he is a genius. He things he just remembers unimportant stuff.
Walter was here yesterday teaching a fly tying class. He had to leave a little early to go to men's chorus practice. They were performing later last night. Now, how many people knew he is a singer? Being his usual modest self, Walter says he is not a good singer. He says they want him in the men's chorus because he sings tenor, in harmony, can read music and hits the note. If that's not a "singer", what is?
Below is Walter's photo and bio as it appears on the Fly Tyers Weekend web pages.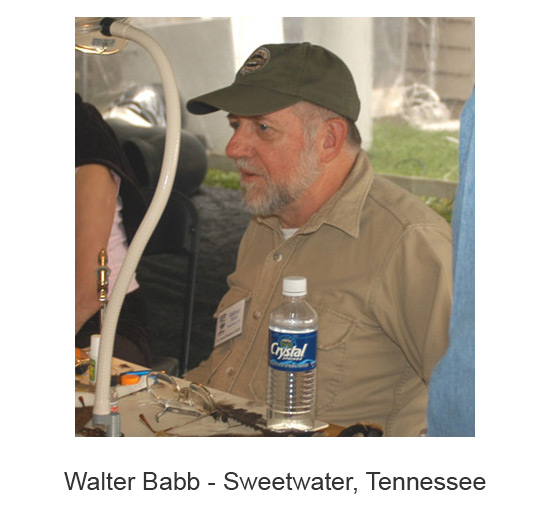 "Walter Babb has been fly fishing the Southern Appalachian mountains for over 60 years. He began his journey fishing with his father mostly in the Tellico River drainage. Walter became a commercial fly tyer at a young age and still ties flies to sell. He loves fly fishing for trout but has ventured into some warmwater fishing and Atlantic Salmon fishing as well. He has traveled to the west and the northeast United States to fish.

Walter enjoys tying and fishing Southern Appalachian and Catskills flies. He is known as a master nymph and wet fly fisherman. And, we consider him a walking fly fishing encyclopedia. He remembers even the most miniscule details about cane rod builders and fly tyers.

Walter began making bamboo rods about 10 years ago. He makes his beautiful rods to sell and always has a waiting list of anxious customers. Additionally, Walter has taught and still teaches beginner fly fishing classes as well as beginner, intermediate and advanced fly tying classes at Little River Outfitters. He has been teaching here for over 15 years."
Have a great day and thank you for being here with us.
Byron Begley
August 24, 2014