Townsend, Tennessee - Fly Fishing in the Great Smoky Mountains, East Tennessee and Western North Carolina

If you don't see today's Fishing Report, refresh your browser to empty your cache.

Welcome to the Fishing Report from Townsend, Tennessee in the Great Smoky Mountains. At 6:12 am, the temperature is 69.1 degrees.
It is going to be very warm or hot over the next few days. High temperatures are predicted to be in the low 90's, today through next Thursday. It will probably be 2 or 3 degrees cooler here. Lows at night will be in the high 60's to 70 degrees. We have a chance for rain today and through the weekend. Those chances range between 20% and 60% depending on which weather website you believe.
Little River is flowing low at 63 cubic feet per second (cfs) or 1.43 feet on the gauge. Median flow for this date is 102 cfs. The water temperature is 72.3 degrees this morning, at the entrance to Great Smoky Mountains National Park.
It may rain, so some streams could be flowing higher over the weekend.
However, the water will remain warm. For that reason, you should fish in the higher elevations. I think you will do best and enjoy more comfortable conditions, in the backcountry. Find a nice shaded stream, in a mid to high elevations. If you enjoy hiking, follow the many trails up the streams. The water is low right now so the trout will be spooky. Dress to blend in with the forest. Use light tippet. Stay hidden as much as possible. Dry flies or nymphs will work.
Check TVA's generation schedules and plan a day on a tailwater, fly fishing for trout. Or, float the lower sections of the tailwaters for smallmouth bass.
If you plan to fish a lake, go early. Be at the ramp at daybreak. With this heat, you probably won't stay all day. We will probably have long periods of sunny skies this weekend. I would cast the banks with poppers. As the sun rises, move to shaded banks.
You can catch larger bluegill by fishing deep, several feet deep. Use weighted flies. I like to use Rubber Legged Dragons. I cast them out and let them sink for a while, then slowly retrieve your fly. If you feel a "bump", set the hook. You might catch about anything that swims. You will probably catch bass too. I've caught a lot of channel catfish doing this.
Watch for surface feeding on the lakes when the sun is off the water. Smallmouth bass, largemouth bass, white bass and stripers follow schools of threadfin shad. If you see fish feeding in the jumps, move your boat silently toward the school and cast small white and chartreuse Clousers or Puglisi Threadfin Shad to the feeding fish. If the lake is slick, you will need to be extremely quiet and cast long.
Pond fishing will be best early and late.
We are selling an incredible amount of BoogleBug poppers right now. A bunch of those poppers are being shipped to customers elsewhere but many are selling in the shop too. We have a large selection, with more on the way. We have 28 different models to choose from. You can see that selection by CLICKING HERE. I was at the shop yesterday, gazing at the mail orders going out to customers. We have been kind of slow in the shop this month, which is usual, but the mail order business is faring very well in August.
I have been working on our Fishpond Website and the Fishpond section of our online store. I'm adding new 2017 merchandise. Fishpond has made some impressive changes and added new products to their waxed cotton luggage line. The color is darker than before. It is called "Earth". From what Daniel told me, these items will be available for sale in November of this year. I will have both websites updated by then. There are also many other color changes to existing pieces.
One really impressive new addition is the waxed cotton version of the Blizzard Soft Sided Cooler. The photo is below. Paula and I each have one of the older, nylon covered coolers. We use them every time we go fishing, in the boat or in our kayaks. This addition is made to match your Fishpond luggage. You can read more and see larger images by CLICKING HERE. You could order one if you want to, but you won't get it for a while. Don't worry, there will be plenty to go around when they arrive. They sell for $79.95.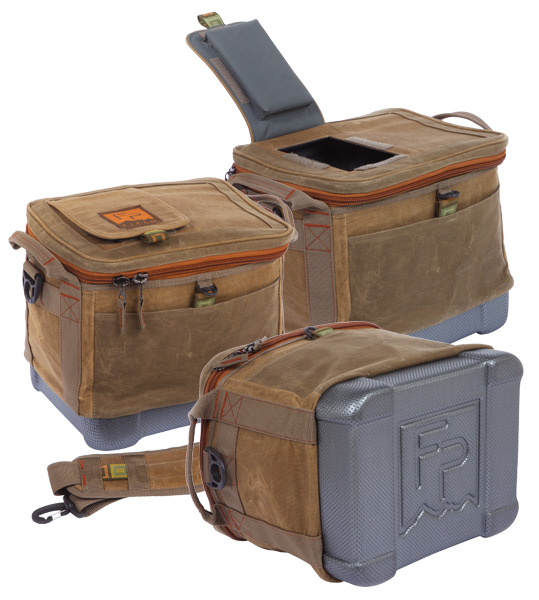 Our luggage department has exploded this year. I'm sure that is the case in our industry. More anglers must be traveling. I've noticed other companies are expanding their fisherman luggage lines. In November, you will see the whole 2017 Fishpond line on our websites. We sell a lot of Fishpond gear. I own a lot of Fishpond gear. I love this stuff.
Another winner for us this year has been Smith Creek fly fishing accessories. I am going to build a small Smith Creek store on our website. The company is owned by Wayne Smith. He lives in New Zealand. He was born and raised in California. He designs everything they sell. I am so impressed with his products, the packaging, and the worldwide distribution network he assembled.
Wayne is also a very nice guy. He is his own "pitch man", and appears on all of his product videos. We have been e-mailing back and forth, often, for weeks. The Rod Clip you see in the ad on the top left of this report is his best selling accessory. I saw some of those going out to customers through the mail yesterday. You can read more about the Rod Clip by CLICKING HERE. That is Wayne in the video.
Have a great day and thank you for being here with us.
Byron Begley
August 26, 2016
Respond to: byron@littleriveroutfitters.com
Lake Information and Tailwater Generation Schedules



Please enter your e-mail address in the box to the left to sign up for our e-newsletter. You will receive news about the shop, events, sale information, fishing info and more important information a fly angler would want to have.

You can opt out at any time. If you decide you don't want to receive our information just change your status or click at the bottom of an e-mail we send you in the "Remove" box.

We do not sell or give your e-mail address to anyone. And, we won't hound you to death with e-mails. You will receive no more than one per week unless unusual or critical fishing news might be of interest to you.