Townsend, Tennessee - Fly Fishing in the Great Smoky Mountains National Park, East Tennessee and Western North Carolina

Welcome to the Fishing Report from Townsend, Tennessee and the Great Smoky Mountains. It is 6:24 am and the temperature is a very cool 61.3 degrees. It will be warmer today, approximately 85 degrees and about the same tomorrow. We have a slight chance for rain both days. The chance for afternoon thunderstorms increases Sunday to 60%. Low temperatures tonight through Sunday night will be in the low to mid 60's.
Little River is flowing low at 47 cubic feet per second (cfs) or 1.19 feet on the flow gauge. Median flow for this date is 102 cfs. The water temperature is 67.5 degrees this morning.
Paula and I spent yesterday in the Cherokee National Forest, near Tellico River. The river looked great. Flows there are still above median flow. Tellico River is one of the most beautiful rivers you will ever see. I thought that the fist time I ever saw that river. There is something special about it.
If you plan to fish in Great Smoky Mountains National Park today, head to the mid to high elevations where the water is colder. Expect low water. Fish the heads of plunge pools, riffles, pockets and runs where the water is broken, offering cover for the trout. Dress in muted clothing and stay hidden. Get a good drift. Dry flies will work for you but nymphs will too. I would fish dries. I think they would be a Yellow Stimulator or Yellow Sally Stonefly imitation. Most reasonable fly patterns will work. The trout are packed into areas that offer cover.
Wade fishing for trout on the Clinch River is not a good option today. TVA indicates an all day generation schedule starting at 7 am. The water has been off since 2 am so if you are there now, and downstream from the dam, you should have some lower water, but more is coming soon. Cherokee Dam will be turned off most of the day except for a one-hour surge starting at 10 am. Please check the TVA schedules before going. They are subject to change. I'm subject to misreading charts.
Fly fishing in the lakes for bass and bluegill is good early and late or on cloudy days. Poppers, Knuckleheads or Dragons are working well.
Paula and I did something we've never done yesterday. We fished in a lake from our kayaks. We use our kayaks in Florida, in the Gulf and in bays. This was the first time since we bought them in 2009, they have been used in fresh water.
Indian Boundary is a small, 100 acre lake in the Cherokee National Forest. Gasoline motors are not allowed. We took the scenic route, over the Foothills Parkway and along the Little Tennessee River. It was a 5 hour round trip.
Fishing was good. I used a Black Knucklhead all day. Paula used one of our Dragon patterns. I'm not sure which. We caught bluegill and I caught one largemouth bass. That bass probably weighed less than 2 pounds, but it towed me and my kayak, a fairly long distance, during the fight. I found some big carp, on a large flat. I could not help but anchor and try to catch one of those. As usual, I failed. The bottom was hard. I should have gotten out of the kayak and waded.
Instead of my carbon fiber 2 bladed paddle, I used a single blade canoe paddle so I would have a shorter stick to deal with while fishing. It worked great only because we have foot controlled rudders. If you don't have rudders, I think you would be happier with a two bladed paddle. I don't like the rudders when fishing. I forget to raise mine out of the water, and the fly line gets wrapped around it. Now that is very frustrating!
I'm used to fishing in wide open water in a kayak, or going from one spot to another to wade fish in the ocean. Trying to control a kayak, and casting to the bank, was frustrating for me. This is my first attempt so I'm sure there is a lot to learn. I had a hard time, especially after the wind picked up. I spent a lot more time trying to control the boat, than fishing.
I'm also used to standing, sitting in a comfortable seat, and walking around in our boat. Yesterday, I sat for 4 hours straight.
We did have a great day and we'll do it again. I have a couple of very small wooden paddles, we can use with one hand. I will certainly take those next time. I believe you could control the boat with one of those, with one hand, while casting with the other. You can get very close to the fish in a kayak, much closer than in a larger fishing boat. If you are sitting in a kayak, which is the only way I would fish, you have a low profile. The fish don't see you until you are close.
We have a tandem canoe, which works great on lakes. The person in the stern can control the boat, and fish, while the person in the bow can fish constantly. The down side, fishing from a canoe, is the wind. Kayaks don't seem to be affected by wind, like a canoe.
Below are some photos we took yesterday.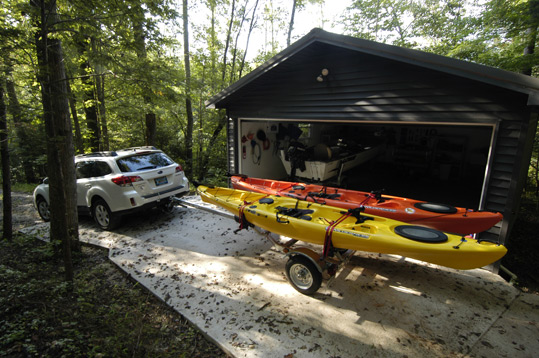 Almost ready to go. We have a Malone trailer designed to transport kayaks and canoes. The rig is light and can be easily towed by Paula's Outback. It is easy to unload or load the boats from a trailer.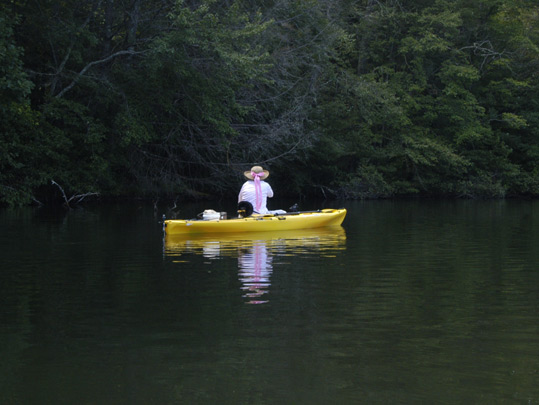 Paula fly fishing the banks of this pretty lake.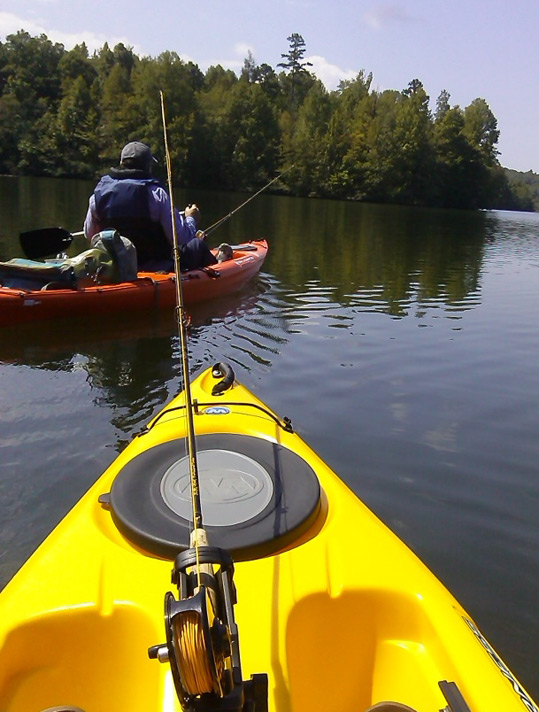 I always wear a life jacket in a canoe or kayak or when we are under way in the boat.
Have a great day and thank you for being here with us.
Byron Begley
August 28, 2015