Townsend, Tennessee - Fly Fishing in the Great Smoky Mountains National Park, East Tennessee and Western North Carolina

Welcome to the Fishing Report from the Great Smoky Mountains. At 6:45 am, it is 63.9 degrees. It will be hot tomorrow through Friday around 90 degrees, then slightly cooler beginning Sunday. There is only a slight chance for rain until Saturday. The average high for September is 80 degrees and the average low is 55 degrees, according to Weather.com. The average high in August is 85 degrees and the average low is 61 degrees.
The USGS flow gauges are reporting again. They stopped reporting Friday afternoon and resumed yesterday. Little River is flowing at 40 cubic feet per second (cfs) or 1.14 feet on the flow gauge. Median flow for this date is 89 cfs. The water temperature is 68.2 degrees this morning.
As you can see, Little River is flowing much lower than normal, less than half of normal flow. That is very low. The chart below depicts flows in Little River dating back to January 2012. You can see, the water only dipped this low three times during the 3-year period. That occurred in July of this year, now, and in the Fall of 2012. Times were worse during 2007, when flows dipped to approximately 15 cfs. We were in the midst of a severe drought back then. A large percentage of the rainbow trout population perished during that two-year drought in the Park.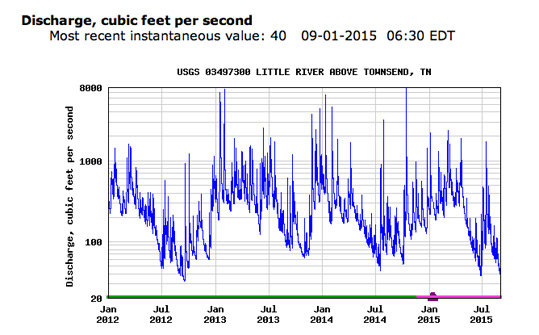 We are not in the midst of a drought now. Only the most eastern portion of our County, was listed as abnormally dry by the US Drought monitor report issued last Thursday. We have been getting rain all around us. It's just not raining in the Little River watershed and other locations in the Park.
These are not ideal fishing conditions, far from it. And, there is no relief in sight until next week. You can catch trout in the higher elevations where the water is colder. It just won't be as easy or as much fun, as it would be if we had higher flows in the streams. We can only hope we will get some rain soon.
The generators are off at Cherokee Dam until 11 am this morning, according to the TVA website. Norris Dam will be generating full bore all day. Check the TVA website for Cherokee Dam and see if you can work with their schedule.
Lake fishing is good for bass and bluegill early and late. I prefer late. Paula and I plan to go Thursday. We'll be chunking poppers at the shaded banks. We've done the same thing for two weeks.
I designed and launched a BoogleBug popper store Sunday morning. You can see it by CLICKING HERE. Dan will be ordering more models, colors and sizes every week or so. I'll photograph them and add the new poppers to the store. He and I both have been using them. We had no idea how popular they are. I used BoogleBugs for years, but later started making my own, as a hobby. You can learn how I make mine by CLICKING HERE. I'll be using BoogleBugs from now on.
I started fly fishing with poppers over 50 years ago and never stopped. Every time I cast one, I go back to my childhood. They take me back. I didn't start fly fishing for trout until the 1970's. Before then, I just fly fished for bream and bass with poppers. Trout took over as my passion for many years. Saltwater fly fishing came next. I love it all. Today, catching warmwater species on top water flies and poppers are what I do most, when the conditions are allowable. The conditions are allowable right now.
There are times, when conditions are not great for trout fishing. Maybe the streams are low and warm. Maybe the dams are generating around the clock. When that happens, you can usually fly fish for warmwater fish, with poppers during the warm months. It's a fallback plan for some and a passion for others.
Have a great day and thank you for being here with us.
Byron Begley
September 1, 2015