Townsend, Tennessee
September 2, 2009

Welcome to the Fishing Report. It is a little overcast right now. I have seen very few cars on the streets this morning. But, a helicopter just flew over the building. That is odd. Due to FAA laws helicopters fly close to the park for only four reasons. Someone is either injured and a medical evacuation is taking place. They are fighting a forest fire. Or, the State of Tennessee is doing their annual search for marijuana. Or, the President is coming.
This one circled around town and landed across the street from our shop. I took a photo of it for you from our parking lot. It's not a Lifestar medical helicopter. It's not a State Trooper whirlybird. This one is military, olive drab, the pilot got out and he is in uniform. See the photo below.
But President Obama said he was not going to attend the re-dedication of the Park today. Dolly Parton is going to do it. We'll see. But I guarantee you there is a military helicopter parked just across the street from the shop. Something is definitely going on.
By the way, Newfound Gap Road is closed today. All trailheads accessed from that road are closed today as well. I think they will re-open at sunset.
Little River looks perfect. The flow is 139 cubic feet per second which is much higher than normal at 81 cfs. The water is getting a little cooler. Though it is early September and not many people fish during the week until later this month, the fishing is good. Dry flies and nymphs will work fine. I would chose terrestrials and a Green Weenie as my flies.
Walter Babb, Brian Courtney and I are going lake fishing tomorrow. Daniel will be on vacation so I'm going to write a brief fishing report this evening. There will be a note referring you to the archive if you want to read today's report later this evening. Tomorrow will be a fun day.
The Little River Journal will go out this afternoon. I have some editing to do first. I love doing this but I'm always glad when it's over. The Journal is and will be a wealth of information as time goes on. You can read back issues by clicking HERE. You won't see the September issue unless you are a subscriber or you subscribe this morning. The September newsletter will be added to the Archives in early October. So, sign up below.
My friends are going to think something is wrong with me. Maybe I'm going through some kind of late life crisis. I might need some professional help. Local Townsend people saw me do it. There was some "rubber necking" going on when I did it. Yes, night before last I washed my truck for the first time in over 2.5 years. But I feel fine.
I'm not talking about pulling in, handing someone a credit card, asking for #3 and giving them a coupon for a free tire shine. I used a hose, bucket, sponge, soap and a ladder. I don't know what got into me. And listen to this, last night I waxed over half of my truck. I even found some stuff called Armor All that claims to make your black plastic black again. It worked. You can even apply it to your tires. I may even clean the interior, the glass windows and use a product to soften my Corinthian Leather seats.
My truck is a 2001 Chevy Suburban with 107,000 miles. I live on a gravel road. Living on a gravel road for 18 years causes you to re-arrange your priorities. Washing your truck moves lower on your "to do" list, way down.
My neighbor Tim has a white pickup truck that has never been washed. When we are parked next to each other at the bank or grocery store we always compare and brag about how nasty our trucks are. He always gets me on the interior. I guess those days are over.
I removed the Little River Outfitters graphics from the doors too. I got tired of looking at them and they were outdated. But also, I want to be a little more discreet on the launching ramps. I don't want people to think I'm guiding someone on their lake or in their secret coves. I won't be guiding so I don't want people to think I am.
I thought about some of the negatives that might be brought about by this lifestyle change. I might be working late here at the shop. The police won't recognize my truck and think I'm a burglar. That would not be good. People might think I got a new truck. Then all of a sudden there are fly shops opening up around here. I'm going to cause quite a stir at our next Chamber of Commerce Board Meeting. I can see that coming. Maybe I'll wear a coat and tie instead of blue jeans to the next one.
Oh well. I kind of like having a half clean truck.
Have a great day and thank you for being here with us.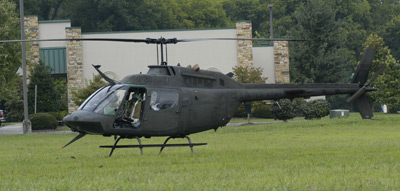 Note: You don't see many of these parked next to a fly shop!
Byron Begley
September 2, 2009
Respond To: byron@littleriveroutfitters.com