Townsend, Tennessee - Fly Fishing in the Great Smoky Mountains National Park, East Tennessee and Western North Carolina

Welcome to the Fishing Report from Townsend, Tennessee in the Great Smoky Mountains. At 6:14 am, the temperature is 64.6 degrees. It will be hot today, maybe over 90 degrees. Temperatures will be cooler this weekend, with a chance for thunderstorms every day, 30% to 40% or 50% to 60%, depending on which weather website you believe.
By mid-week next week, we should experience cooler days and nights, and hopefully more rain.
Little River is flowing low, at 33 cubic feet per second (cfs) or 1.09 feet on the flow gauge. Median flow for this date is 93 cfs. The water temperature is 71.2 degrees this morning.
If you fish anywhere in the Smokies today, you will find low water. In the low elevations, the water will be warm. Fish the high elevations and use your low water tactics. Trout are packed into tight quarters, where the water is broken, offering cover. Dry flies are working, but nymphs should produce too. I prefer using dry flies when the water is this low.
The US Drought Monitor's weekly update, released yesterday, does not indicate we are in a drought. Only the very east portion of our County, which includes Great Smoky Mountains National Park, is designated as abnormally dry. A few counties to our northeast are listed the same.
TVA will be generating all day today at Norris Dam. According to their website, they will only generate for one hour today at Cherokee Dam. There may be some wade fishing opportunities on the Holston today. Check the TVA website and make that determination. The schedule is subject to change.
Lake fishing with a fly rod is good early and late or on cloudy days. Poppers and Knucklheads are working well for largemouth bass and bluegill. Fish the shaded banks and you will do well.
Paula and I fished Chilhowee Lake yesterday. We launched at 3:30 pm and pulled our boat out at 7 pm. Chilhowee is one of several impoundments on the Little Tennessee River. We can leave our house and be on the lake in 35 minutes. It is small, 1,734 acres. There is no private development on the lake. It is bordered on one side by Great Smoky Mountains National Park and by Cherokee National Forest on the other.
Fishing can be good or very slow. Launch ramps and parking are limited. Because of all the lakes we have in our area, Chilhowee is not used much at all. I never mention the name of this reservoir on the internet. Most people around here know it exists.
Because of the limited infrastructure to accommodate fishermen, I think it is best that the whole world does not know about it. Lake levels fluctuate greatly during a 24 hour period because of the small size of the lake, and generation from both dams. Essential nutrients to baitfish are very low. The Little Tennessee River flows through public land, with almost no agriculture and no cities. Fishing can be slow and that is why I think fishermen go elsewhere. Yesterday when we launched, there were only two other trucks and trailers parked at the ramp. Chilhowee Dam, along with other dams on the Little Tennesse River, are owned by Smoky Mountain Hydro, a subsidiary of Brookfield Renewable Energy (BRE). BRE is a large publicly held Canadian company.
Chilhowee dam is leaking. Everyone around here knows that. The lake was lowered 4.5 feet this year. That made launching and getting our boat out of the water a trying experience. It has been rumored that the lake would be completely drained. The impoundment was drained in 2008 for repairs. I think that project lasted about a year, then the lake was re-filled. The fish populations were on the rebound and fishing has been getting better.
I have been in contact with Andy Davis, who is in charge of BRE's public relations in the United States. After promising I would not post the information on the internet until it was made public, he told me about their plans. You can read the news release by CLICKING HERE.
A drawdown of the lake will begin next week for dam testing. The water will be lowered 1 foot per day for 40 days. That will leave the lakebed, mostly dry. I see depth readings a little over 40 feet, in some areas of the lake where we fish, and that is the old Little Tennessee River original bed. What happens next is anyone's guess. What will happen to the fish is unknown. How long the drawdown will last is unknown. Below is a photo of the sign we found posted at the ramp.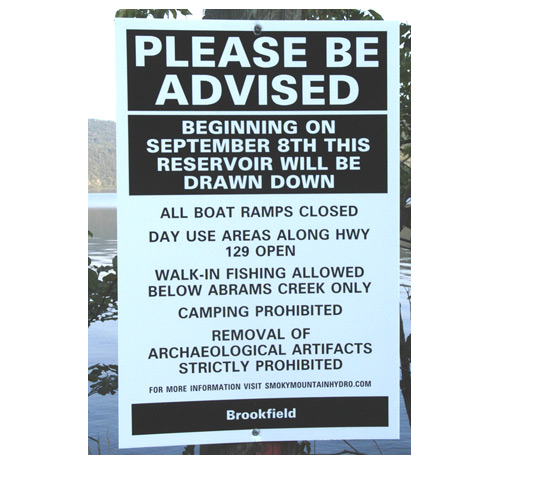 Yesterday was sad for Paula and I. We didn't fish much. We just idled around part of the lake and remembered the good times we have had there. We enjoyed the beauty and the lack of boats and people. Maybe the drawdown will last just a few months, or maybe longer. Fish species caught there include walleye, smallmouth bass, largemouth bass, rainbow trout and panfish. It is also one of only two lakes in Tennessee that are stocked with true lake trout. Jack has caught brown trout there. I haven't. Abrams Creek is the largest tributary, flowing out of Great Smoky Mountains National Park into the lake. The impoundment below Chilhowee Dam is Tellico Lake. We fish there too, and I guess we'll be fishing there more in the future.
This is a holiday weekend. Townsend and the Park will see plenty of visitors. Our store will be busy. I hope you have a great holiday weekend and go fishing somewhere.
Have a great day and thank you for being here with us.
Byron Begley
September 4, 2015