Townsend, Tennessee - Fly Fishing in the Great Smoky Mountains, East Tennessee and Western North Carolina

IIf you don't see today's Fishing Report, refresh your browser to empty your cache.
Welcome to the Fishing Report from Townsend, Tennessee in the Great Smoky Mountains. At 5:55 am, the temperature is 58.3 degrees.
Today will be warm, probably 87 degrees or warmer. It will be sunny. No rain is expected. The low tonight will be in the mid-60's. It was predicted to be cooler this week. That has changed. The weather websites agree it will be cooler this weekend. The websites do not agree on the chance for rain this weekend. One states an 80% chance both days. Another believes the chance will be 40%.
Little River is flowing low at 49 cubic feet per second (cfs) or 1.35 feet on the gauge. Median flow for this date is 81 cfs. The water temperature is 68.9 degrees this morning.
The advice remains the same. Fish the mid to high elevation streams. Use dry flies. A #16 Yellow Neversink Caddis will work. Or, use Green or Pink Weenies or the same colors in Squirmy Wormies.
I was about to leave the shop yesterday afternoon. A nice young man walked in. We recognized each other. I had not seen him in a while. He had moved away for a few years, but now lives in Knoxville. He had been fishing on Lynn Camp Prong. This was his first day to fish there since the stream was closed for 7 years for the brook trout reintroduction work that was done.
He told me fishing was very good. He walked about a mile above the cascade and started fishing. He told me the water temperature was 64 degrees. He also said he has been a Bead Head Pheasant Tail guy for a long time. Then he took off his cap and showed me an attached Green Weenie. Evidently, he has become a fan of that fly. The Green Weenie worked for him. I suggested he try Pink on that stream too.
Lynn Camp Prong is considered a mid-elevation stream. It's the same above Elkmont. There you will catch mostly rainbows. You may catch brown trout too. Further up, in the tributaries, you will catch brook trout.
The water is low. This fellow knows how to fish in low water conditions. He fished the choppy, broken water at the heads of pools, plunge pools, and runs with plenty of current. He was dressed in subdued clothing to blend in. I'm sure he was somewhat sneaky, so as not to be seen by the trout.
That is what we should expect most of the week. Go to the higher elevations and do what he did. You will catch trout.
Paula and I were talking about this subject yesterday. When can we start feeding the birds again? We can't do it now. The bears will lick the seed off the ground, then wait around for me to throw more out. We don't want them hanging around.
Now, the hickory nuts and acorns are available as food. We have a large hickory tree, with branches that hang over our house. Squirrels have been in the trees, cracking on the nuts and feeding over our metal roof. The chips fall down on the roof, making all kinds of noise, all day long. Just a few days ago, the acorns started falling. The are hitting the metal roof on our boat house.
The bears have begun feeding on the hard mast. They are trying to build up as much fat as possible, to get them through the winter, when they den. There is a good article about this in the Daily Times today. You can read it by CLICKING HERE. I think we'll start feeding the birds, gradually, beginning about mid-October.
When I say we feed the birds, I mean we "Really Feed the Birds". I go through two gallons of seed per day. I buy it in bulk, a few hundred pounds at a time, and mix my own. We are both looking forward to resuming that activity. The forest behind our house is an amazing scene, all winter long. Paula took the photo below using her phone last winter. The deer is about 25 feet from our back door.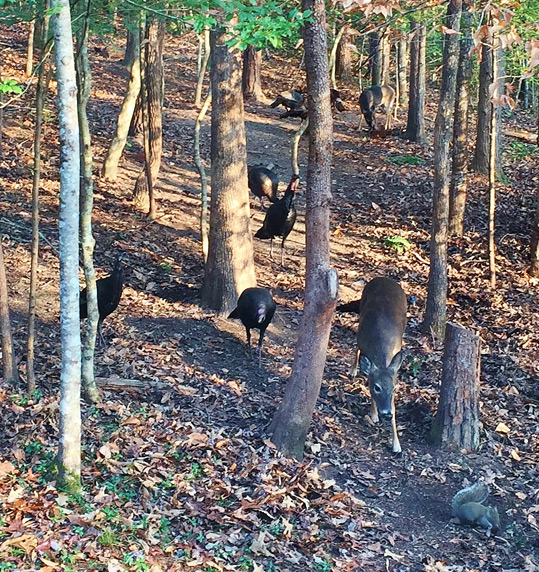 I missed this yesterday. The field across from the shop is where helicopters land and take off, when people are injured and need to get to the hospital quickly. Two people were injured in an auto accident on Wears Valley Road. Two helicopters landed in the field to fly the victims to the hospital. Evidently, the first chopper took off without incident. Somehow, the second victim's shoe came off, and was sucked into the blades of the helicopter he was supposed to fly in. That damaged the chopper. He was driven by ambulance to the hospital in Maryville. You can read that story on the Daily Times website by CLICKING HERE.
I don't know for sure, but I suspect the helicopter is still at the shop, where it will be repaired. What do you do with a helicopter that is broken down? Call a wrecker? What does it cost to repair a broken down helicopter? Parts and labor, $500? I don't think so.
The victims did not have life threatening injuries.
The leaves are beginning to change. Yesterday, I noticed a lot of yellow leaves, scattered around the landscape. After this hot summer, I am totally ready for fall.
Have a great day and thank you for being here with us.
Byron Begley
September 12, 2016
Respond to: byron@littleriveroutfitters.com
Lake Information and Tailwater Generation Schedules



Please enter your e-mail address in the box to the left to sign up for our e-newsletter. You will receive news about the shop, events, sale information, fishing info and more important information a fly angler would want to have.

You can opt out at any time. If you decide you don't want to receive our information just change your status or click at the bottom of an e-mail we send you in the "Remove" box.

We do not sell or give your e-mail address to anyone. And, we won't hound you to death with e-mails. You will receive no more than one per week unless unusual or critical fishing news might be of interest to you.