Townsend, Tennessee - Fly Fishing in the Great Smoky Mountains National Park, East Tennessee and Western North Carolina

Welcome to the Fishing Report from the Great Smoky Mountains. It is Sunday morning, early, before daybreak, and the temperature is 61 degrees in Townsend, Tennessee. I was out of town yesterday, at a funeral in Kentucky. I can only imagine all the activity in our town. Yesterday was the peak of many events in Townsend, celebrating our heritage and history. It also celebrated the coming of Fall, a very special time in the Great Smokies.
As we drove north yesterday, I could see what is coming here soon. Leaves are turning colors. Fall comes a little earlier in Eastern Kentucky than it does here. We will find soon enough, in a day or maybe a few days, what I saw yesterday.
The streams are lower than normal right now. We have not had rain in several days. Little River is flowing at 65 cubic feet per second or 1.35 feet on the flow gauge. Median flow for this date is 94 cfs. The water temperature at 6:05 am is 63.5 degrees.
We have a 70% chance for rain tonight and a 60% chance tomorrow. We are hopeful it occurs.
Fishing is pretty good. Though the water seems low in Little River, it is still flowing higher than it was during times in July or even June. If you look at flow charts going back 120 days, the water level is about what it was much of the time during that period. See the chart below.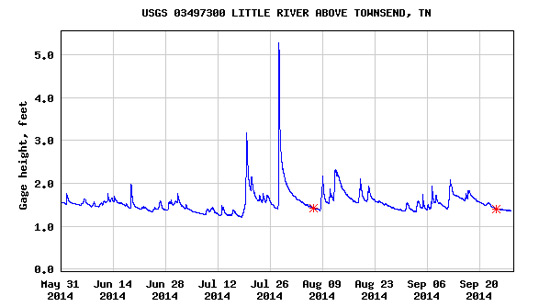 I would use a dry fly and a dropper. If the trout are reluctant to feed on the surface, they may opt for the sunken fly trailing behind the dry fly. I would use a Green or Pink Weenie as a dropper. Or, weight the Weenie and use a strike indicator. For even better results, remove the indicator and fish using a tight line, close to you. Fish in the moving, choppy water. You will probably do better on the shaded water during the day. Fishing early and late is a good idea.
Yesterday we drove by the upper Cumberland River in Kentucky. Paula was driving so I had the opportunity to study that stream. We were seeing the Cumberland River above Lake Cumberland. It appeared to be an excellent warmwater fishery. The water was green, not clear. The river in that area may be subject to a high nutrient load. Maybe the water is polluted from coal mine runoff. I don't know. I would like to find out.
Frank, who lives in Kentucky was at the funeral. We didn't get to talk about fishing there. We will discuss that later. Frank was a Kentucky Wildlife Commissioner for 10 years. He can get the details on fishing this river.
One thing I didn't notice was Kentucky Fish and Wildlife access points on the river. Maybe I missed them. Maybe there is no reason for them. I did find a paddling outfitter operating near Cumberland Falls on the internet.
If you live in or visit Eastern Kentucky, you might want to look into this. The upper Cumberland, from what I saw, looked perfect for canoe or kayak fly fishing. There is a whitewater area and Cumberland Falls to contend with. Make sure you know where to go.
Late yesterday afternoon, after we got home, a neighbor's son came by our house. He had been digging ginseng. He wanted permission to hunt for the plant on our property. I turned him down. We don't allow it. I've been asked three times by people lately to dig on our property.
I don't want native plants removed from our property. If I catch someone digging, they will be charged with trespassing.
I questioned him about his digging practices. He didn't know one of the rules of Southern Appalachian ginseng digging. You don't remove small plants, those with less than three prongs. If you don't leave the small plants to grow, and go to seed, you will wipe out the ginseng population. He didn't know. He is a beginner. He's not being greedy. He was just having fun.
It takes years for a ginseng plant to mature. Those who hunt ginseng around here are having a hard time finding mature plants because the land has been over-harvested. People have been digging ginseng for generations and selling the roots. Most of the ginseng ends up in Asia, where it brings "high dollar".
One of my friends told me one time, "If my grandfather caught me digging a ginseng plant with less than three prongs, I would get a whippin".
Have a great day and thank you for being here with us.
Byron Begley
September 28, 2014