Townsend, Tennessee - Fly Fishing in the Great Smoky Mountains National Park, East Tennessee and Western North Carolina

Welcome to the Fishing Report from Townsend, Tennessee in the Great Smoky Mountains. At 5:54 am, the temperature is 60.1 degrees. Today, we have a 60% chance for rain and a predicted high temperature of 75 degrees. After today, the rain chance diminishes to near zero. Highs will be in the 70's with lows in the 50's through next weekend.
The heavy rain missed us yesterday. It appeared to have fallen to our north and south all day on the radar. The flash flood watch has been terminated. Things are bad on the coast of South and North Carolina. Torrential rain caused awful flooding there. Our neighbors to the east are having a very tough time right now. Rescue boats and crews are heading that way from Knoxville to help. We were lucky. Our friends there were not. I wish I could help. An American cargo ship is missing too.
Little River is flowing at 392 cubic feet per second (cfs) or 2.31 feet on the flow gauge. Median flow for this date is 79 cfs. The water temperature is 59.9 degrees this morning.
The flow in Little River is what we normally see in the Spring after a rain event. The water is certainly low enough to fish. We take beginner students to Little River when the gauge is reading under 2.5 feet. The river is lower than that now.
We do have a chance for rain today, but heavy rain is not predicted. This could be the perfect day to fish in the Smoky Mountains. The water will be swift in some places. Be careful wading. Always be careful wading. Watch for rising water, just in case a storm forms in the mountains. The water temperature is perfect.
This is probably a great nymphing day. The trout are going to be actively feeding on food that has washed into the streams or dislodged from rocks on the streambed. The brown and brook trout will be especially active, though the rainbows will too. This seems like a perfect fishing day in the Smokies, whether you fish in the low, mid to high elevations.
The lowland rivers may be stained. I don't know. There is certainly going to be plenty of water to wade. You may find water flowing too high in some rivers, for a calm float in a canoe.
The TVA website indicates the water will be off on the Clinch River below Norris Dam until 2 pm. Check the TVA website yourself before going. They will probably be generating all day at Cherokee Dam.
It should be cloudy all day. That is another very good sign of great fly fishing. We love cloudy days. Trout love cloudy days. The fish are not as spooky.
I did not go to Townsend yesterday. I suspect the threat of rain and flash floods kept the tourists and fishermen away. That certainly happened on the Carolina coast. Some friend of ours were planning a fishing trip there, beginning this weekend. They decided to go to the Florida Gulf instead. The weather is fine there and the fishing has been excellent.
Redfish have moved into shallow water. Since we are going there soon, a friend of mine, who fishes in the Gulf weekly, has been updating me often. He is doing well, catching redfish on gold spoon flies.
Spoon flies work well but they are not much fun to cast with a fly rod. They are also very hard to make. I think my buddy Randy Hamilton from Charleston, South Carolina invented the spoon fly and I know for sure he designed the Copperhead. We use Copperheads as a substitute for the Spoonfly for redfish and speckled trout. They are easy to tie and cast. They have incredible action in the water.
When we fish in Florida, for redfish or speckled trout, we always have both in our kayaks. They work. Below is a photo of a Copperhead.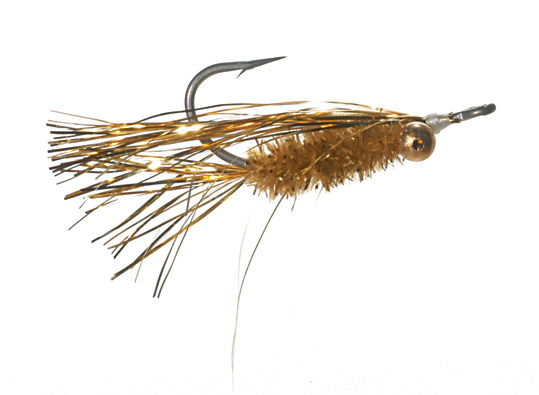 For sub-surface fishing in the Gulf, my two favorite flies are the Copperhead and the Sand Shrimp. You don't want to be down there, fly fishing, without a Sand Shrimp. This fly is also easy to tie and casts well with an 8 weight. See the photo below.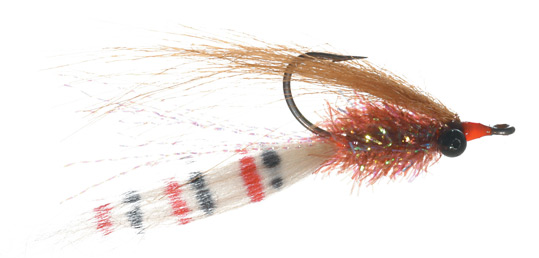 These two flies and a Crease Fly for surface fishing, and a Puglisi fly tied to look like a pinfish, are about the only flies I use in the Gulf. They catch about everything that swims.
I can't wait to go to Florida this Fall. We're looking forward to Spring fishing there too.
Have a great day and thank you for being here with us.
Byron Begley
October 4, 2015