Townsend, Tennessee - Fly Fishing in the Great Smoky Mountains National Park, East Tennessee and Western North Carolina

Welcome to the Fishing Report from Townsend, Tennessee in the Great Smoky Mountains. At 6:40 am, the temperature is 57.7 degrees. It will be sunny and warm today and tomorrow. We have a good chance for rain Friday and Saturday. Expect cooler temperatures beginning Saturday and through next week.
Little is flowing well at 146 cubic feet per second (cfs) or 1.63 feet on the flow gauge. Median flow for this date is 73 cfs. The water temperature is 61.9 degrees this morning.
Fly fishing in the Park is great. The conditions are perfect. Some rain this weekend will probably make fishing even better, if we don't get too much. The trout are active. Brown and brook trout are preparing to spawn. Some fish may be forming beds right now. This is a little early for browns to be doing that but they have started this early in some years.
You should do well with either nymphs or dry flies. This is a good week to be fishing in the Smoky Mountains. I saw a lot of fishermen, arriving in town yesterday. A group of buddies, all friends of mine, are here from Lexington, Kentucky. I was at the shop when they pulled into town and they were happy to be here.
It looks like TVA will be generating at Norris Dam all day. The water is off a Cherokee Dam right now. Generation will start there this morning and continue all day. You could probably squeeze in some wade fishing this morning. Douglas Dam is running wide open all day. Generation and sluicing will be ongoing at Center Hill Dam today. They are doing the same thing at Wolf Creek Dam on the Cumberland River. Before you go, check the TVA website yourself.
TVA re-designed their website and left off the link to the lake level chart, depicting water levels, predicted levels and levels last year. That was useful information and I can't find it anywhere on their website. Maybe it was an oversight. Maybe they will add it later. You can see some of the information by the numbers. I just miss those charts.
The lowland rivers should be fishing well, though I have not been or heard from any reliable sources. All the conditions are favorable for smallmouth bass fishing on Little River, Abrams Creek and the Little Pigeon.
Fly fishing for smallmouth bass on the tailwaters is very good. Josh Pfeiffer's report backs that up. He is a guide, specializing in tailwater smallie fishing on these rivers. He is on one of the rivers, with clients, almost every day during the warmer months.
If you do an internet search about fly fishing for smallmouth bass, our pages on the subject will likely be listed on the first page. This mini website consists of 6 pages on the subject. There is a lot of good information there. These pages are visited a by many people. If you have any interest in pursuing this sport, CLICK HERE and read more. There is a menu on the left of each page, directing you to the other pages on this mini-website.
Fly fishing for smallmouth bass is a lot of fun, and in some parts of the country, where trout are not nearby, this is an alternative you will enjoy if you give it a chance.
I love fly fishing for smallmouth bass on lakes. I mention lake fishing to people in the shop and many, assume I'm using a spinning or casting rod. I'm not. I always use a fly rod. The sport does not require a lot of special tackle. It does create interest in a special group of flies. If you tie flies, it opens up another whole new world.
The same is true about largemouth bass fishing with a fly rod, on a lake or pond. And then there are spotted bass and stripers. More people are fly fishing for carp which is a lot of fun and requires new skills and flies.
I am exchanging e-mail with a fellow who is going to be fishing in Yellowstone, the last week of this month. The browns will be spawning. Big rainbows hang around nearby to eat the dislodged eggs. Fishing is incredible there, in late October.
I've been there several times in late October. It has always been very cold. Sometimes, the lows at night are in single digits. It's probably going to snow. I recommended taking a collection of fleece gloves and chemical hand warmers. I told him to take plenty of weighted Girdle Bugs and Prince Nymphs.
We always fish the Madison and Gibbon Rivers and stay in West Yellowstone, Montana. The brown trout run out of Hebgen Lake, up the Madison River and Gibbon River to spawn. The rainbows follow them.
The Madison River is born at the confluence of the Gibbon and Firehole rivers. Water in the Firehole River is fairly warm, even in late October. So, you may be fishing, in the Madison, when the air temperature is in the teens, but the river temperature is in the 40's.
This is not for everyone. If you don't like very cold weather, you should probably not go. I don't particularly like fishing in extremely cold temperatures, but if you dress warm, change your gloves when you get them wet, and go back to the truck to thaw out occasionally, it is a whole lot of fun, and can be very rewarding. Jack caught a 32" brown trout there once.
Below is an old photo I took while we were fishing and camping at Madison Junction Campground, twenty years ago, the last week in October. Roger is on the left, Ron in the middle, and Dennis is on the right. That was a great fishing day.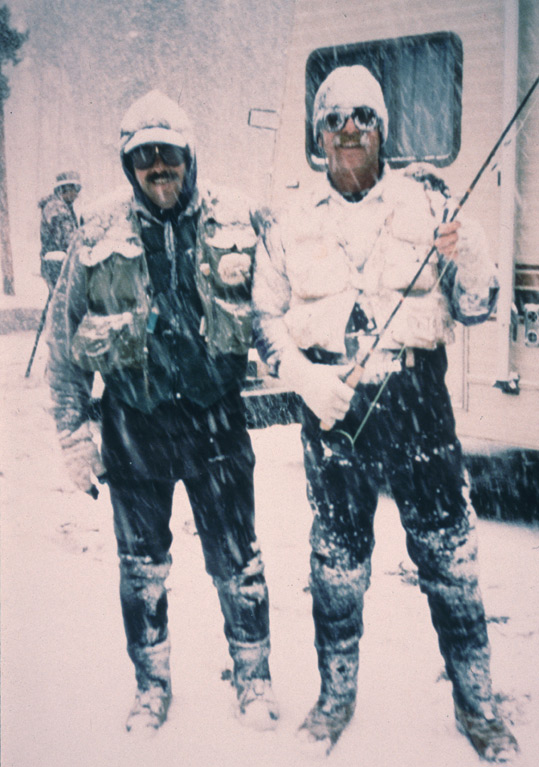 Have a great day and thank you for being here with us.
Byron Begley
October 7, 2015