Townsend, Tennessee - Fly Fishing in the Great Smoky Mountains National Park, East Tennessee and Western North Carolina

Welcome to the Fishing Report from the Great Smoky Mountains. It is early, dark and 58 degrees in Townsend this morning. Some rain fell during the night.
Little River is rising and at 6:45 am, the flow is 148 cubic feet per second (cfs) or 1.71 feet on the gauge. Median flow for this date is 72 cfs.
The flow and water temperature are ideal for fly fishing in the Smokies, at least for now. With the water rising, and more rain expected, you will most likely do best fishing with nymphs. It's hard to beat a Pheasant Tail or Hare's Ear. Those two flies are at the top of the most experienced angler's list. Of course there are others, maybe even better nymphs. A Tellico Nymph is right at the top. Some wire bodied nymphs are great for getting down deep. A Copper John comes to mind.
Wet flies my be a very good option. Not many people fish with wet flies these days. They work well. Somehow, the skills were lost over the years. We talk about dry flies and nymphs. We don't mention wet flies.
I know two wet fly experts in our region, Walter Babb and Allen McGee. We know Walter is a walking history book on fly fishing. He knows and remembers all the details, about fly fishing dating back 200 years. Wet flies were very popular in the late 1800's and the 1900's. Walter uses wet flies to this day and catches trout on them.
I went through a phase of using soft hackle wet flies. An Olive Soft Hackle was my go to fly when I fished the Caney Fork tailwater regularly. I lived in Nashville then. I would drift sparsely hackled wet flies down the flats, barely under the surface and watch for water movement indicating a trout had taken my fly. It worked so well, for years, that's about all I did. We had not heard of strike indicators at that time. I don't think they had been invented. I always liked to see fish movement before the strike. I'm still that way. I really enjoyed using soft hackled wet flies at that time.
You could do the same thing now. You can buy soft hackles or tie your own. They are very easy to tie. I used rabbit fur dubbing and partridge for the hackle.
There is a modern day wet fly expert living not far from here near Atlanta. His name is Allen McGee. He calls his creations, soft-hackled nymphs. In fact, he wrote a book named "Tying & Fishing Soft-Hackled Nymphs". He ties flies that are different from most wet flies and nymphs I've seen. The appear to be a cross between the two.
Allen contacted me this week, asking if he could tie at Fly Tyers Weekend. I invited him to tie months ago. I don't think he responded to my e-mail. Maybe mine got lost in his spam, or his was lost in my spam. I don't know. Anyway, Allen will be here for Fly Tyers Weekend. You should plan on spending time with him.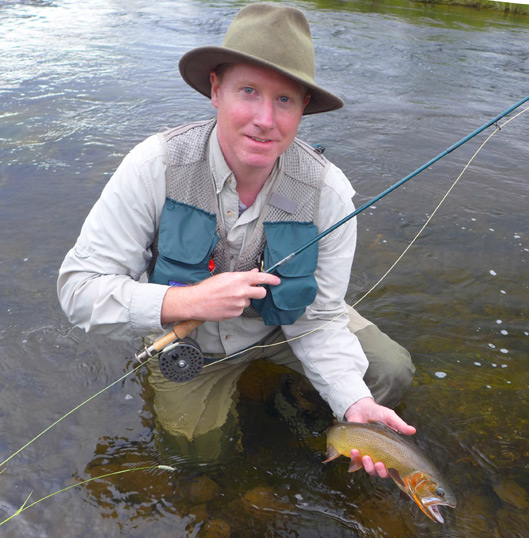 Fly fisherman, fly tyer and author, Allen McGee
Visit his website by CLICKING HERE.

Fishing should remain very good through the weekend unless the streams are blown out by heavy rain. Rain is in the forecast, today through Monday night. The chances are good or bad depending on how much we get.
I'm hoping, and you are hoping, we get enough to sustain the current flows or maybe raise them some. What we don't want is a flood. We'll have to see what plays out.
Right now, the scenery and temperatures are perfect in the mountains. It is beautiful and comfortable. I like that.
Have a great day and thank you for being here with us.
Byron Begley
October 10, 2014