If you don't see today's Fishing Report, please refresh your browser to empty your cache.
Welcome to the Fishing Report from Townsend, Tennessee in the Great Smoky Mountains. At 4:43 am, the temperature is 41.0 degrees.
Today will be fairly warm, around 70 degrees. We have a 20% to 40% chance for rain tonight. Tomorrow will be much cooler. A high temperature of around 58 degrees is predicted. The low tomorrow night will drip into the 30's.
Little River is flowing at 37 cubic feet per second (cfs) or 1.27 feet on the flow gauge. Median flow for this date is 144 cfs. Average flow is 192 cfs. The water temperature is 51.8 degrees.
Fly fishing in the Smoky Mountains is fair. Some anglers are reporting good catches. Staying hidden from the trout is essential to success. Getting a good drift is absolutely essential too. Dry flies and nymphs are working. Try either or both, and depending on where you are, one may work better than the other. The streams are flowing very low. We are experiencing a terrible drought. It's more fun fly fishing when there is more water. But, fishermen are catching trout.
Fly choices include yellow or orange Stimulators, the same colors in an Elk Hair Caddis or just try a proven Parachute Adams or Neversink Caddis. I would use a nymph that resembles a mayfly or stonefly. Green Weenies and Squirmy Wormies may still be working. Dropping a dry fly off the nymph is a good idea. If that doesn't work, switch to nymphs with weight and fish deeper.
With temperatures falling into the 30's at night, water temperatures will fall as well. By the weekend, we will have colder water, especially in the high elevations. You may want to plan on fishing the lower elevations later this week. The long term forecast, through November 22nd, calls for cool days in the low 60's and cold nights in the 30's.
Smoke from wildfires has moved into the Smoky Mountains and counties nearby. Yesterday, I walked outside and smelled smoke. I looked at the mountain view from our home. The mountains were barely visible. This smoke is coming from fires burning outside our county. Those with respiratory problems are advised to stay inside. A Code Red Air Quality Alert is in effect in our area, including the Park. Night before last, the moon was orange. I didn't look last night.
The Tennessee Department of Agriculture reports 96 active fires in Tennessee. You can CLICK HERE to read their report, that was updated Sunday. They list 46 fires and locations of each. All are active and most are contained.
The cause of the 46 fires are also listed. Campfires, vehicles, burning debris and children are to blame for a few. A train even caused one. The cause for seven of those fires is unknown. The overwhelming majority of the fires were caused by arsonists, 31 to be exact.
67% of these fires were ignited on purpose. Why? What kind of person would do that? Read the report.
Here is another one listed under "why people do unimaginable things". A deer hunter was watching a herd of elk this weekend near Caryville. As he watched, a man on a ATV pulled up, and shot a young bull elk. Then, he just drove off. You can read this story on the WBIR website by CLICKING HERE. Can you imagine that? I don't get it. Maybe the shooter was in a hurry to get somewhere to start a fire.
I'm going to the store in Knoxville this afternoon to pick up some bird seed. Right now I need 100 pounds of white millet, 100 pounds of corn and 40 pounds of black sunflower seeds. White millet is hard to find. Birds love it. I have found the birds don't eat much of the red millet, so I just feed them white.
I swept the leaves, forming a narrow trail, close to the back of our house in the forest. There, every morning, I spread a gallon or more seed. I move the trail every few days, for sanitary reasons and disease prevention. I knew, when the turkeys find the seed, I'll have to expand the trail system, so the other birds have something to eat. I hoped the turkeys would not find the seed, at least for now.
A few days ago, two young males (jakes) found it. They have been visiting twice a day.
Last winter, flocks of up to 35 turkeys would come into the area and eat everything. I was feeding 2 to 3 gallons per day. They would eat it all in a matter of an hour or so. I would throw out more seed, and they would come back. Sometimes, they would back off while I fed, standing 50 feet away. Then they resumed feeding after I left. They even eat the tiny millet seeds.
Yesterday the two jakes came back and I took the photo below from my office window. They are pretty and I enjoy looking at them. I just wish there were not so many. We see wild turkeys almost every day, all year. Soon, the hens will group with the young of the year jakes. They form a big flock, like the 35 we saw daily last winter. The gobblers group too, there are just less of those.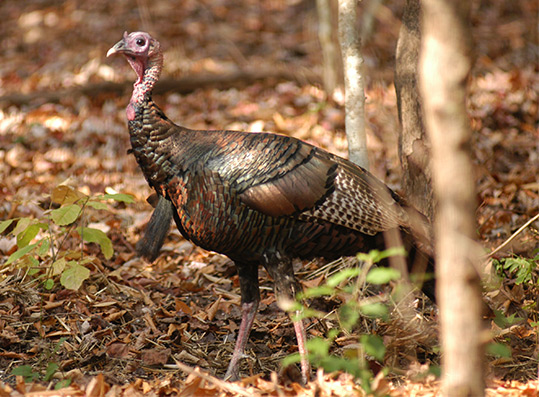 We can't use bird feeders. I wish we could. That would solve my turkey problem. If a bear walks by, they tear the feeder down and destroy it, even if it is empty.
I just heard sirens, which is rare out here where we live. I stepped outside. It is still dark. I smelled smoke and the skunk that greets me at daybreak every morning. I guess the sirens got him excited too.
I live in a place I could only dream of when I was a youngster growing up in Kentucky. I would have never believed, I would be writing the words you read now, 50 years ago. All we saw were rabbits and squirrels. Think about all the animals I just mentioned. And, there are more, like our bobcat that visits fairly often and the deer that show up to lick the mineral blocks. I would never have believed that we would see bald eagles. We do now.
Have a great day and thank you for being here with us.
Byron Begley
November 8, 2016