Townsend, Tennessee - Fly Fishing in the Great Smoky Mountains National Park, East Tennessee and Western North Carolina

Welcome to the Fishing Report from Townsend, Tennessee in the Great Smoky Mountains. At 4:52 am, the temperature is 28.2 degrees. That is two nights in a row, we have had lows in the 20's. Warmth is coming. Highs will be in the 60's all week. Low temperatures will vary from the 30's and 40's to the mid 50's Tuesday night.
Little River is flowing at 178 cubic feet per second (cfs) or 1.78 feet on the gauge. Median flow for this date is 142 cfs. The water temperature is 44.1 degrees this morning.
Fishing has to be slow. The water is cold. It may warm some today but not much, not enough to turn the trout activity on. Fishing will certainly be better later today but don't expect too much. Use weighted nymphs and get them down. Trout are not going to be chasing your fly but if you get it in front of their face, they may eat.
Exceptions would be brown trout, and possibly brookies. The browns in the lower to mid elevations will be hungry. They have spawned and they need food.
If I went today, I would probably hike up Lynn Camp Prong and try that. Lynn Camp Prong is a beautiful stream, one of my favorites. It is especially beautiful there when the leaves have fallen. You can see more scenic pools and runs, you may have missed during the warm months. And, who knows, the brook trout may be feeding.
Another great spot to try when the water is cold is Abrams Creek, near the Falls trailhead. The water will be warmer there, due to the inflow from large springs in that area. You may even find Cades Cove will not be crowded. I can't guarantee that. There will be a lot less people then you see in mid-October, that I can guarantee you.
If you go, you may catch a few trout. Don't expect great fishing. It is going to be a nice day, with high temperatures reaching the low 60's in the low elevations. It is going to be mostly cloudy today.
You may have a shot at some wade fishing on the Clinch River today. TVA is reporting no generation this afternoon until 5 pm. They will be generating this morning. I don't know much about fishing the Clinch River, and how flows raise and lower at various spots before and after generation. The schedule on the Holston below Cherokee dam looks similar. If you wade fish either of these rivers, and know how the flows work, check out the TVA website and see if they work for you.
Dubbing, the only cat I ever loved, passed away yesterday. Paula and Dubbing were especially close. She found him when he was a kitten, starving and alone, at our former store location. She fed and nursed him back to health, and for years, he lived in the fly shop. Many of you knew Dubbing. We brought him home several years ago just before our dogs passed away. Paula and I are very sad right now. Dubbing was 14 years old.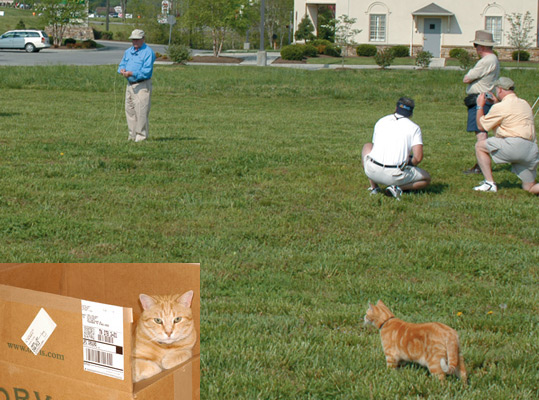 Main Photo: Dubbing enjoys a casting demonstration given by Lefty Kreh.
Inset Photo: Dubbing loved boxes.

Have a great day and thank you for being here with us.
Byron Begley
November 15, 2015