Townsend, Tennessee - Fly Fishing in the Great Smoky Mountains National Park, East Tennessee and Western North Carolina

Welcome to the Fishing Report from Townsend, Tennessee in the Great Smoky Mountains. At 5:17 am, the temperature is 29.1 degrees, the third morning in a row, with temperatures below 30 degrees.
The cold air is clear and there are no clouds in the sky. I stepped outside just now, to look at the stars. They are amazing this morning. Where we live, when it is dark outside, it is very dark, unless we have a bright moon, which we don't have this morning. I could not see the ground a few minutes ago. But, when you look up, the stars are large and bright, and there are millions of them.
When I bought this property in the 1980's, while living in a large city, I always a saw vivid contrast from city life when I camped here. I could see stars here, unlike what we saw in the city. We don't have light pollution. The view from our house is Great Smoky Mountains National Park, a vast unpopulated wilderness, with very little lighting.
You probably need to be here, to understand. It is a beautiful morning, though it is black outside, except when you look up.
It will be warmer this week with highs in the 50's to 60's. Lows will be in the mid 30's to the mid 50's. There is a 90% chance for rain Wednesday.
Little River is flowing at 164 cubic feet per second (cfs) or 1.73 feet on the flow gauge. Median flow for this date is 138 cfs. The water temperature is 44.4 degrees this morning.
Fishing in the Smokies will be slower today due to the cool water. It should improve as the warmer weather moves in today.
I think the rainbow trout in the lower elevations may be more sluggish than the brown or brook trout, that have spawned. They are hungry. Nymphs will probably work best. Danny and his family and friends fished Lynn Camp Prong yesterday. I'm anxious to hear how they did.
I would fish the East Prong of Little River above Metcalf Bottoms, Lynn Camp Prong or Abrams Creek near the Falls Trailhead.
TVA will be generating all day at Norris and Cherokee dams today.
I spent time at the shop yesterday. Many customers I saw were shopping in the fly tying department. The fly tying department is stocked better than I've seen in a long time. I paid bills yesterday, and realized why. Daniel and Dan have been buying a lot of materials.
We have always taken fly tying very seriously at Little River Outfitters. The size of the department is 700 square feet. You don't see many fly tying departments that large in fly shops. On the other hand, we place a lower emphasis on clothing. That is just the way we are. We like selling things that catch fish!
The Little River Chapter of Trout Unlimited is busy placing aquariums and trout eggs in elementary schools in the area, as part of the "Trout In the Classroom" program. You can read an article about the new tank and trout eggs placed in the Porter Elementary School by CLICKING HERE.
The trout will be released in Little River in a few weeks by the students.
The Little River Chapter of Trout Unlimited recently donated $19,000 to the National Parks Service Fisheries Department at Great Smoky Mountains National Park. The photo below depicts the official presentation at Park Headquarters. The man on the right, in uniform, standing near Bill and Sheila, is "Cash", our fairly new Park Superintendent. I have not met Cash but look forward to it. Everyone likes him. They say he is very outgoing and friendly. He also has a background in fisheries biology. I have known all the Superintendents, dating back 23 years. I'll meet Cash soon.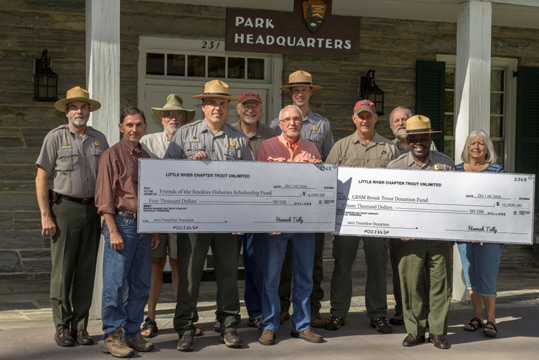 The first Superintendent we worked with was Randy Pope. It was Randy, and Fisheries Biologist Steve Moore, who first opened the door to Trout Unlimited. The Little River Chapter and the Great Smoky Mountains Chapter were the first chapters to work, together with a National Park, with a formal Memorandum of Understanding (MOU), according to Steve. It was a new concept at the time.

I was invited to attend internal meetings at Park Headquarters. There, I learned how National Parks operate, specifically, funding and budgeting. Those were financially tight times for the Park Service. They had to budget and spend money for unforeseen occurrences, like tragic storms and rescues, involving helicopters. They budgeted for wild boar and other exotic species removal. It was not long after that, when Karen Wade was the Superintendent, we had the big flood we all remember. Major roads were closed for long periods of time. Even Little River Road was washed out in places.
Randy and Steve, saw the potential benefits of partnering with non-profit organizations to raise money and provide volunteer labor. We worked together, to make this happen, in 1992. That was a historical turning point between the National Park Service and Trout Unlimited. Frankly, I was amazed it had not happened before.
Volunteer labor and cash donations, can be leveraged to obtain grants. Volunteer labor is counted, based on an hourly value. Those numbers, and the leveraged grants, amount to a staggering amount of money.
In 1992, most of the brook trout streams in Great Smoky Mountains National Park were closed to fishing. I had fished here for years and never caught a brook trout. Now, with all of the brook trout restoration work done by the Park and volunteers, including the money raised to do it, the streams are all open to fishermen. I think that amounts to over 30 miles of wild brook trout water, that were formerly closed. That may not include Lynn Camp Prong, which opened to fishing this Spring. When you think about it, that is a big deal. It is to me.
Have a great day and thank you for being here with us.
Byron Begley
November 16, 2015