Townsend, Tennessee - Fly Fishing in the Great Smoky Mountains National Park, East Tennessee and Western North Carolina

Welcome to the Fishing Report from Townsend, Tennessee in the Great Smoky Mountains. At 5:03 am, the temperature is 22.8 degrees. Today is expected to be sunny with a high of 49 degrees. Warmer air is coming. The high temperatures tomorrow, Wednesday and Thankgiving Day, should be around 54, 57 and 63 respectively. Lows at night will be in the 30's.
Little River is flowing at 235 cubic feet per second (cfs) or 1.96 feet on the flow gauge. Median flow for this date is 237 cfs. The water temperature is a chilly 42.8 degrees.
I believe fishing in the Smoky Mountains will be slow today due to the cold water. We should see some improvement over the next few days as the water warms. I talked to a few returning anglers yesterday. Fishing was fair, but none of the people caught many trout. The water is colder today.
If you go, plan on using nymphs and get them down deep. Don't expect too much action. The trout will be sluggish. It is a good idea to keep a change of dry clothing in your truck when the water and air are this cold. If you fall in, you will want to quickly change clothes.
We are seeing people who are in town for the holidays. Yesterday, I met and helped a man from Arkansas. I talked to a young couple from Texas. Other customers are here, camping in Cades Cove, from Alabama. The couple from Texas told me Cades Cove was very crowded yesterday. There was a lot of slow moving traffic.
You may have an opportunity for wade fishing later today on the Clinch River. The Clinch has been fishing well, all year. I saw a photo of a brown trout a friend of mine caught a couple of weeks ago. It was 26" long and colored up for the spawn. That trout was beautiful. Check the TVA website to determine if their generation schedule will work for you.
The Great Smoky Mountains Chapter of Trout Unlimited held their monthly meeting last Thursday at Calhouns. President John Reinhardt sent me the photo below and said attendance was just shy of 50 people. Walter Babb presented the program. John and the board have done an excellent job growing and running the chapter.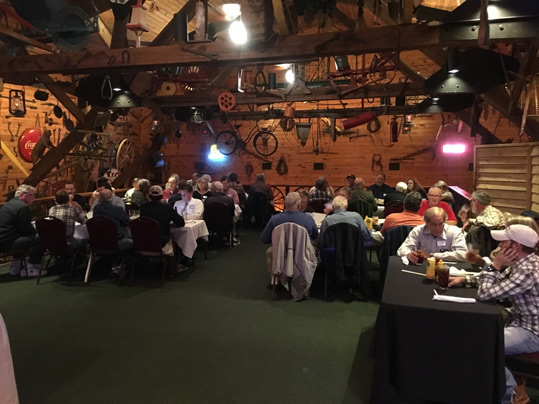 We have three older, established Trout Unlimited Chapters in our area, the Clinch River Chapter, Little River Chapter and the Great Smoky Mountains Chapter. The later is the oldest chapter. Another Chapter has been recently formed at the University of Tennessee for students. That makes four, headquartered within about a 50 mile radius. TU is alive and well, doing important work to protect our resource.
We all live in trout country here. TU has a huge presence and the accomplishments we've made during the past 20+ years are staggering. The chapters all work together for the good of trout fishing, clean water, brook trout restoration and education, in this region of East Tennessee. All TU meetings are open to the public. You don't have to be a member to attend a meeting.

Find a chapter close to you by searching the internet and show up. Get involved. Meet some fine people. If you live in a different part of America, and many of you do, check the web and find your local TU Chapter. If you don't have a TU Chapter in your area, form one. Contact Trout unlimited and they will help you through the process. If your chapter has become inactive, which happens, get it going again. All it takes is good leadership, passion, and some effort.
I love music, and last night I was searching YouTube, looking for music videos. I found this song and video below. This song was released on a record, that contained only one song. It was released in 1985 and it became the fastest selling pop single in history. The song was written by Michael Jackson and Lionel Richie. It was produced by Quincy Jones and Michael Omartian. The performers, and there are many, were some of the finest singers at the time, in my lifetime, and many still are.
Some of us remember it well. Some of you may not have heard this song. You may not recognize some of the performers.
This record was produced as a fund-raiser for victims of the famine in Africa. Look and listen to these talented performers. Of course some look much older now. Some have passed away. Turn on your speakers and enjoy. The song is called, "We Are The World." This particular YouTube video has been watched over 86 million times.



Have a great day and thank you for being here with us.
Byron Begley
November 23, 2015