Townsend, Tennessee - Fly Fishing in the Great Smoky Mountains National Park, East Tennessee and Western North Carolina

Welcome to the Fishing Report from the Great Smoky Mountains. It is dark and 26 degrees in Townsend this morning. Thanksgiving day was wonderful. The mountains were covered by fog at times. When the fog cleared, we could see snow up high. It was kind of a dreary chilly day in the valley. Pat, Paula, Jim and I spent the day together and had an unbelievable meal. It was a great day. We'll see them again soon at Christmas.
The water temperatures have dropped like a rock. Little River's water temperature is 40 degrees at 6:45 am. Flow is below normal at 192 cubic feet per second (cfs) or 1.86 feet on the gauge. Median flow for this date is 240 cfs.
There will be anglers fishing today. Many people are off from work. Even the bank is closed. I don't remember that happening before. I guess it always has. Some people will be shopping in the malls and department stores. Others will be enjoying the outdoors. I will be working. Our shop will open at 9:00 am.
Fishing will be slower than it has been lately due to the colder water. The best way to catch trout in the Smokies, on a day like today, is to use nymphs. Give them extra weight. Get them down. Dredge the runs. Most trout will be sluggish so a meal needs to be presented right in front of their nose.
The brown trout are active and some nice fish have been caught by those who hunt the big guys. I heard about one 25" brown caught out of Little River in the Park Monday. I know about a couple of others caught last weekend, one being close to that size. Fishing for those trout, right now, takes skill and patience. You could be on the stream all day and maybe, if you are good at it, hook one fish. Or, you may not hook any. That is the game. That's how it works. It's not for everyone.
It is going to be cold tonight then, here comes another warm front. High temperatures this weekend will reach between 60 and 66 degrees. The water will warm. It will be nice outside. Fishing will improve. People will be out. Awesome! We'll be running around in short sleeves again.
It's hard to believe, Christmas is less than a month away. We'll get busy at the shop, selling gift cards and shipping orders for the holidays.
We've got a lot of new Fishpond merchandise in already and there is more to come. I found one item, which we now have in the shop, that you should take a close look at. It is the new Nomad Native landing net. Fishpond bought the company that makes these nets and moved it in house. Most of the nets are large, larger than most people use in the Smokies. The new Native is smaller. It's a trout net.
These nets are made from carbon fiber and fiberglass. They are light, they float and they are durable. The new Native comes in two colors, the original olive and the new color called Native. They sell for $125.95. I really believe these nets will sell like crazy this year. I've been waiting for this landing net for a while. Click on the More Info button below and it will take you to our online store where you can order one if you want.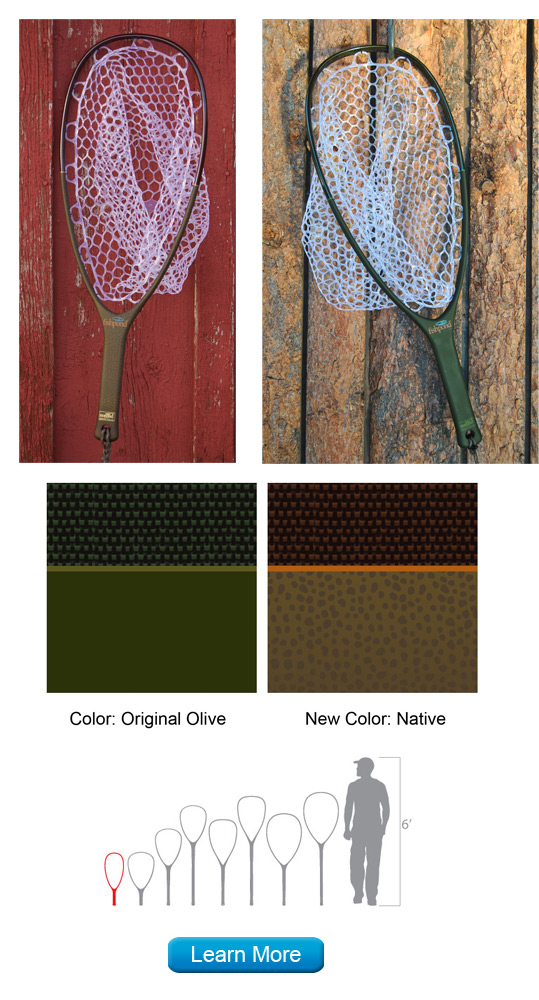 Daniel and I were talking to a customer this week about landing nets. He was complaining about the common problem of a net hanging on your back and swinging around, getting hung on branches. It is frustrating. I know because I lived with that problem for years. There is a simple solution. All it takes is a magnet net release. Your net is held by the top of the hoop, on your back, not by the handle. It practically eliminates the problem completely. When you need your net to land a fish, simply reach back, grab the handle and pull. The net will release. It is still tethered to you so you won't lose it. After you are finished with your net business, just push the net hoop up by the handle and the magnets will re-attach. We sell several different magnetic net releases and there is a new one made by Fishpond.
If your landing net is giving you problems the fix is available at a very reasonable cost.
My advice to you today is to avoid shopping malls this weekend and go fishing. Is there any better advice than that?
Have a great day and thank you for being here with us.
Byron Begley
November 28, 2014