Townsend, Tennessee - Fly Fishing in the Great Smoky Mountains National Park, East Tennessee and Western North Carolina
Welcome to the Fishing Report. It is a frosty morning in Townsend, Tennessee. The temperature was 28 degrees when I drove to work. Traffic is light which would be expected this time of year. Winter is here.
Well, maybe not. We are going to have high temperatures in the 60's through the weekend and lows in the high 30's to the 40's after tonight. This is going to be a nice weekend. Expect clouds on Sunday. There is no rain in the forecast.
The streams are low. Little River is flowing at 85 cubic feet per second (cfs). Median flow for this date is 257 cfs. The water temperature at 7:55 was 40.7 degrees.
Fishing will be slow this morning. The water is cold. The sun will warm the water some today. Then, with the coming warm front we will see the water get much warmer. Fishing will be better. By the weekend the water temperature will be warmer than we've seen in a while. You may find good fishing here by the weekend. The only problem will be the low water but you can work with that.
Use nymphs early. Get them deep. Unless you spot a brown trout cruising in the pools, concentrate on the riffles and runs. The trout will be hiding there during the day. Fish the shaded streams. Fishing will be best late, when the water is warmer. Have some blue wing olive dry fly patterns in your box, just in case. Heck, they might work anytime. As the water warms this week, the trout will become more active and more likely to be looking up.
We should see a lot of anglers on the tailwaters this weekend. Hopefully there will be some friendly generation schedules.
I got an e-mail from Dean Campbell yesterday. He and Phil fished in South Carolina for redfish. He said they found a school of reds in 2 feet of water and at one point there were around 30 tails sticking out of the water. They were able to get close enough to cast. He said it was an "awesome experience". Below is Phil with one of the reds they caught. I have photos of some bigger fish, but I liked this one of Phil eating a fly rod. These guys have the redfish fishing figured out. Dean is also an avid striper angler with a fly rod. He knows more about that than anyone I know.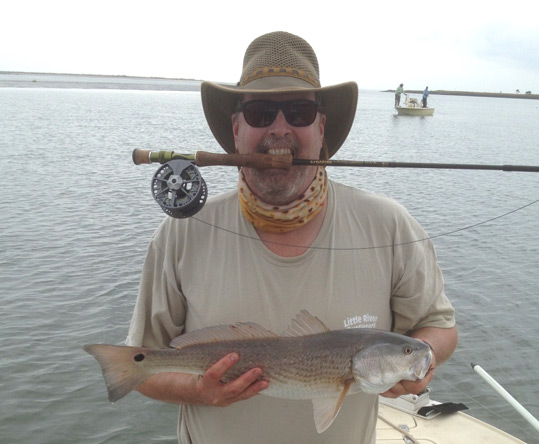 I'm already thinking about the smallmouth bass spawn. I know it's early. I don't need any more flies. Well, maybe I do. The more I read about the float n fly method of suspending a jig deep where the smallies are suspended themselves, the more interested I've become. I have read tons of articles online, written by anglers who do this with long spinning rods.
Trying to figure out how to do this with a fly rod and a strike indicator has complicated my Winter months, in a good way. I did order some jig hooks with weighted heads. They should be here today. I plan to tie some Puglisi Threadfin Shad on those jig hooks. The fly will ride upright and dangle several feet below the surface under the indicator.
During the cold months, smallmouth bass suspend in the lakes where there is no current. Shad swim slowly around the lakes looking for warmer water. Threadfin shad die when the water temperature drops to near 40 degrees. They are lethargic and make for easy prey.
The problem is, for the fly rodder, these fish may be suspended more than 10' below the surface. They could be 15' to 20' down. Anyway, I'll tie the flies and we'll give it a try. The boat is ready to go. Two of my fishing buddies are ready to go. We are talking about this often. We're even thinking about buying spinning rods. I'm going to try the fly rod first. I want to make that work.
The trick will be picking a cloudy day that isn't bitter cold and windy. The smallmouth bass should be in shallower water. The next problem will be casting a 15' leader with a weighted jig tied on and a large foam strike indicator attached near the fly line. I don't know if that is possible. I haven't tried it before. I've done it with 9' leaders.
That's how Jack showed me to catch spawning browns in the Madison River. The browns spawn in Yellowstone in late October. The Madison is a large river with strong currents. We used heavily weighted nymphs and a large foam ball strike indicator attached to the leader at the fly line. It worked and we caught some nice browns. We used 9' leaders. I could cast them with a heavy weighted fly and a large foam indicator.
You should try the same thing in some of the tailwaters here in Tennessee. Using larger flies, either nymphs or streamers, and drifting them in the stronger currents under an indicator should work well. I haven't tried it here. I don't know. If it works in Yellowstone, it should work in Tennessee.
Get ready for some warmer weather and hopefully some good fishing.
Have a great day and thank you for being here with us.
Byron Begley
November 29, 2012
Respond to: byron@littleriveroutfitters.com