Townsend, Tennessee - Fly Fishing in the Great Smoky Mountains National Park, East Tennessee and Western North Carolina

Welcome to the Fishing Report from the Great Smoky Mountains. It is frosty and 26 degrees in Townsend this morning. It is hard to believe the high today will be 56 degrees. Tomorrow's high is predicted to be 67 degrees. This is going to be a beautiful weekend.
The water is cold. Little River's water temperature is 38 degrees. Flow is good but below normal at 176 cubic feet per second (cfs) or 1.81 feet on the gauge. Median flow for this date is 257 cfs.
If you go fishing today, wait a while. Let the water warm. It will, slowly. Tomorrow will be better since tonight will be warm and tomorrow will feel hot. I don't know how warm the streams will get but tomorrow, they will be much warmer than they are now.
Use nymphs and get them down. You would be better off not using a strike indicator. That way you can control the depth and dredge the bottom where the trout will be until it gets warmer.
The water is clear in the streams. Cold water holds less suspended solids. Don't let the trout see you.
You might try Abrams Creek. Some customers yesterday were headed up there. That stream is warmer, especially near the Falls trailhead. Springs feed that portion of the stream. It is always warmer in the winter and cooler in the summer there.
Before dark last night, the air was clear and the mountains were in vivid view from our porch. I could see areas of snow on the slopes. It was a beautiful and calming evening. The snow will probably be gone by tomorrow morning.
Will, one of our neighbors came over last night to chat about wildlife. He has a corn feeder and salt lick back on their farm. A trail camera records all movement. He said he had some photos of a bear that visited the salt block. It licked the block for a while, then got comfortable on the ground and fell asleep. At some point, the bear woke and walked away.
We also talked about alligator hunting in Florida. He went on a successful hunt and described butchering an alligator. It sounds to me like a lot of work, for not much yield to me. I've eaten alligator and was not impressed.
He and I both can't figure out why we don't have wild boar, especially on the back of our property where there is a spring creek. Boar are all around us. We live in Dry Valley. There is almost no water above ground. You would think they would be drawn to that creek.
Just over the mountain in Cades Cove, wild boar are thick. I've never seen sign around here and neither has Will. Actually, we are glad we haven't. Those animals are destructive.
I'm working on our online store and adding new 2015 merchandise. I found one new item from Fishpond that looks really interesting. It's called the Headgate Tippet Holder and it sells for $19.95. It is the nicest tippet holder I have seen. The Headgate is made from aluminum and the rod that holds the tippet spools swings open to change spools. You can attach it to your vest, pack or boat bag. I like it so much, I'm featuring it on this report as the "Gift Idea of the Day". Push the "Learn More" button and read all about it. We have them in stock, or at least we did yesterday.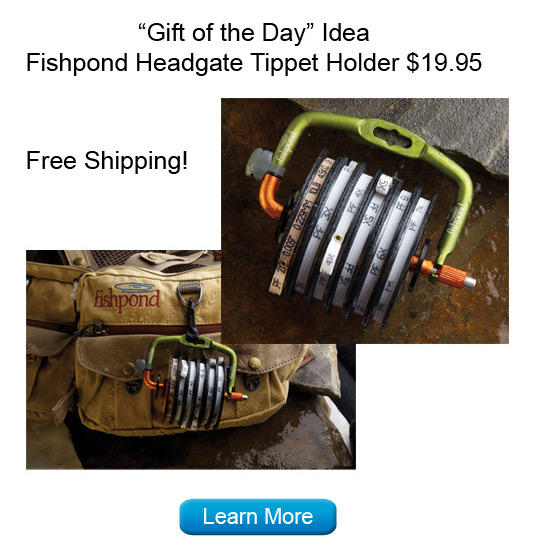 Enjoy your weekend. It's going to be a nice one here. Get out and go fishing somewhere.
Have a great day and thank you for being here with us.
Byron Begley
November 29, 2014