Townsend, Tennessee - Fly Fishing in the Great Smoky Mountains National Park, East Tennessee and Western North Carolina

Welcome to the Fishing Report from the Great Smoky Mountains. It is dark outside and the temperature is an unbelievable 56 degrees in Townsend this morning. The high today will be in the 60's.
The water in Little River has been warming too. At 6:19 am, the water temperature is 43 degrees. We should see that number rise some all week. It is going to be warm, day and night. Flow is below normal at 176 cubic feet per second (cfs) or 1.81 feet on the gauge. Median flow for this date is 240 cfs. November is a typically wet month in the mountains. Water levels are normally high.
We should get more rain tomorrow night and Tuesday.
It will be breezy today but I would go fishing. As the water warms, the trout will become more active. Don't expect Spring-like fishing, but do expect improved fishing all week.
Nymphs are what most anglers are using. I would try that early then see what happens later. If you are fishing the lower elevations, it will be comfortable, not too chilly.
There are many nymphs that work well here. Many resemble mayflies. Others mimic stoneflies. Nymph patterns are not as important to success as is presentation. The nymphs must drift without drag, with the current to appear real. My favorite nymph patterns have always been, Tellico, Hare's Ear, Prince and Pheasant Tail. Newer advancements have rubber legs. Rubber legs make the nymphs appear more realistic and add movement.
Copper John nymphs appeared in fly shops a few years ago to add flash and weight to nymphs. That phase began with copper colored wire. Then, fly shops had all the new colored wire available to sell. That started a swing toward wire bodies, lots of wire, in colors, that were heavy, made to sink fast and deep.
That was just one more way we plot and plan, to develop a fly, that trout have not seen before. Fly tyers and guides are innovators. The newer flies you see for sale in shops, were most likely invented by a fisherman like you and me, or a guide. There is a better fly that has yet to be used. Anglers and guides are always trying to figure out just what it is.
This is the lat day of the Thanksgiving week-long holiday. Visitors will be returning home today. It will be quiet in our town tomorrow and stay that way until Christmas week, which is not that far off.
Our business, through the week, will be mostly mail order. We will be shipping orders and selling gift cards. After almost 20 years in this business, I know what to expect. At this point, we can special order just about anything we don't have from companies like Orvis, Fishpond, Simms, Chota, and many others, with time to get gifts to you before Christmas and other holidays. Ground shipping is free. It's been that way from us to you for many years. Tomorrow is December 1st.
More anglers will be tying flies over the next two months, preparing for Spring. It can be snowing outside, but we will be participating in our sport in a different way, preparation. That is why we have a large fly tying department, upstairs. Sometimes the Spring hatches begin in the mountains in February. Other years, it is March. The dark mayflies start first in the lower elevations. Later come the lighter aquatic insects. That is the time of year we are always waiting for.
Think about this. What condition determines fishing quality more than any other? The answer is water temperature. I know, every morning, by looking at the water temperature and determining the expected water temperature all day, how good the fishing will be that day. It's pretty much as simple as that. I write the Fishing Report with that fact in mind.
Before I knew Joe Humphreys as a friend, I knew him only as a writer, the author of Trout Tactics, the book that finally made me understand better, the behavior of trout. It was like a light bulb turned on for me in the early 80's. Water temperature drives trout behavior.
If you want to have a better day of fishing in the Smoky Mountains, go to where you think the water temperature will be best, either warmer or colder.
If you are fishing in the lower elevations in the summer, and the water becomes too warm, drive upstream or more importantly, to a higher elevation, where the water is cooler. Fishing will be better. Dissolved oxygen in the stream will be higher.
If you are fishing in the high elevations and fishing is slow, I bet the water is too cold. The trout's metabolism slows down. They don't need to eat as much. They become sluggish. Move down to the lower elevations and fishing may be better.
If the water is too cold in most streams, go to Abrams Creek in Cades Cove. The water is always warmer there in the cold months. That area is fed by springs.
Knowing the water temperature is essential to consistent good fishing. Or, it might mean you should just stay home.
With that in mind, I am introducing today's "Gift of the Day Idea". Today, it is the Fishpond Swiftcurrent Thermometer. This is the thermometer I've used for years. I use mine in our boat when fishing for smallmouth bass too. It doesn't show in the photo below, but the newer models give readings in Fahrenheit and Celsius at the same time.
The glass thermometer is protected by a strong aluminum shield. The Swiftcurrent is available in Blue or Gun Metal and it sells for $18.95. Click on the "Learn More" button, it will take you to our online store, order one and the shipping is free. It is as simple as that. I can't believe any trout fly fisherman would not want one of these unless they already have one.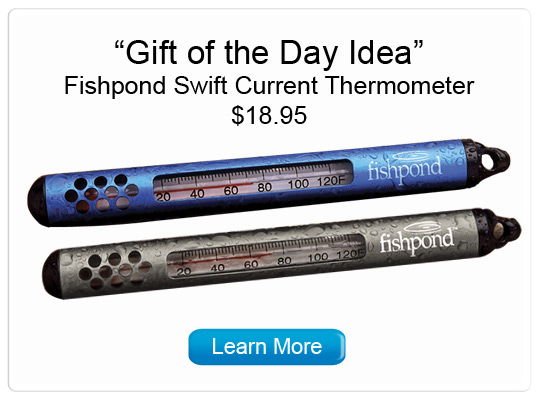 This is going to be a very warm day and a good one to be outside. You are probably off today. We will be open and I will be doing my weekly bookkeeping chores at the shop. So, get out and enjoy the Great Smoky Mountains.
Have a great day and thank you for being here with us.
Byron Begley
November 30, 2014