Townsend, Tennessee - Fly Fishing in the Great Smoky Mountains National Park, East Tennessee and Western North Carolina

Welcome to the Fishing Report from Townsend, Tennessee in the Great Smoky Mountains. At 6:15 am, the temperature is 57.6 degrees. It rained most of the day yesterday and all night, accumulating almost 1.8 inches through this morning.
We are currently under a flood watch, issued by the National Weather Service, through Tuesday night. The rain should end sometime Wednesday. An additional 2 to 3 inches of rain is anticipated. High temperatures today and tomorrow will be in the 60's with lows in the 50's.
Little River is flowing at 2.85 feet or 693 cubic feet per second (cfs). Median flow for this date is 240 cfs. The water temperature is 54.3 degrees this morning.
Fly fishing and wading in the Smoky Mountains will be slow for several days. Wading will become dangerous quickly, if it is not already.
The long term forecast, through December 14th, predicts warmer than normal temperatures. Fishing will improve some, after we get through this wet period and the streams recede. It will not be anything like we had last week. Late last week, the fishing conditions in the Smokies were great. We may not see that again until Spring.
It is time for us to think about fly tying, and our Saturday Free Fly Tying Demonstrations.
We are starting off the tying demo season Saturday December 12th with Mike Bryant and Rob Fightmaster tying at the shop. They will begin at 10 am and tie until 2 pm, at different locations in the store. These events are Free. All you have to do is show up.
Mike lives in Townsend and is President of the Little River Chapter of Trout Unlimited. He is an excellent fly tyer and angler. He has fly fished all over America, angling for species ranging from bluegill to tarpon.
Rob Fightmaster is a professional fly fishing guide who lives in Alcoa, Tennessee, just down the road from Townsend. He is an excellent Smokies and tailwater guide. He has developed his own fly patterns. Some are now tied professionally and sold to fly shops across America. We sell some of his flies in the shop, designed to catch trout in Southern Appalachian streams.
Our fly tying demonstrations are not just about learning to tie flies. If you don't tie flies and do not intend to learn, you will still get a lot of good fly fishing knowledge just by hanging around their tables and listening, in a relaxed atmosphere. Ask questions. Engage in conversations. It is fun and beneficial to everyone who attends.
I will be posting the Free Fly Tying Demonstrations schedule on our website this week.
During the Winter, on Saturdays, there is usually something interesting and fun to do at the shop. We've been doing this during the Winter for at least 15 years. It gets anglers out of the house on cold Winter days, to mingle with other fishermen,, while learning more about our sport.
So, put December 12th on your calendar and watch for more upcoming Free Fly Tying Demonstrations through February 2016.
Dan Munger has been slipping around our local lakes in his Gheenoe, catching stripers on a fly rod. From what I can tell, he has been very successful. Below is a photo he sent me a couple of weeks ago. That is a nice fish. I saw another photo on his phone of a huge one, 42 inches long, he caught last week.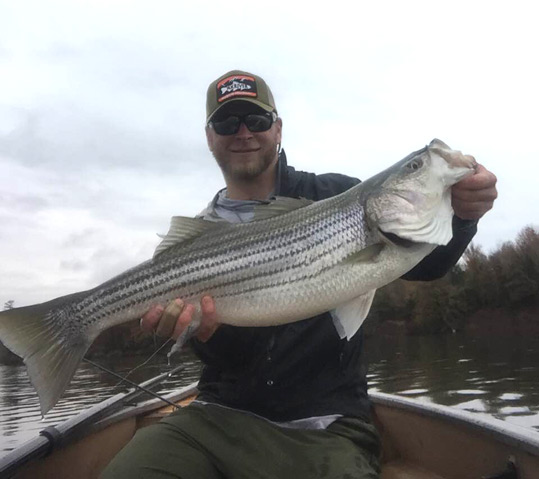 He is following threadfin shad schools and casting minnow imitations, sometimes with a sinking fly line.
I promise, I don't know where he is fishing. That is something I don't ask. I do know he is fishing on multiple lakes, of which we have many. And I think, he is often using a Clouser Minnow.
I am willing to bet, he is out there right now.
Have a great day and thank you for being here with us.
Byron Begley
November 30, 2015