Townsend, Tennessee - Fly Fishing in the Great Smoky Mountains National Park, East Tennessee and Western North Carolina

Welcome to the Fishing Report from the Great Smoky Mountains. The weather is wonderful here. Yesterday was warm, shirtsleeve warm outside. Today will be a repeat with a high temperature in the high 60's. It is going to be warm all week with some rain mixed in, tonight through tomorrow night.
The water temperature in Little River is 46.5 degrees at 6:32 am. Flow is 173 cubic feet per second (cfs) or 1.80 feet on the flow gauge. Median flow for this date is 247 cfs. The rivers should warm further, especially since we are expecting rain along with the great temperatures.
This is a fishing week in the mountains. This is unusual for early December. It will be bone chilling cold one of these days soon. Take advantage of this if you can. Go fishing. Don't expect Spring-like fishing. But, you should catch some trout.
I would use nymphs of course. I always have during the winter, even if it is warm. You may see bugs on the water. They could be blue wing olives or black stoneflies. You might see some other adult aquatic insects and trout eating them. If you do, certainly switch to a dry fly as fast as you can.
You won't see many fishermen. This is the week after a holiday. People don't get out much after a holiday.
I haven't heard anything lately about the stocked section of Little River in Townsend. Usually, this time of year, TWRA stocks the old brood rainbows in town. December can be a great month to fish for these huge trout. They like streamers, especially olive wooly buggers. They are looking for food. The biomass in the river is overloaded. Even when the water is cold, they are looking for food.
I'm also not hearing much about the tailwaters. I'm working at home these days so I'm not seeing the guides. They usually fill me in. Fishing could be great on the tailwaters and I don't know it.
I did see a photo yesterday of a huge brown that was caught on the Little Red River in Arkansas by one of our customers. I could not venture to guess what this fish weighed. Down there, this time of year, trout are described in pounds, and inches.
I usually have a Boga Grip in my vest or fishing bag. Mine has a fairly long rope attached to it. A Boga Grip serves two purposes for me. First, I can weigh a big fish. Second, you can hook the grip to the fish's lip and let it rest in the water. It's a good way to revive a big fish. I learned that trick salmon fishing. Our guide always revived the fish for a few minutes while tethered to a Boga Grip. While the fish is resting for release, you can also look for a good place to take the picture. You want the sun behind the camera. Those pictures always turn out best.
Winter fly fishing for large brown trout in the tailwaters is quite a sport. If you do catch that "monster", it's nice to know how much they weigh. We don't stock Boga Grips but we'll be happy to order one for you.
It is daybreak. I went outside and walked around the decks, listening to the crows and looking for wild turkeys. I'm wearing a t-shirt. That's all I need out there right now. The thermometer on our porch is reading 64 degrees. It is overcast. I can see the mountains clearly. It is wonderful out there. I could sit out there all day if I didn't have to work.
A company is coming today to install a new garage door on the boat house. After that, we'll pour the concrete pad. You can't drive on the concrete for 8 days. That is going to be a long 8 days. Then, I'll start putting boats and fishing gear inside. Most of the interior walls will be covered with pegboard and painted a light color to reflect light. There, all of my fishing tackle will be hung or sitting on shelves. Our boat will be on the trailer. They kayaks will be hung on the walls in brackets made for that purpose. The canoe will be hung there too. The kayak trailer will be standing on end on a wall. I have to order and install a trailer tongue retractor option to do that. I can't wait to start moving stuff in.
We've been busy at the shop. Our best selling item right now is the gift card. Customers are ordering them online, over the phone and buying them in person. Gift cards will be our largest selling category this month. Waders are also great sellers during December, which is surprising. We sold several pair of Chota Hippies this weekend by mail order.
The new 2015 Fishpond gear is arriving. More will come this week. One new updated Fishond item I really like is the Westwater Backpack. All of Fishpond's Westwater gear is coming in a new color, Cutthroat Green.
I'm featuring one piece that is in stock now below on my daily "Gift of the Day Idea". This is a waterproof backpack. All of the gear I buy from now on will be waterproof. I'm hooked on the idea.
I always take a Nikon digital SLR when I go fishing, whether it is in our boat, in a kayak or in a guide's boat. I have Pelican boxes but they are bulky and heavy. I stopped using them this year and switched to a Fishpond pack almost like this one, a 2014 model. In it I can store the camera, fly boxes, sunscreen and a boga grip, things I hopefully need often during the day.
This pack is also great for fishing in the backcountry, carrying items you don't want to get wet, like an SLR camera. Click on the "Learn More" button to see larger and different photos of this pack. It is perfect for the fly fisherman. This is a great gift idea too. Ground shipping is free, as usual.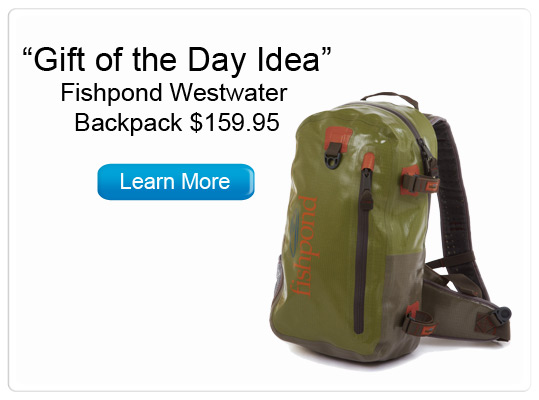 Have a great day and thank you for being here with us.
Byron Begley
December 1, 2014