Townsend, Tennessee - Fly Fishing in the Great Smoky Mountains National Park, East Tennessee and Western North Carolina
Welcome to the Fishing Report. The sky is clear and the temperature was 40 degrees at 7:50 am. When I drove to work, traffic was very light. This afternoon, when our Christmas Parade starts, traffic will be heavy with floats, antique tractors, horses and mules plus a lot of other modes of transportation moving at 2 miles per hour. You should be here for this. It's like going back in time.
It is going to be very warm over the next few days with highs close to 70 degrees. Lows at night will be in the mid 40's to 50 degrees. The streams are going to be much warmer today through Tuesday. Fishing will improve.
On the other hand, the water is low. Little River is flowing at 77 cubic feet per second (cfs). Median flow for this date is 208 cfs. The water temperature in Little River was 43 degrees this morning at 8:50 am.
So, you have water temperatures working in your favor. You have low water working against you in the Smoky Mountains. People are catching trout in the Smokies but fishing is not that good. We are hearing more about "light catches". I would use nymphs with a little extra weight. I would try to stay low to hide from the trout. Fish the faster water or water that is choppy on the surface. You may find brown trout out in the open. They have spawned and they are hungry. There have been some nice browns caught in Little River this Fall/Winter so far. I don't think I've seen pictures of anything over 26" though.
Have some Blue Wing Olive dry fly patterns in your box and if nymphs are not working, try the dry flies.
Josh Pfeiffer was floating one of the rivers for smallmouth bass a couple of days ago. He caught a few. He was surprised by a large striper that he hooked and landed. I saw the picture. The fish maxed out his 30 pound Boga Grip so we don't know how much the fish weighed. Most of our larger rivers have populations of these big fish. One of my favorite spots on the Little Tennessee River is full of them. Since I don't target stripers I don't catch them. But they are there. On the Little T below Chilhowee Dam, I've heard of some caught that were in the 50 pound range. Maybe I should start doing more striper fishing. Some fly fishermen like stripers. Others hate stripers because they eat trout.
I have been writing copy for our online catalog. The subject this weekend has been the new Fishpond Westwater Collection of waterproof/water resistant gear bags. I had to do some research too. Fishpond says the bags are made from TPU fabric. What the heck is TPU? It is thermoplastic polyurethane. This material can be bonded at the seams by thermo-welding. The seams are waterproof. These pieces have two methods of sealing out water at the entry points. One way that is their favorite is the YKK water resistant zipper. This zipper is covered with two pieces of TPU material that has a very fine slit where a small amount of droplets could enter the bag. That is why they are called, water resistant. The second method Fishpond uses is the Roll-Down Seal. This method works extremely well. I think the roll-down method offers a completely water proof seal. The zippers work well too.
One of my favorite bags is the one pictured below, the Westwater Roll Top Duffel.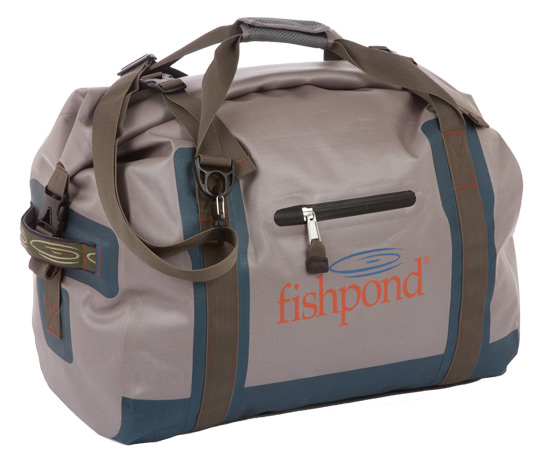 Here's why. I think it is the perfect bag to always have in your boat to hold life jackets and rain gear. I'm going to get one for that purpose. I can keep life jackets and rain gear in that bag at all times. When I go fishing, I'll just throw it in the boat. After fishing, I'll put it away until the next trip.
I wear a Mustang Survival inflatable personal floatation device when the boat is under power, especially when I'm moving fast. Paula wears one too. And, if it's not too hot, I wear the inflatable all the time. If I fall in, the pressure of the water will trigger the air cartridge to inflate.
The problem is, these inflatable devices don't count as a PDF unless you are wearing it. If that is your only PDF, and it is not on your body, and if you get checked by the Coast Guard or TWRA, you are not legal. You have to have another type of non-inflatable PDF in the boat. You also have to have a throwable PDF such as a floatation cushion. Keep those within easy reach. You might save someone's life. But those other non-inflatable PDF's, the ones I never use have to be kept somewhere. I'll keep mine in one of these roll top duffels. I think this bag will hold three and some rain gear. You can see the complete 12 piece line of the Fishpond Westwater Collection by CLICKING HERE.
We are holding a Little River Chapter of Trout Unlimited Communications Committee meeting today. We are meeting here at 1:00. Mike Bryant, our new President called the meeting. Present will be me, Mike, Joe Hatton, Joe McGroom and David Ezell. We will be looking at better ways to communicate with chapter members and prospective members. This will be an interesting conversation.
We will also be looking for better ways to enlist new members. It is not an easy task. First, we can't take membership fees online using the Chapter website. That website is not secure. This website is secure when you are in the Online Store. All communications are encrypted so someone can't grab your credit card data.
We may be able to link an application and payment to the TU National website. We'll look into that. We could pay for a secure website host server. That costs quite a bit of money. I don't know what we'll end up doing but this is a very important component of our meeting today. We will also look at design continuity. Right now, we are all doing our own designs. My job is to maintain the Troutfest Website. Though we are not holding Troutfest next year, the site will be maintained and operational. Joe Hatton designs and maintains the Chapter Website. Dave Ezell designs and sends out the Newsletter. Joe McGroom is the Vice-President and is in charge of future events such as Troutfest.
Get out there and fish today if you can. This is going to be a great day. Tomorrow and Tuesday look good too.
Have a great day and thank you for being here with us.
Byron Begley
December 2, 2012
Respond to: byron@littleriveroutfitters.com