Townsend, Tennessee - Fly Fishing in the Great Smoky Mountains National Park, East Tennessee and Western North Carolina

Welcome to the Fishing Report from Townsend, Tennessee in the Great Smoky Mountains. At 4:32 am, the temperature is 55.9 degrees and it is raining. It rained all night, sometimes very hard. I woke several times, listening and looking at the clock. I kept wondering about the river.
We live in a river town. Our town has a tourism-based economy. The features that draw tourists to our town are, Little River, the Smoky Mountains and Cades Cove, among other scenic and historical places to visit. We all love Little River. I think it is the most beautiful river I have seen, and I've seen plenty of them.
When Little River floods, it can be a nightmare. The gauge height is high this morning, higher than it has been all year and the water level is still climbing. However, the rain is about to end. I don't know how high Little River will rise today, but we will not experience a catastrophic flood. The water will just be high for a few days.
Current flow is 2,590 cubic feet per second (cfs) or 5.09 feet on the gauge. Median flow for this date is 208 cfs. The water temperature is 55.4 degrees.
Yesterday, through midnight, we got 1.27" of rain in Townsend. Since midnight, through 4:32 am, accumulation is .51 inches for a total of 1.78". That does not include the rain that fell Saturday and Sunday. So, this has been a significant rain event, the most rain we have had all year during a short 2 or 3-day period.
Fishing and wading in the Smokies is out of the question. Little River and other streams are dangerous. Don't go!
The USGS Gauge chart for 2015 is below. You can see, this is the highest the water has been this year. Rainfall this year has been slightly below normal until now. A gauge height reading of 5 feet is high, but not significant. Last year, on January 11, the highest gauge reading for the year was 7.81 feet. Looking back to March 27, 1994, the river crested at 15.75 feet or 27,100 cfs. That was our flood of the century. It was devastating. People lost their homes. Businesses were flooded. Roads were washed out. Some roads were closed for months or longer. Little River Road, through the Park was one of them. None of us will forget 1994.

Little River Outfitters opened that year, a few weeks before the flood. Water got into the store, but it was not deep. That was the first of three buildings we have occupied. That one was very close to Little River.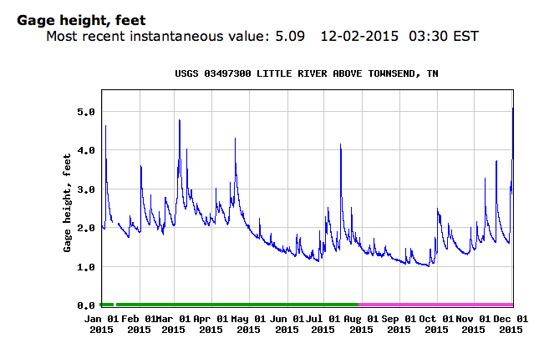 Below is a chart, depicting the highest water levels in Little River each year dating back to 1969. Look at 2007 and 2008. Those were drought years. We had another flood in 2003, but nothing like 1994.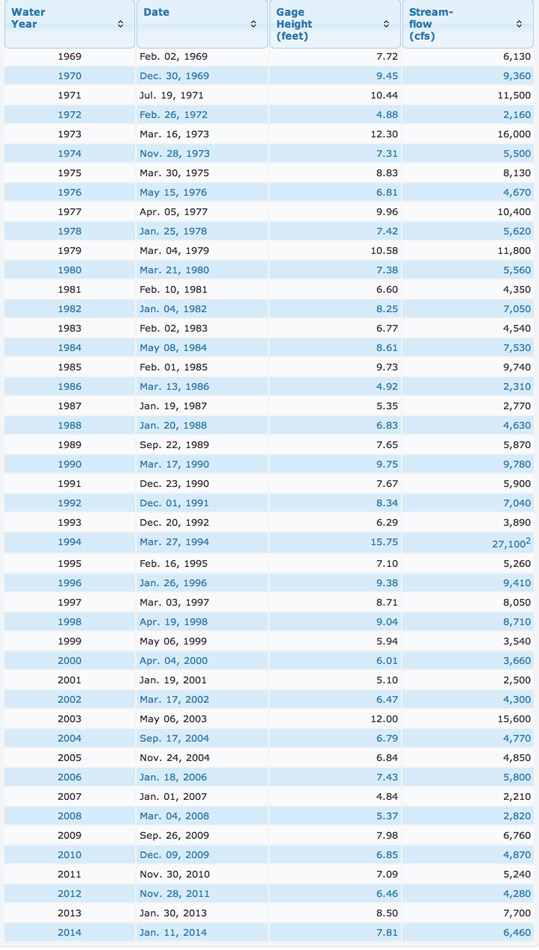 Our gauge site is one of thousands operated by the United States Geological Survey (USGS). The site is just inside the Park near the Townsend entrance. It is a small building on the left going in the Park. I've been in that building. I know the guy who works for USGS and oversees our site in addition to many others.
A pipe runs out of the building and into the river, laying on the streambed. That pipe measures pressure. When the water is high, there is more pressure. When the water is low, there is less. There is also a temperature probe running out into the river and connected to equipment in the building.
Everything is hooked to specialized equipment, that reports the gauge height and flow, using calculations, to a transmitter on top of the building. That transmitter communicates the flow, gauge height and temperature to a satellite, which then sends the data to a USGS office in Nashville, where it ends up on their website. Every morning, I look up the live data, on that website, before writing this report.
To make all of this work, the equipment in the building has to be calibrated. It is calibrated often. If you see a red "*" on a date, on the graph, the equipment was calibrated that day. On that day, our USGS site overseer, walks along the bridge across the river that leads to Tremont Resort.
He takes depth reading at pre-determined intervals by lowering a probe down into the river. He takes water pressure readings at each interval. Using a calculation, he can determine the flow in cfs. He looks at the actual gauge. Then, he calibrates the equipment based on his data collected that day. Over time, with data collected at many different flow rates, the equipment becomes calibrated. That is my simple version of what I know. I'm not a hydrologist. You can click on the Little River Gauge link below to see this information. There are also other USGS links below, to other rivers nearby.
Now, think about this. USGS does the same thing on larger rivers. I asked my USGS buddy how that is done. To calibrate those sites, a probe with a heavy weight, is lowered into a river, from a bridge to the river bed. The probe is attached to a cable and winch, mounted to a truck. Imagine doing this on the Mississippi River. I was told, a tree floating down the river can take out the probe. There must be some breaking point, so the truck is not dragged off the bridge and into the river.
I am giving you all of this information today, because there is no fishing to talk about. I hope you found this interesting.
It is 6:15 am and it is still raining. Little River has risen from 5.09 feet to 5.71 feet since 4:32 am. The river has not peaked.
Have a great day and thank you for being here with us.
Byron Begley
December 2, 2015