If you don't see today's Fishing Report refresh your browser to empty your cache.
Welcome to the fishing Report from Townsend, Tennessee in the Great Smoky Mountains. At 5:44 am, the temperature is 28.9 degrees.
A Code Orange Air Quality Alert has been issued in our area due to smoke from wildfires until midnight tonight. The National Weather Service states, "The general public is not likely to be affected". "Sensitive groups may experience health effects".
Today will be sunny with a high temperature of 52 degrees. Temperatures will remain similar through the weekend, highs around 50 degrees and lows in the low to mid 30's.
Rain is expected to arrive tomorrow night and continue through Monday. The chance for rain ranges from 60% to 80% during the period. The long term forecast through December 16, indicates some days with a fair to good chance for rain.
The Chimney Tops 2 fire, which was first reported November 23rd, has grown to over 17,000 acres as reported by the Park Service yesterday, 14 hours ago. There have been 11 fatalities reported so far, in Gatlinburg and surrounding areas within Sevier County. The fire is believed to be human caused.
The National Park is open, though some roads are closed. Little River Road, from the Sugarlands Visitors Center to the Townsend "Y" is closed. Laurel Creek Road remains open to Cades Cove. The Cades Cove Loop Road is open. Highway 441, that connects Gatlinburg to Cherokee, NC remains closed. Cherokee Orchard Road at Twin Creeks is closed.
Little River is flowing at 82 cubic feet per second (cfs) or 1.64 feet on the flow gauge. Median flow for this date is 212 cfs. The water temperature is 44.8 degrees this morning.
Rainfall at the Knoxville Airport is reported to be 38.20 inches this year. Average for this date is 43.51 inches, a deficit of 5.31 inches. The deficit before recent rains exceeded 10". Last year, on this date, we had received 45.40 inches at the airport.
Our county and much of East Tennessee is listed as being in an "Exceptional Drought" in the updated U.S. Drought Monitor released yesterday. However, the data collected for this report did not include the rain that fell earlier this week.
The temperature fell last night into the 20's. The water temperatures in Little River fell as well. Fishing is probably fair right now. If you go, and enter the Park at the Townsend entrance, your available options are the Middle Prong, West Prong, Lynn Camp Prong, Thunderhead Prong, Laurel Creek, Anthony Creek and Abrams Creek and other tributaries.
I spent yesterday working on our new "Hat" category on our online store. The graphics you see now are temporary, just taking up space. I photographed two of about a dozen caps yesterday and will continue through the weekend, shooting pictures and writing content.
We have a new portable, studio, made to photograph small items, like caps, wading boots down to very small accessories. The portable studio is lit by LED bulbs and there are many. The studio can be folded and stored in the closet in my office. I am really happy with the results. We have a large studio at the shop, but I like this one better for small things and I can do it from home where I work full time.
Below are two of the caps I photographed yesterday.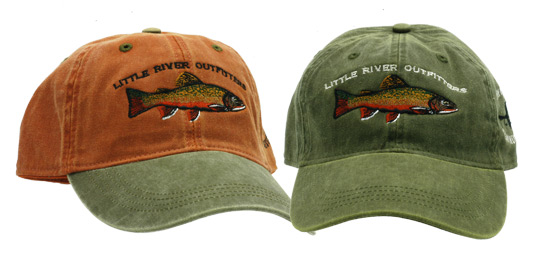 With the bright white LED lights, no color correction is necessary which saves a lot of time and gives a more accurate representation of the subject. This one is about 32" square. You can buy smaller versions, if you enjoy photographing your flies, like many of you do. I think this one cost around $100. The smaller ones are less. We bought this one at B & H. CLICK HERE to see them.
By Monday, all 12 caps will be on our online store and for sale. Ground Shipping is Free. The caps you see above sell for $19.95. You can order them now, online or by calling the shop. CLICK HERE to visit the unfinished cap department on our online store.
We sent an e-mail yesterday to several thousand customers. You can see the web version by CLICKING HERE.

In that e-mail, we featured the new Orvis Battenkill Disc reels, Fishpond's new luggage, The FREE Hydros Reel if you buy an Orvis Helios Rod, and the new Chota wading boots. You can also read about the Walter Babb bamboo fly rod that will be auctioned.
Have a great day and thank you for being here with us.
Byron Begley
December 2, 2016
Respond to: Byron@littleriveroutfitters.com
If you buy an Orvis Helios fly rod, between now and Christmas Day, you will get a free Hydros SL reel to match the rod. This offer applies to sales in our store and through our mail order business.

We do not stock all of the Orvis Helios Rods. If we don't have the one you want, we'll have it drop shipped directly to you with the Hydros SL reel. Or, we will special order it for you, for delivery to our store. If you purchase an Orvis fly line, we'll rig it for you, before it ships. You can see the Orvis Helios 2 freshwater and saltwater rods on our online store by CLICKING HERE. And, you can look at the Orvis Hydros SL reels on our store by CLICKING HERE. You may also call us to discuss the rods and reels, or to order, at 865-448-9459.
This offer cannot be combined with other Orvis promotions. Ground Shipping is Free! The offer ends December 25, 2016.