Townsend, Tennessee - Fly Fishing in the Great Smoky Mountains National Park, East Tennessee and Western North Carolina

Welcome to the Fishing Report from the Great Smoky Mountains. It is still dark outside at 7:05 but the sky is getting lighter. I can barely see the mountains and clouds in the sky. I just heard a crow calling. The forest is waking. It's pretty warm out there too, 43 degrees.
Little River is warm for December, 51 degrees. Flow is lower than normal at 162 cubic feet per second (cfs) or 1.76 feet on the gauge. Median flow for this date is 214 cfs.
Fishing is pretty good. The water is relatively warm. It has been and will continue to be overcast. The warm temperatures will remain through Saturday. The chance for rain increases. It didn't rain here at all yesterday. It may not today. All indications are, it will rain Friday night through Saturday night.
This unprecedented warm spell will start chilling by Sunday night. We're finally going to cool down some, unfortunately.
Try to go fishing in the Smokies today through Saturday. You might be surprised at how good the fishing is. Don't expect Spring-like fishing. Just expect to catch trout. I would stay in the lower elevations. The water will be warmer. Use nymphs. Most reasonable Smokies patterns will work. Even Pink Weenies are still working. See a post on our message board by CLICKING HERE. Those guys are wet wading, in December and catching trout!
Fishing in Townsend, in the stocked portion of Little River has been good. With these water temperatures, you might even catch some smallmouth bass.
I worked on our website for 8 straight hours yesterday. Jack came by for a little while late in the day. We talked a while, he left, then I went outside and cleared small brush and branches on our land behind the house until dark. I'm trying to open up the woods some so we can see more wildlife. I'm also trying to get some exercise after sitting at a computer all day. It's working too. Paula saw some deer behind the house day before yesterday. Before I started clearing, she would not have seen them. I'm not cutting big trees. I'm finding huge trees, I didn't know were there. Now we can see more of them.
The forest is so dense, we had a bear standing 50 feet from our back door this summer, and all we could see was his head, chest and front legs. He turned toward the forest and disappeared. We have about 10 acres of thick forest. I could never get it all cleaned up and wouldn't want to anyway. It is nice to see at least 100 feet back into the woods from our house. That, I can get done.
I'll get back on the website project this morning and may go into the shop to do some bookkeeping. Jack said he may come today to build the concrete forms in front of the new boat house. I'll be here to help. We'll put the boat in the boat house too. Right now, it's in the carport. The concrete should be poured in a few days.
Yesterday, I made changes in Fishpond merchandise, the items that have had color changes. One of them is going to be today's "Gift of the Day Idea". It is the Westwater Sling. I have one of these and love it. I use mine for a boat and kayak bag.
Frank and I went on a lot of local guided trips this year. We floated the Cumberland River twice and fished with Josh a few times. I needed a waterproof bag to hold my SLR camera, fly boxes, sunscreen, a Boga Grip, leaders and tippet. I stuffed all of that in a Westwater Sling Pack, then bought one. It held everything I needed in a driftboat on a guided trip.
Our tarpon guide in Florida referred to me as "Mount Begley" because I took so much stuff with me on trips. Guides prefer a client to bring less on their boats. I've known that for years but never figured out how to cut back and be a minimalist. I did it with this sling pack. Since Paula and I are doing more kayak fishing, I use this sling pack as a camera bag. It holds a full size SLR and extra lenses. Take a look at this by clicking on the "Learn More" button below. It might be perfect for you. It is really designed to be a pack for wade fishermen. I may use it for that too.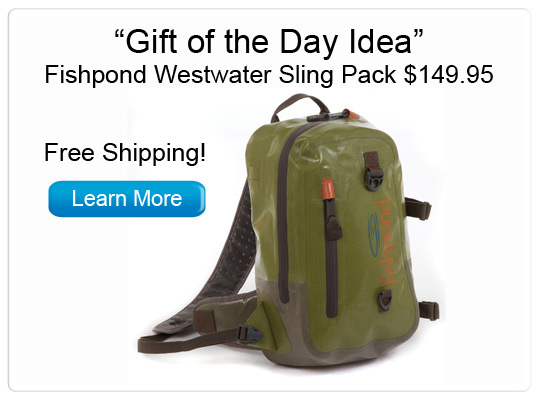 Jack told me he drove to the Park one day this week to watch the brown trout. He loves doing that. He does more watching than fishing. He caught a 30" brown in Little River a couple of years ago. I have a picture of him with a 28" brown he caught long ago in little River. He doesn't take a camera with him. So, there are very few pictures of him holding these big browns. That's OK. When Jack says he caught a 26" brown, all the people who chase these big fish know he caught it.
Jack never says exactly where or on exactly what. He is one of my best friends and I don't ask. Jack thinks I talk too much I guess.
If any fisherman comes in the shop and tells me he or she caught a big trophy like that, I never ask where or on what. That just isn't a fair question. That is none of my business. My friends release these big fish so they are probably in the same exact place they were caught unless the water levels change.
I'm serious, this is the week to go fishing in the Smokies. You won't see many people. The forest is beautiful during the Winter, in a different way. You can see farther. You notice things you never saw before. It is peaceful during the winter in the Smokies. It is a totally different experience than it is during the summer, spring or fall. Winter is a special time. And this week, is a special winter week.
Have a great day and thank you for being here with us.
Byron Begley
December 4, 2014